2021 Plan Progresses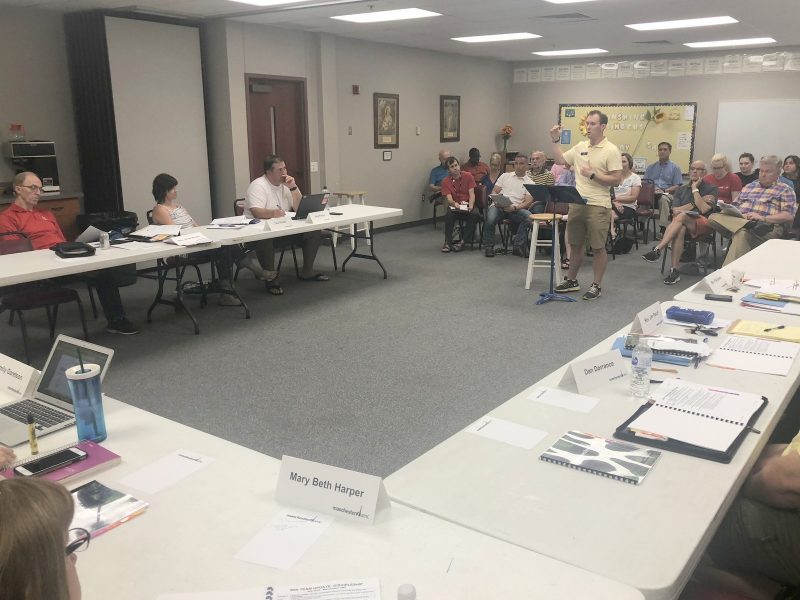 Editor's Note: With Pastor Greg away on renewal leave, we have guest writers throughout July. This week we welcome Pastor Jim Peich.
Manchester UMC Friends:
I hope this note finds you well and enjoying your summer!
In February 2018, the Leadership Board of Manchester UMC approved a "2021 Plan" containing six priorities that reflect where God is leading our church. Since then, six teams (of nearly 50 members, clergy, and staff) have been working diligently to research, brainstorm, and discern how Manchester UMC can address each priority and achieve each goal. These six teams recently presented their first progress reports to the church Leadership Board. I'd like to share their exciting work with you, too.
Our 2021 Priorities
Whether you're a member, participant or occasional guest, I invite you to become familiar with Manchester UMC's "2021 Plan" and its six priorities/goals. To be successful, we'll need your prayers, input, and support as we move forward together under God's leadership.
WORSHIP: Shape our worship experiences to reach a broad demographic. Goal: By the end of 2021, our worship attendance will increase to at least 1,350.
MISSION: Provide needed resources and assistance to residents in our local communities. Goal: By the end of 2021, resource 1,000 people within Parkway, Rockwood, and Valley Park school districts.
DISCIPLESHIP: Grow the number of people connecting in Christian community and living more missionally. Goal: Clear and simple pathways/bridges are available and used to help 500 people at Manchester UMC take a next step on their faith journey.
YOUTH: Grow the number of middle and senior high students actively engaged at Manchester UMC. Goal: By the end of 2021,120 youth are actively engaged at Manchester UMC each week.
YOUNG ADULTS: Grow the number of people age 25 to 35 having a first-time experience with Manchester UMC. Goal: By the end of 2021, 4 out of every 10 people having a first-time experience with Manchester UMC will be between the ages of 25 and 35.
FINANCIAL: Strengthen and grow the financial resources of Manchester UMC. Goal: By the end of 2021, $500,000 has been raised for phase 1 of the HVAC project and $400,000 has been raised to pay down MUMC'S debt/mortgage.
3-Month Progress Report
As I mentioned, the six teams working on the "2021 Plan" recently gave a 3-month progress report to the church Leadership Board. I hope you will take some time to be informed about the good work they are doing. Each team welcomes your questions, insights and suggestions throughout this journey.
Team reports, minutes, member information and more are available online. Paper copies are also available upon request by contacting the church office at 636-394-7506.
Please keep the important ministry efforts of Manchester UMC in your prayers!
Peace,
Rev. Jim Peich
Pastor of Faith Formation
P.S.: I'll be preaching at all services this coming weekend and I hope to see you in worship!
***
"If I Were to Preach My Last Sermon…"
Pastor Jim Peich
Sat. & Sun, July 21-22, All Services
In the academic world, it's popular to have a "last lecture" series. You invite a professor to give a lecture as if it were their last one. It's intended to force them to think, and talk about, the one most important thing they've learned.
With Pastor Greg on a renewal leave in July, our other pastors will preach the same theme. Each will take a weekend and preach all services. Pastor Jim will be in the pulpit this weekend.
If you happen to miss a weekend, be sure to catch the video online.
***
Summer Midweek Tomorrow
Wed., July 18, 7-7:45 p.m., Chapel
Our midweeks feature music, prayer, and scripture. Sharing their faith with us will be Nicki Reinhardt-Swierk from the congregation, and Pastor Winter Hamilton.
Share this: