Bike Rehab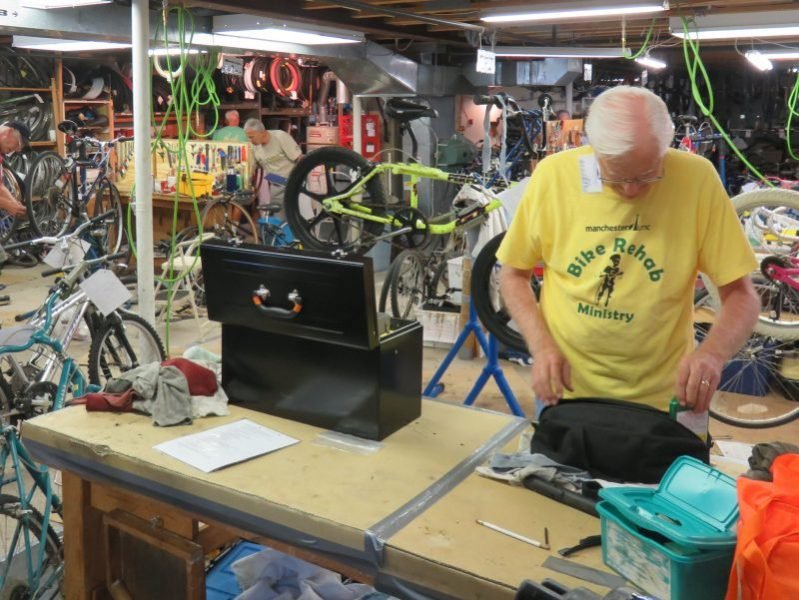 Manchester UMC's Bike Rehab is a group that receives bikes as donations, then cleans and repairs them.  They are donated to local charitable organizations, who distribute the "like-new" bikes.  Children and youth can experience the joy of riding, while adults have the option of using the bikes as transportation to and from their jobs.
Due to COVID-19, the operations of Bike Rehab are suspended until further notice out of an abundance of caution for our volunteers and staff. Stay tuned for more details on how you can support Bike Rehab.
Donation Information
To donate bikes, drop them off at the Bike House, 201 Creve Coeur Ave., Manchester, MO, outside the building. If you are unable to drop off your bikes, please email Dean Wilson.
Our Mission
The mission of Bike Rehab is to collect, recondition and distribute bikes to mission agencies and/or individuals. In the process, we foster lasting relationships and community amongst participants.
Our History
You never know how a ministry will be born. This ministry was not envisioned and developed by a group of bike riders and enthusiasts, but by a group who prepared breakfast each month for individuals joining our church. It started with "Let's put our small change in a coffee can each month and at the end of the year buy a bike for charity". Two months later it was "Do you suppose we could collect some used bikes, fix them up, and give them to LifeWise STL" – (a partner organization in St. Louis inner city). Within three months, 60 bikes had been donated to the agency. Since our start in the year 2000, over 8,000 bikes have been shared with agencies, groups and individuals.
How It Works
Notices in our church bulletin notify church members that bikes are needed for Bike Rehab and the contact person for making a donation. Local bike shops post information about Bike Rehab and who to contact to make a donation. Some bike shops will allow trade in allowances on the purchase of a new bike; then donate the trade-in bike to us. We send the donor a letter to acknowledge the donation to a non-profit organization that can be used for tax purposes.
Donated bikes are evaluated to determine if the bike can be rehabbed to an excellent condition within the limits of financial investment and time involvement that the ministry is willing to invest. Bikes that do not qualify to be rehabbed are used for parts.
Each usable bike is "logged in" and tagged with an itemized check list to identify the make, model, type, tire size, and any other feature of the bike that may need to be repaired or adjusted. The bike is cleaned and scheduled for rehab days when volunteers gather in mass to work. Parts and supplies are gathered for bikes that are to be rehabbed.
All of the Bike Rehab workers are 100% unpaid, volunteers who enjoy bringing miles of smiles to people in need through bikes.
Financial Support
The success of the ministry is largely dependent upon available financing. The ministry's primary fundraiser is to provide food service for our church's 4th of July community fireworks display.
Frequently, bikes in "like new" condition are donated that can be sold to help finance the ministry. Some members of our ministry watch for bikes that would be of interest to collectors and list them on eBay.
The average cost to rehab a bike is $26.00, which includes a $9.00 helmet. Other expenses include tools, bike stands, replacement parts, and cleaning supplies.
Bicycle Recycle Art
Beginning in July 2017, some creative volunteers began to use parts from retired bicycles to make lamps, bicycle hangers, bike racks, and colorful yard sculptures. Anyone can take a piece of this fun art home for a suggested donation to Bike Rehab . There is always room for more creativity, so join us to create bike art by emailing Alison Gaffney.
Work with Us
Due to COVID-19, the operations of Bike Rehab are suspended until further notice out of an abundance of caution for our volunteers and staff. Stay tuned for more details on how you can support Bike Rehab.
Bike Rehab works weekly:
Monday Evenings – 5 p.m. to 9 p.m.
Thursday Mornings – 8 a.m. to Noon
Bike Rehab also schedules rehab work days each year in January, April, September, and October. Forty to fifty volunteers meet to complete the various tasks to rehab a group of bikes.
Friday, April 24, 6-9pm CANCELLED FOR COVID-19
Saturday, April 25, 8am-1pm CANCELLED FOR COVID-19
September 11-12, 2020
October 23-24, 2020
Bike Rehab is closed on major holidays. Please check the 'What's Happening' page on this website for any closings due to inclement weather.
Rehabbing tasks include replacing tires, tubes, grips, brake pads, cables, cable housing, reflectors, seats, pedals, and kick stands. Each bike is cleaned and polished to enhance its appearance and prepare it for extended service to a joyful recipient.
At the conclusion of each rehab day, most bikes are transported to our major recipient, LifeWise STL. Here the bikes and helmets are systematically distributed to selected children and their families.
Service Hour Opportunities
If you or someone you know is in need of service hour opportunities, please email Autumn Dennis. Many organizations accept volunteer service hours completed with Bike Rehab.
Contact Information
Learn More
Read our article — How to Start a Bicycle Rehab Ministry