Opportunities to Serve and Give for Christmas 2018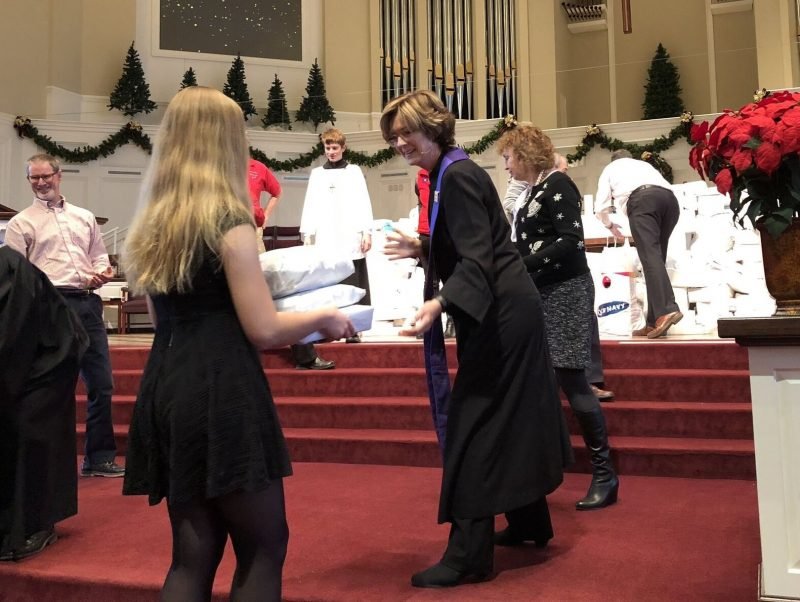 Volunteer Opportunities
To sign up to volunteer with any of these service opportunities, use the contact listed, or visit the Information Center on Sundays.
December 7-14 (various shifts) – Kingdom House Holiday Market
The Holiday Market is a special way of celebrating the season with Kingdom House's program participants. It is a way of saying "Keep up the good work!" for all the progress made over the past year. Volunteers are needed to help sort/organize the gifts, serve as personal shoppers with the clients, and restock gifts. Numerous shifts are available each day of the Market. This is a great family-friendly service opportunity! Sign-up here. Contact Dan Richter 314-627-1233.
December 9 (Noon-1p) – Manchester UMC
Volunteers are needed at Manchester UMC immediately following the 11:00 a.m. worship service to sort, unwrap, count, bag, and load Gifts in White.Sign-up here.
December 9 (1:15 -3p) – Epworth
Six volunteers are needed to assist with unloading and sorting gifts at Epworth's Webster Groves location immediately after delivery. Contact Margaret Mahan 314-918-3330.
December 10 (4:45-7:15p) – Epworth
Provide and serve ice cream sundaes and join in with decorating cookies to celebrate the holidays at the Webster Groves campus with the residential teens. All volunteers must be 21+. Transportation available. Contact Barb Zenser 636-394-4608.
December 13 (4:45 to 8p) – Epworth
Holiday Festive Party at Drop in Center, Natural Bridge Rd. Prepare and serve a holiday meal at the Drop-in-center on Natural Bridge Rd. Help decorate and engage in crafts with older foster youth. All volunteers must be 21+. Transportation available. Contact Barb Zenser 636-394-4608.
December 25 (Noon-3p) – Epworth Christmas Day Dinner
Bring a bountiful Christmas dinner to share with 5-10 youth on Christmas Day. Bring games to enjoy with them. Bring a team of 2-5. Volunteers must be 21+. Contact Margaret Mahan 314-918-3330.
Throughout the holiday season – Epworth
Volunteers are needed at Epworth for holiday activities such as cookie baking, decorating, and crafts. These opportunities are for individuals or small teams. All volunteers must be 21+. Contact Margaret Mahan 314-918-3330.
Flexible Schedule – Volunteer at Bridge Bread's retail shop on Cherokee Street (shifts are four hours).
Help pack church orders on Saturday mornings, help with church order pickups on Saturday afternoons. Bring lunch for the bakers and visit with them on a Tuesday, Wednesday, or Thursday, then help with property repairs, maintenance, and improvements. Must schedule in advance. Contact Fred Domke 314-296-3077.
Christmas Missions Offering
During this holiday season, it's important to remember that the real reason we celebrate Christmas has nothing to do with gifts under the tree or other things that our culture promises to bring us joy. Jesus' birth changed the world – bringing love and light into a world filled with fear and darkness. It is that precious gift that we celebrate each year, and it is that gift that calls us to serve as beacons of Christ's love and light to others.
Through our Christmas Offering, we are transforming the lives of those in the St. Louis metro area who struggle with poverty, isolation, homelessness, and more. We support the following social service agencies with United Methodist connections:
• Bridge Bread
• Epworth Children & Family Services
• Home First STL
• Kingdom House
How to Donate
To make a difference, simply put your donation in the green envelope marked Christmas Missions (in the pews and mailed to your home in early December). You can also donate online; click "Give Online Now," then designate your gift for this special Christmas offering.
Share this: