About Circle of Friends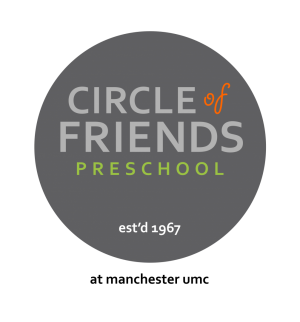 Circle of Friends Preschool is an outreach of Manchester United Methodist Church. The school is located on the lower level of the main church building near the intersection of Highway 141 and Manchester Road in Manchester, Missouri.
We are currently enrolling for in-person classes for the following:
Circle of Friends Preschool is open to all faiths and traditions. While families do not need to attend Manchester UMC to enroll at Circle of Friends, church members and existing families are given the opportunity for early registration. The preschool is administered by a full-time director, Melanie Knipping, and part-time front desk coordinator, Amy Glisson.
---
Our Philosophy
We believe all children should have the opportunity to grow and learn to their fullest potential.
We recognize each child as special and unique.
We enhance the development of a positive self-concept by providing developmentally appropriate activities and experiences for success.
We encourage young learners as they grow toward independence, confidence and responsibility.
---
Our Families
Families are always encouraged to participate by visiting or volunteering in the classroom. Come see first-hand all the fun, growing, and learning that happens in our school.
We encourage open communication, with mutual trust and respect, at all times with families.
School newsletters are published monthly, keeping families up-to-date with schedules and recent events.
Family and teacher conferences are conducted twice annually with a focus on the whole child.
---
Our Curriculum
Our curriculum blends teacher-initiated activities that build on children's interests with the children's own self-directed activities and play. Classroom activities focus on children's ages and abilities and address all areas of development: intellectual, social, emotional, physical, and creative.
Each classroom incorporates language, math, science, creative arts, music, motor skills and social development through dramatic play, construction, art, and sensory experiences.
We integrate a separate music program that inspires children's music appreciation by encouraging rhythm and tempo through singing, dancing, rhyming, and movement.
By promoting child-directed play, we ensure that your child develops at his or her own pace. Sharing, cooperating and taking turns teaches your child the importance of being a team player.
---
Learn More
For more information or to schedule a complimentary tour, call 636.394.6867 or email today.
COF FOOTER

129 Woods Mill Road,
Manchester, MO 63011
Phone: 636.394.6867
Fax: 636.394.4662

129 Woods Mill Road, Manchester, MO 63011 - Phone: 636.394.6867 - Fax: 636.394.4662