"For everything there is a season, and a time for every purpose under heaven: a time to be born, and a time to die; a time to plant, and a time to pluck up that which is planted." -Ecclesiastes 3:1-2
In just a few weeks, our trees will begin turning and dropping their leaves, signifying a transitional season. In our American society, we often associate how long something has been around with how successful it is, and associate that thing coming to an end as some sort of failure. We are taught to fear death, whether its physical death or a metaphorical death. At its best, the church is a place where we learn to become comfortable with the reality of death and the reality of changing seasons. Ecclesiastes speaks to this; to everything, there is a season.
Today, I want to give thanks to the Computer Rehab ministry for incredible impact this small but powerful ministry has had in the past four years. Over the course of its lifetime, the Computer Rehab ministry provided over 200 refurbished computers to organizations like Epworth and Home Sweet Home, as well as local hospitals. These computers provided access for children to do homework at home, or keep up with their homework while hospitalized. Computers also provided technology access to low-income individuals who were able to use them to find employment and other resources. The Computer Rehab ministry has been a stellar example of the big impact just a few individuals with skills and passions can have.
As with everything, there is a season, and the sun has set on this small but faithful ministry. What happens when a ministry retires? At Manchester, we rely on the gifts, passions, and time of our volunteer ministry leaders. When life changes, we seek new leadership; if there is no lay leadership, we take the cue that the Spirit is doing something else and is doing a new thing. We do our best to honor the legacy of the ministry by making sure the assets and resources of the ministry go on to do their intended purpose in a new fashion.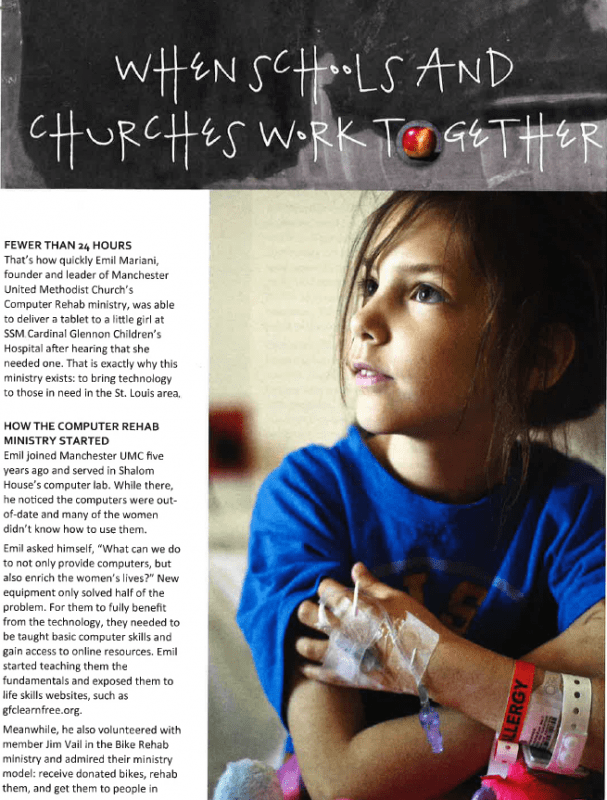 For the Computer Rehab ministry, the remaining computer donations were able to be donated to St. Louis Byteworks, a local non-profit in the Soulard neighborhood of St. Louis that rehabs computers for schoolchildren, just like Computer Rehab. From their website, the Byteworks has an "Earn-A-Computer" program where "local kids learn the skills to successfully operate a computer, gain experience with various types of software, learn some networking skills, and learn how to safely search the Internet and send and receive E-mail. These skills are designed to extend their knowledge of the computer and its uses as well as build confidence." All other unusable computer parts and hardware that could not be used for this non-profit were recycled through the Midwest Recycling Center, to ensure they could be given a new life instead of ending up in a landfill. The remaining ministry funds that have been donated to this ministry will go on to serve the communities that the computers would have served, the people of Epworth and Home Sweet Home.
As we retire this ministry, we give thanks for the dreams begun by Emil Mariani who used his gifts, passions, and skills to launch something big from something small. We give thanks for their tireless dedication and service to this ministry, as well as all of the volunteers who have given their time to this ministry over the years.
If you have computers you would like to donate, we recommend donating them to St. Louis Byteworks or St. Louis Computer Village. For older computers, keep an eye on the monthly electronic recycling events at Schroeder Park in Manchester on the 3rd weekend of each odd-numbered month. If you are looking for a local program that teaches children about computers, check out Computer Bryte Kids.
For any questions, please email Director of Missions Autumn Dennis.
Thank You, Computer Rehab!