Dana Hockensmith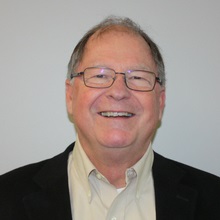 Dana Hockensmith practiced law for 38 years. He is married to Susan, and they have two daughters, Angela, who lives in Kansas City, and Laura, who is in St. Louis. They have two grandsons.
Dana and Susan came to Manchester United Methodist Church in 1986 from DeSoto, MO, where they were members of St. Andrews Methodist Church. At St. Andrews, he was on the Administrative board, and he and Susan sang in the choir. At Manchester UMC, he has ushered, taught Sunday School, and served on the Pastor/Parish Relations Committee. He has also performed legal services for the church.
For over 40 years, Dana has been active in supporting persons with disabilities. Dana and Susan helped found Pony Bird, Inc., which has 6 homes serving 60 persons with severe disabilities. Their son, Philip, was the first resident. Both continue to serve on the Pony Bird Board of Directors.
Dana served as Co-Chairman of the "Special Ones Campaign" for tax support for persons with disabilities in Jefferson Co., MO. He served as the Chairman of the Board of the Jefferson County Commission For The Handicapped (now the Jefferson County Developmental Disabilities Resource Board), and as Chairman of the Board of the Jefferson County Sheltered Workshop. For a number of years, he represented the Autism Society of America as well as a number of local organizations working with persons with disabilities.
Dana currently assists in managing Lakeside Children's Academy in Valley Park. He also manages commercial real estate. Visiting with his grandsons and daughter in KC, hiking, biking, playing golf, reading, and traveling with Susan fill his days.
Share this: