Dandelion Bouquet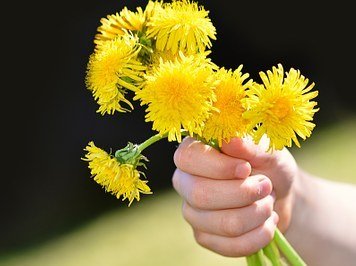 Editor's Note: Rev. Stephanie Lendt is our guest columnist for this issue. We welcome her comments!

The most beautiful bouquets I've ever received were delivered years ago, personally, from the hands of my children. Children young enough to see dandelions as beautiful flowers, and thoughtful enough to want me to benefit from their beauty. Whether in a jelly jar or crystal vase, every time I looked at them in my kitchen window, I felt loved and appreciated. What is beautiful and true is in the eye of the beholder and the heart of the giver. And, that is enough, more than enough.
There are times we hear people pray aloud, eloquent prayers, poetic prayers, and suddenly our simple and sincere "dandelion-bouquet" prayers feel less than worthy of our great and loving God. However, nothing could be further from the truth. All prayers are precious.

This weekend, at all services, we are going to take a deep, cleansing breath and consider weeds…I mean flowers…I mean prayers! Because, when it comes to prayers, what is beautiful and true is also solely in the eye of the Beholder and the heart of the giver.

See you this weekend!


-Pastor Stephanie

***

PipeScreams This Sunday!
Sun., Oct. 27, 7p, Sanctuary
You, and the entire community around the church, are invited to our annual "fiendish" evening of organ music for the whole family to enjoy. This Joy of Music concert is free. All attending are encouraged to wear a costume! Presented by organist, John Cargile.

***

Red Cross Blood Drive
Sat., Nov. 9, 8:30a-2p, Old Fellowship Hall
Someone in the U.S. needs blood every 2 seconds, and there is currently a critical shortage of blood. Here's your chance to make a difference in someone's life. Schedule an appointment at 1-800-733-2767 or visit RedCrossBlood.org and enter: ChurchesUnited. To speed up the donation process, print a Rapid Pass.