Discipleship WIN Team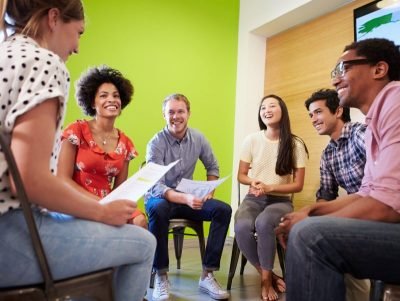 Last year, in conjunction with setting goals/priorities through 2021, we developed teams of members and staff. Called WIN (What's Important Now) teams, they've been working diligently in helping our church move forward; click here to get an overview of their work.
I've asked the Discipleship WIN team to give us an update. We're indebted to them and all the members for their commitment.
Pastor Greg
* * *
Greetings,
We are the Discipleship WIN Team, comprised of Jeff Haupt, Tiffany Conway, Jim Clark, Mike Clement and Linda Lange. Our goal is to help grow the number of people connecting in Christian community and living more missionally with the desire to help 500+ people take a next step on their faith journeys here at Manchester UMC.
So, what does it mean to take a next step on one's faith journey and how can we possibly measure such a spiritual thing, especially in such a big church? This was a challenging question and we ultimately decided that what we have the ability to "measure" are the number of people engaging in ministry opportunities for the first time. With this in mind, we developed a tracking program consisting of 16 ministries and small groups. Our criteria was simple – once someone attended one of these ministries for the first time they were counted towards our goal of taking a next step. We also decided to only count a person once – meaning that if the same person participated in two ministry opportunities for the first time they were only counted once for our tracking purposes.
640 People Take Next Steps!
We began our tracking on September 1, 2018 and today we are excited to share with you an update on where are we eight months later. Drumroll please! We are delighted to report that more than 640 people have taken a next step at Manchester UMC! Of this group, 108 were new attendees for Meals & Ministries, 75 became new members, and 137 were new participants in the recent Lent small groups! The rest engaged in one of the 16 ministries we tracked as part of this initial pilot program.
We were curious to understand the age breakdown of those who took next steps over the past eight months. Here's what we found: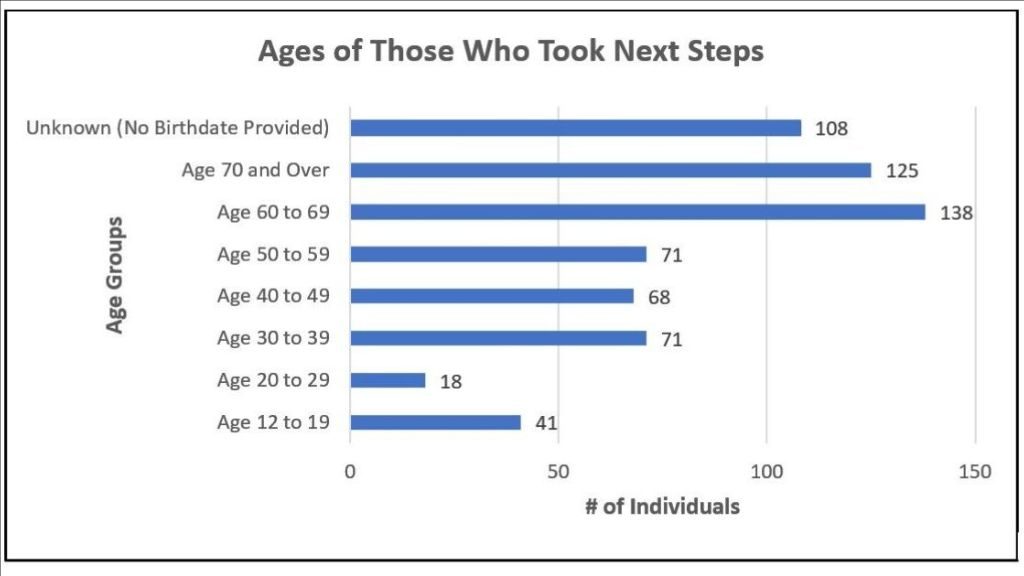 Note that we do not have birthdates for 17% of those who took a first step. This is one of the reasons our church has recently introduced the Connect Cards to help us ensure we have accurate birthdates for those who consider Manchester UMC their church home. Having this data is critical to our efforts.
We were also curious to understand how long the people taking next steps have been at Manchester UMC. Here's what we found: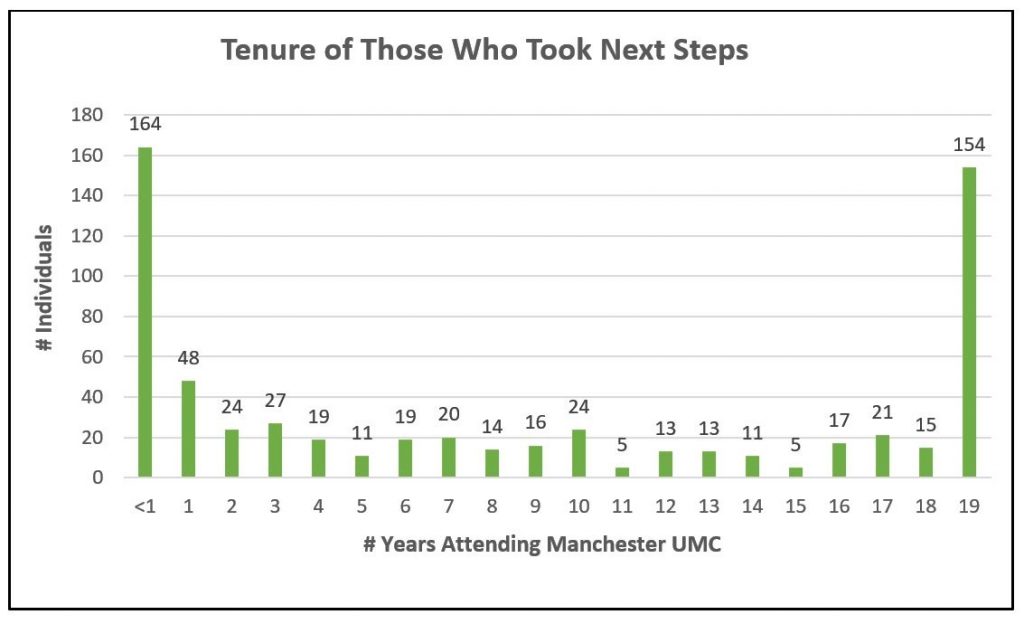 Faith Coaching Team Launches
So, what else has our team been up to? Well, in collaboration with the New Member Ministry, we have created a new team called Faith Coaches. Their role is to work with the new members on a one-to-one basis to help them get better connected with the various ministries Manchester UMC has to offer. This is an important aspect we felt our church was missing and we are proud to bring this experience to our new members! On a side note, if you have the gift of encouragement and would like to learn more about becoming a Faith Coach please email Tiffany Conway .
What's Next for 2019?
And finally, what are we working on for 2019? We hope to further enhance our tracking program to better understand and measure participation over time. We also hope to gain some of the important qualitative information to go along with the great quantitative data we already have. Additionally, we also see some version of our Faith Coach experience expanding beyond the new members classes and to the entire congregation. And speaking of the entire congregation, if you enjoyed the Lent small groups then stay tuned for an exciting new church-wide study coming this fall! These are just a few of the ideas we're working on but rest assured, our Discipleship WIN team will continue to improve and find better ways for all of us to take next steps at Manchester UMC!
Thank you,
The Discipleship WIN Team
* * *
Never Leave a Veteran Behind
Panel on Veterans' Mental Health
Sunday, May 5, 3-4:30 p.m., Fellowship Hall
A panel of veterans, mental health service providers, and organizations will educate us about the toll military service can take, and what support can be offered. This important event is open to all, veterans as well as friends/families/neighbors of veterans. This is sponsored by our Social Justice Ministry.
* * *
Sermon for Sunday (5th)
REVISITING CHILDHOOD: Toughness
In this series we're seeing how children can teach us a lot about life and faith. This Sunday, in traditional worship, we'll see how children's resilience and hope can be contagious, especially in challenging times. The text is Mark 7:24-30.
Share this: