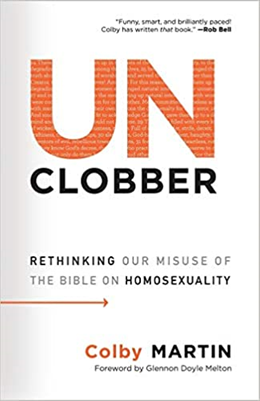 Unclobber – Winter 2024
Fridays, Feb. 2 – March 8, 2024 | 10:00-11:00p
Room 221 | Manchester UMC
Leader:  Deborah Reinhardt
Due to popular demand, this Unclobber class is being offered again in the Winter of 2024!
Using the book, Unclobber: Rethinking Our Misuse of the Bible on Homosexuality by Colby Martin, we will reexamine what the Bible says (and does not say) about homosexuality in such a way that breathes fresh life into outdated and inaccurate assumptions and interpretations.
Churches in America are experiencing an unprecedented fracturing due to their belief and attitude toward the LGBTQ community. Armed with only six passages in the Bible–often known as the "clobber passages"–the traditional Christian position has been one that stands against the full inclusion of our LGBTQ brothers and sisters. Unclobber reexamines each of those frequently quoted passages of Scripture, alternating with author Colby Martin's own story of being fired from an evangelical megachurch when they discovered his stance on sexuality.
Book: $19  (This book is also available at local libraries and bookstores, as well as online.)
Please complete one form per person: