Meet a Faith Coach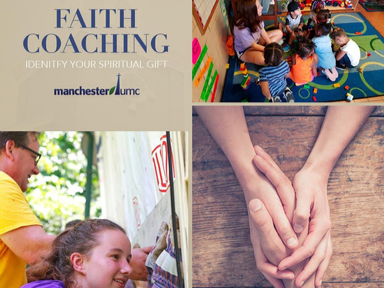 The Faith Coaches ministry is a team of church members who have been equipped with some great tools, an in-depth knowledge of MUMC ministries and most importantly the gift of encouragement to help others take the Next Step on their faith journey. If you are interested in working with a Faith Coach, its as easy as 1,2,3…
Step #1: Take the Spiritual Gifts Assessment
We believe that God has given you specific spiritual gifts and abilities to help people in our church, communities and world. Many people find it helpful to use a spiritual gifts discovery tool to affirm how God has gifted and shaped them to help others. With this in mind, we encourage you to take advantage of our new online Spiritual Gifts Discovery Assessment for valuable insights about your God-given talents.
This online tool takes about 10 minutes to complete. We strongly encourage you to print your results and bring to your Faith Coach appointment.
Note: Answer each question to the best of your ability with the assurance that there is no right or wrong answer. A few of the assessment questions may include verbiage that is different than you typically experience at Manchester UMC.
Click Here to Begin Taking the Spiritual Gifts Assessment
Step #2: Meet with a Faith Coach
Please complete one form per person to meet with a Faith Coach.
Step #3: Get Connected to Manchester UMC!
Once you and your Faith Coach have discussed and selected the ministries that best fit you and your spiritual gifts, we'll connect you with those groups and/or their leaders so you can confidently take the Next Step on your faith journey at Manchester UMC! (You are not obligated to join the ministry.)
For assistance or questions, please contact Tiffany Conway.
---
Are you interested in being a Faith Coach?
If you have the gift of encouragement and would like to learn more about becoming a Faith Coach, then please contact Tiffany Conway.
See Also: