How God Would Fish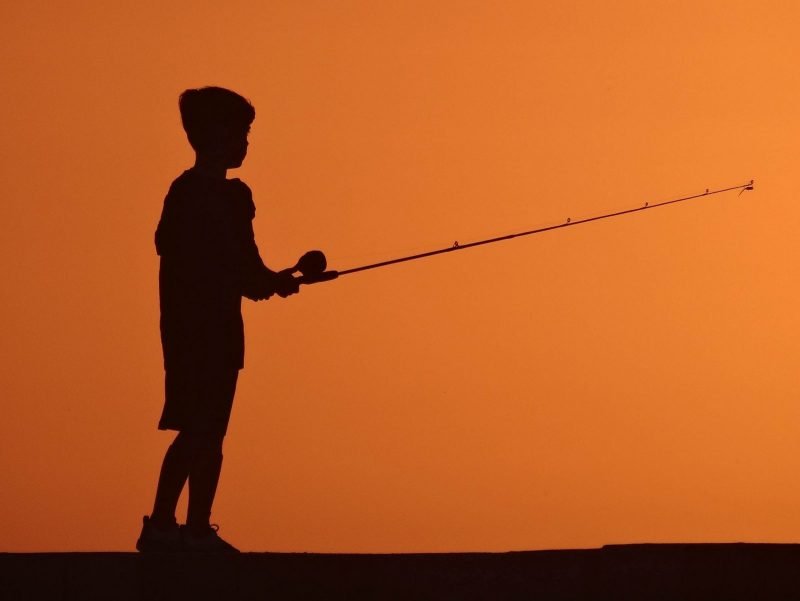 Growing up, I loved fishing.
More specifically, I loved catching fish. When they didn't bite, I would try a new lure. When that didn't work, I'd move to another spot. When that didn't work, I'd change back to the old lure. When that didn't work, I went home.
Creativity and patience reach their limit.
However, Christmas is the time when we remember that God doesn't give up quite so easily. God is the one who's at the lake at dawn, fishes into the evening, then repeats. God is there regardless of the hunger level of the fish. There's always one more cast, one more lure, one more fishing hole.
Jesus was born into a violent, chaotic, inhumane world. Human life was very cheap. Even King Herod had no problem killing babies in the hope of nailing Jesus.
Regardless, God wasn't deterred. He didn't give up, put away the tackle box, and go home.
And, year after year, the Christ child is born again into this world. God keeps fishing for us. Regardless of how bad things might have been since last year's holiday, the carols and the manger scenes remind us of God's relentless love. When we participate in our holiday rituals, we remember that God continues hoping, against all the odds, that this will be the year when people catch on…that the mission and message of Jesus might be heard in a new way, and that God's kingdom will get people's attention.
This season reflect on the message of Christmas, that God continues offering us a chance for peace. No matter what, you CAN foster hope in your heart, because hope is what drives God.
We might feel like giving up, but God never does.
Peace,
Pastor Greg
* * *
Upcoming Schedule of Christmas Events
Visit our website for details.
Blue Christmas—Friday, Dec. 21, 7 p.m., Chapel
Early Christmas Eve on Saturday—3:45 & 5 p.m., Chapel
Sunday Morning Services—"Christmas Grace," 8, 9:30 and 11
Christmas Eve (Monday) Services:
1—Traditional with Communion
3—Family Christmas Themed
5—Modern Celebration
7, 9—Traditional
11—Blended
Called to Stay Strong in 2018-2019
'Unfinished' Update
I'm happy to report that our Heating & Cooling Fund, as well as our Debt Reduction Fund, continue to rise! As of last week, we have reached $149,368 and $127,935, respectively. That's a total of $277,303. Thank you for your generosity! Let's keep it up as we strive to reach our goals in 2019. To get more information, or make a pledge, visit our website.
Inclement Weather Announcements
When inclement weather strikes, or there are other important messages for our church family, check the 'What's Happening' page on our website. From our homepage, simply click on the words, 'What's Happening.' Find updates there, and on our Facebook page.
Share this: