LEARNING GROUP: Growing In Faith Together (GIFT) Women's Bible Study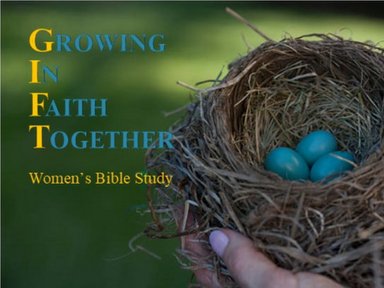 Day:           Wednesdays
Time:          6:30 to 8:00 p.m.
Location:   Room 311
Leader:       Carol Schuth
Description:  Until May 23, we are studying Jeremiah: Daring to Hope in an Unstable World by author Melissa Spoelstra.  Women are experts when it comes to worry, fear, and doubt. Unsettled times in our world—our neighborhoods—certainly don't help matters. Jeremiah also lived in an unstable time when he was called to share God's message of mercy and love. His words are just as relevant to us as they were to the wayward people of his time. This six-week Bible study, designed specifically to address the challenges and circumstances of today's woman,
On May 30, we will begin our next study Ann Voskamp's book, One Thousand Gifts: A Dare to Live Fully Right Where You Are.  Just like you, Ann Voskamp hungers to live her one life well. Forget the bucket lists that have us escaping our everyday lives for exotic experiences. -How, – Ann wondered, -do we find joy in the midst of deadlines, debt, drama, and daily duties? What does the Christ-life really look like when your days are gritty, long–and sometimes even dark? How is God even here?- In One Thousand Gifts, Ann invites you to embrace everyday blessings and embark on the transformative spiritual discipline of chronicling God's gifts. It's only in this expressing of gratitude for the life we already have, we discover the life we've always wanted … a life we can take, give thanks for, and break for others. We come to feel and know the impossible right down in our bones: we are wildly loved — by God. Let Ann's beautiful, heart-aching stories of the everyday give you a way of seeing that opens your eyes to ordinary amazing grace, a way of being present to God that makes you deeply happy, and a way of living that is finally fully alive.  Book fee:  $7.
Register below:
For enrollment assistance, please contact Tiffany Conway.
---
See Also:
Share this: