Holy Land 2019 Trip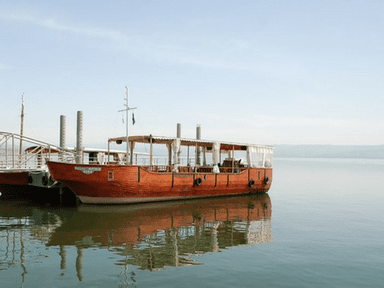 December 2-11, 2019
Immerse yourself in the land where Jesus walked, healed and preached. Experience the scriptures in a way only possible when you place yourself in the land of the Bible. Pastor Jim Peich will host a group tour of the Holy Land from Dec. 2 to 11, 2019. Together, we'll explore the Sea of Galilee, Nazareth, Bethlehem, Jericho, Jerusalem and more on this historic trip. All are welcome, but spaces are limited!
Itinerary Overview
Dec. 2-3: USA to the Holy Land
Dec. 4:    The Galilee
Dec. 5:    Nazareth, Megiddo and Ceasarea
Dec. 6:    Jericho, Qumran and Bethlehem
Dec. 7:    Jerusalem
Dec. 8:    Jerusalem and the Old City
Dec. 9:    Mesada and Dead Sea Tour
Dec. 10:  Jerusalem
Dec. 11:  Extension or Return to USA
* All dates are 2019.
Payment Options & Discounts
This all-inclusive experience starts at $3,598 per person (all-inclusive pricing covers domestic and international air fair, daily meals, bus transportation, first-class hotels, guides, gratuities, entrance fees and more. This price also includes a 4% discount for making payments by check. If you prefer to use credit card, please add 4% to the cost).
Payment Schedule
New Registrations
$600 deposit for new registrations received between 6/2/19 and 8/18/19.
2019 Payments (IMPORTANT)
$600 in trip account by 6/2/19
$1,800 in trip account by 8/19/19 (in order to be ticketed)
Full payment of final balance due on 9/18/19
Note:  Late payment fees of $100 may be assessed by the travel company.
Tour Safety
Our trip is organized by one of the oldest and most well-respected Christian tour companies. Learn about the safety precautions taken by Educational Opportunities Tours.
Learn More & Register 
For additional information about this exciting trip along with details about available options and extensions, please visit the Educational Opportunities Tours site.
IMPORTANT:  If you're ready to register and wish to be part of the group hosted by Pastor Jim Peich, please be sure to provide his group leader ID# (shown below) when registering. You will then be added to Pastor Jim's group by the tour company and also be invited to a special Facebook Group facilitated by Pastor Jim for trip updates and details. (If you do not hear from Pastor Jim within 1 week of registering, please let him know.)
Host/Group Leader: Rev. Jim Peich
Host/Group Leader ID #: 58601
If you have questions about the trip or need help registering, please contact Pastor Jim Peich and he will be glad to help!