I Love Donuts and Jesus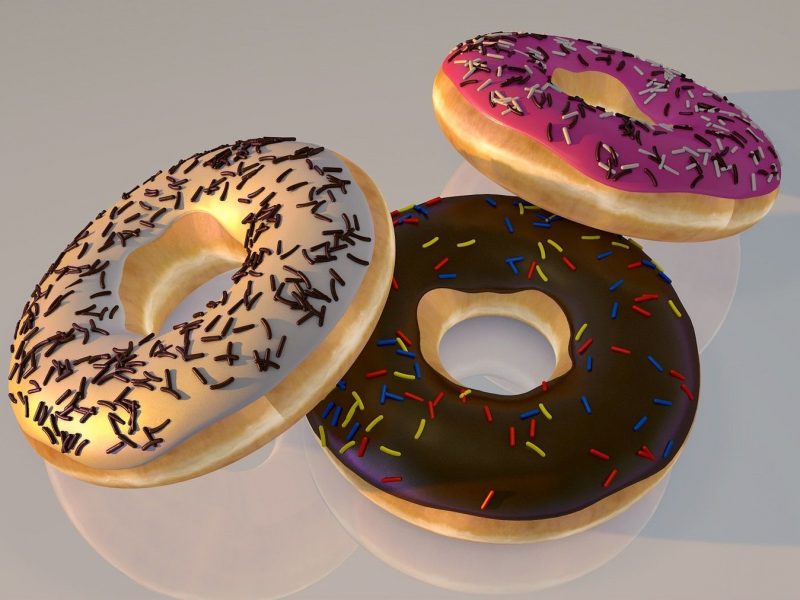 A few Sundays ago, an usher handed me a piece of paper. On it was printed, from a child's hand, that wonderful line 'I love donuts and Jesus.' I'm sure our Donut Ministry folks are proud!
Whoever that child was, I guarantee you that donuts will forever be associated with church and Jesus for her or him. For me, strawberry Kool-Aid is what I connect with, because that's what they served us in Vacation Bible School when I was growing up.
Do you have a food that you associate with church?
This summer we've had several deaths in our church family. It's been difficult for many people. But, what often takes place after a funeral? Our hospitality team will cater a meal. Once again, there is food in church.
Donuts, Kool-Aid, and casseroles are more than food and drink. They are symbols that someone cared enough to shop, prepare, and serve. They represent a loving, caring community. In those concrete symbols, the love and care of Christ shines through.
Jesus was very big into physical things that could convey spiritual realities. He drank wine at a wedding and water from a Samaritan well. He multiplied fish and bread for thousands, and he shared wine and bread at the Last Supper. He broiled fish for the disciples in the days following the Resurrection. And, he had several meals with a variety of folks, from Pharisees to tax collectors.
The next time you see food in church, you might give a word of thanks for the people who've provided it. They're following in the footsteps of the man who said, "I am the bread of life!"
See you Sunday,
Pastor Greg
* * *
Have You Invited Someone to Church?
Fall is rapidly approaching. With back-to-school, music programs, and other activities starting up, this is a PERFECT time to invite someone to join you in worship for a Saturday or Sunday. Also, the series on the Bible I'm doing (more below), is timely for inviting a friend to join you in any of our 2000 (or so it seems!) small group studies.
* * *
What The Bible Is And Isn't
Sermon Series on the Bible Continues
Last Sunday, I talked about how the Bible is a book conveying sacred stories, not scientific facts. If you missed it, the sermon will be online later this week.This Sunday, at all services, I'll focus on the Bible as a book on love and not a book about laws. It's based on 1 John 4:7-21. It's my hope that this series will help you gain an even deeper appreciation of the Bible, along with insights that will help you hear God speaking to you through it.
Here are future sermons in this series:
–August 26 — A Love Book, Not a Law Book (1 John 4:7-21)
–September 2 — A Kingdom Book, Not a Political Book (1 Samuel 8:10-22)
–September 9—An Edgy Book, Not a Pious Book (Job 1:8-12, Job 7:11-21, Job 42:7)
–September 16—An Open Book, Not a Closed Book (2 Corinthians 3:2-3)
* * *
Fall Midweeks Starting
Wednesdays, September 12-November 14
6-6:25 p.m., Chapel
Coinciding with our Wednesday dinners, we'll enjoy a devotional time featuring music, community prayer, Scripture, and a devotional story from a Manchester UMC member or staff. If you have a story to share, please let me know! Just email me.
* * *
Live Streaming of Worship Services Coming Soon to Facebook!
Thanks to some innovative thinking, and a tiny investment in equipment, we'll soon be streaming our worship services on Facebook Live! Some of you may have already seen a system test on Facebook last week, but we have much more in store. It turns out, our existing Facebook page is a very cost-effective way to get our message to those who can't attend church. We all know that church is like a concert; it's always better in person. But, if you're traveling, sick, or otherwise can't make a service, you'll soon be able to join us online on Sunday mornings, at both 9:30 and 11:00. Be looking for more details in future eBlasts. In the meantime, if you haven't done so, please 'Like' and 'Follow' us on Facebook. You'll automatically be notified when we're scheduled to go 'live!' We're also welcoming anyone who'd like to help our AV production team; no experience required. Just email Brian Gagliano.
* * *
Revamped "Parables from the Farm" Now Available!
In my last study/renewal leave in 2014, I wrote a short work that featured 28 open-ended stories, with Scripture passages, to serve as a daily devotional. Recently, our Director of Strategic Communications, Phil Wiseman, worked with a graphics artist to revamp the short book. It's now in a new format, with striking pictures, that enhance the meaning behind the stories. We're going to make it available to the public for free (as a way of promoting the church). You're invited to view or download it today.
Share this: