Information Center Request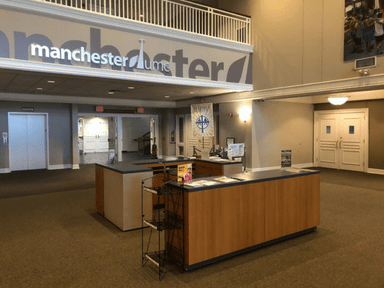 As the first space that people experience when they enter the building, our main Narthex is critical to making a positive impression. Because of its importance, a team has been working together to identify ways to make the Narthex more approachable, accessible and organized for the benefit of new and existing people. The first enhancement is the creation of a centralized "Information Center" (in lieu of having 8 individual kiosks lined up along the wall) starting Sunday, August 19, 2018. This is a model that many other churches have found to be successful.
The new "Information Center" is staffed by up to 2 volunteers before and after each Sunday service. Volunteers are equipped to answer questions about current ministry promotions, help recruit volunteers for upcoming programs and also sell bridge bread, grocery cards, tickets, books, etc. It is our hope that the new "Information Center" becomes a vibrant hub of our church!
If your ministry would like to have information on an upcoming program or event promoted at the Information Center, please complete the below form. We recommend that all requests be made at least one month prior to your preferred start date. Since space is limited, requests are on a first-come, first- serve basis in most cases.
IMPORTANT: All requests must be received at least 14 days prior to the Sunday you wish to begin.
Ministries that use the Information Center to promote their programs are expected to help staff open shifts at the Information Center.
If you have questions or need assistance, please contact Tiffany Conway.
Share this: