Latest News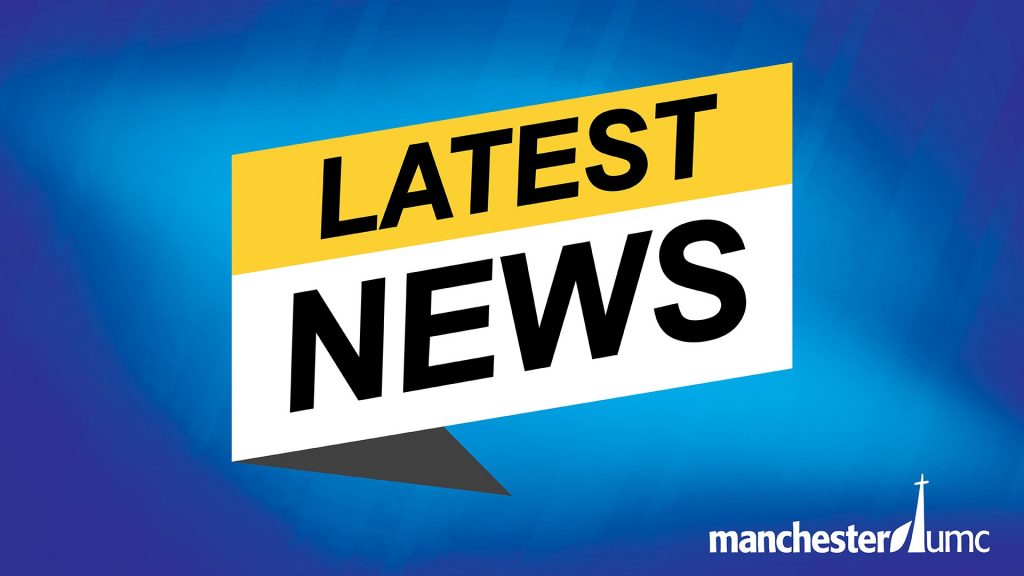 Here's the latest news from Manchester UMC, posted 01/22/2021:
Worship This Weekend
On Saturday afternoon, Rev. Stephanie Lendt will provide a message from the Chapel. On Sunday morning Rev. Andy Bryan will lead us in worship as he continues his sermon series "Unbudged in Their Tracks." Stream the Traditional Casual service (Sat. 4p), Modern (Sun.9:30a) and the Traditional service (Sun. 11a) on Facebook or on our website.

Circle of Friends Registration
The preschool has opened registration for the 2021-2022 school year to church families. Existing families will be able to register on Jan. 25 and new families will be able to register on Feb. 1. More info.

Drive-Thru Communion
Sun., Feb. 7, 12:15p, West entrance
All are invited to celebrate communion, safe and distanced, from the warmth of your car! Clergy will administer the elements as you drive by the west entrance of the church. No reservations needed – join us! Learn more.

A New Day 2021
Manchester United Methodist Church is who we are, a family of God, called to serve critical spiritual and community needs with love and compassion. Our gifts to the General Fund changes lives every day. Here's how to give:
Online at manchesterumc.org/give where we can setup a recurring contribution.
Text MUMC to 73256 and follow the prompts.
Mail a check to Manchester UMC, 129 Woods Mill Rd., Manchester, MO 63011.
Look for details about how to plan your giving for the year with our Discipleship Promise Card.
"Like good stewards of the manifold grace of God, serve one another with whatever gift each of you has received." 1 Peter 4:10 NRSV

CLASSES & GROUPS

Call for Leaders
Our Lenten All Church Study is just around the corner. We are now putting out a call for leaders as well as cantors. The study is based heavily on spiritual practices and has music, prayer, and spiritual formation practices. Learn more or volunteer.

Sermon Reflection Groups
We have an opportunity to participate in one of several online Sermon Reflection Groups that will be studying Rev. Andy Bryan's upcoming series titled "Unbudged In Their Tracks", exploring what Dr. Seuss (and the Bible) has to say about conflict management and resolution.  These groups are open to everyone and meet at different times during the week. Even better, there's no homework and a weekly study guide is available online.  Learn more.

New Member Class
Sun., Jan. 31, 2:30-4:30p
Everyone interested in becoming a new member of Manchester UMC is invited to gather online with Rev. Andy Bryan and Rev. Jim Peich for an informative conversation about our history, values and beliefs as well as opportunities to grow, serve and connect. Learn more and register online by Jan. 24.

MISSIONS AND SOCIAL JUSTICE

Last Day of Diaper Drive
9a-4p, Manchester UMC
Our missional partners, LifeWiseStL and Circle of Concern, need diapers and baby wipes to distribute to new mothers in our community. Our church is coordinating a no-contact, drive-up donation for diapers and wipes. All sizes and unopened supplies can be dropped off in the blue donation bins at the church north entrance.

Order "No Hate" Yard Signs ($5)
Manchester UMC is offering yard signs featuring these words of love for display at the homes of those who wish to take a stand against hate in our communities. These vibrant signs are one-sided and made with corrugated plastic to withstand wind and rain and come with a metal sign holder for placing in your yard. Learn more and order online.

Personal Essentials
This ministry provides personal hygiene items to clients of Circle of Concern which is a food pantry serving the Parkway, Rockwood, and Valley Park districts. Since we cannot collect these items in person right now, financial contributions are encouraged on the giving page on the website. Be sure to designate Personal Essentials.

Called to Act
The United Methodist Church believes God's love for the world is an active and engaged love, a love seeking justice and liberty. We cannot just be observers. So, we care enough about people's lives to risk interpreting God's love, to take a stand, to call each of us into a response, no matter how controversial or complex. The church helps us think and act out a faith perspective, not just responding to all the other 'mind-makers-up' that exist in our society. See the website for more info.
Excerpt from The Book of Resolutions of The United Methodist Church 2016. Copyright © 2016 by The United Methodist Publishing House.

CHILDREN

'Good Shepherd' Storytime — Online Sunday School This Sunday!
On Sundays, our Children and Family Ministries team has partnered with Adult Faith Formation and the Worship Team to connect us all as we learn about the same Bible stories. We will use a curriculum called 'Good Shepherd.' Stay tuned right AFTER both the Modern and Traditional worship service. Get more info.

Eagle Scout & Gold Award Recognition
Sun., Feb. 14, 9:30 & 11a, Worship Services
We will be recognizing Eagle Scout and Gold Award recipients on Scout Sunday. If your youth received these awards last year, or so far in 2021, call the church by Tues., Feb. 9.

Save the Date – 2021 Vacation Bible School
Evening Virtual Option: July 11-15
Daytime In-Person Option: July 12-16
Additional information available late January/early February. Due to COVID-19, our plans for VBS 2021 are subject to change. In order to offer an in-person option, the church will need to be in Phase 4 of the Pandemic Plan.

YOUTH

Race You To The Movies
Sat., Feb. 27, 2-4p
Individuals, families, and COVID circles are invited to this Amazing Race style event. Register your car, or caravan of cars, to compete in this church-wide event. Participants will meet at the church, be given instructions, and then race around west county as they solve clues and find locations. The first car or caravan to arrive back at church wins. All proceeds support LifeWiseStL. Registration fee is $20 per car or $50 per caravan of three cars. More info.

MORE STUFF

2021 Leadership Board
The Leadership Board is the governing body of Manchester UMC. For 2021, this group expanded from 9 to 15 voting members. Four clergy also serve as ex-officio members. Bios of the 2021 Leadership Board members are available online along with board meeting agendas, minutes and other resources.

We're Hiring: Finance Assistant (Part Time)
We are seeking candidates for a part-time Finance Assistant. This 20-hour per week role is responsible for payroll and employee benefits processing as well as supporting our endowment program. Benefits include employer retirement plan contributions as well as paid holidays, vacation days, sick days and continuing education days. Get more details or apply.