Latest News from Manchester UMC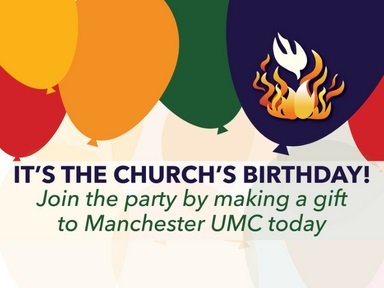 Here's the latest news from Manchester UMC:
It's the Church's Birthday This Weekend!
Celebrate Pentecost, the Birthday of the Church of Jesus Christ, this weekend! In the spirit of celebration, please consider a special financial gift to the church. It's much needed in two areas: debt reduction and heating & cooling replacement. Look for details in the newsletter insert, or simply give online and designate 'Bldg Debt Reduction' or 'Heating/Cooling System.' Without our beautiful building, no ministry would be possible. A gift of any size will strengthen this church for Christ!
INFUSE On Sunday
Celebrate Pentecost this weekend at one of our two INFUSE modern worship services in Fellowship Hall. Join Pastor Winter for "Who's In Your Circle?" at 9:30 &11a (11a always has room to stretch). See you there.
Mormon Tabernacle Organist Concert
This Sun., May 20, 3p
Clay Christiansen, organist for The Mormon Tabernacle in Salt Lake City, will be playing our organ! Sponsored by the St. Louis Chapter of the American Guild of Organists. Free.
Time Change In Saturday Worship
June 2-Aug. 11, 3:45p only, Chapel
We are moving to one service only for the summer, then returning to a two-service schedule in the fall. Join us at 3:45p beginning June 2.
Ask The Pastor!
Sun, June 3, 12:15-1:45 p, Rm 141
If you're new to Manchester UMC, or interested in getting more connected here, attend this class. You'll learn our story, mission, beliefs and values. You'll also be able to ask questions as well as meet and connect with others. Complimentary childcare is available with registration. Led by Pastor Greg Weeks and Pastor Jim Peich. Register
Spiritual Types
Wed, June 6, 6:30 -8 p.m., Room 141
Explore how different spiritual types learn, worship, and connect with God. Register
EVENTS
Holiday Brass Tickets On Sale
Sun., May 20, beginning at 8:45a
We will be selling tickets for the Mon., Dec. 3, 2:15p, and Tues., Dec. 4, 2:15 and 8:00p Holiday Brass concerts. Purchases are limited to 4 per customer. If we sell out, there will be order forms that you can mail to the IWBC by June 1 to receive the price of $24 each.
Manchester UMC Blood Drive–Get a Free Red Cross T-shirt
Sat., May 26, 8:30a-2p, Good Shepherd Lutheran
Manchester UMC is sponsoring a Red Cross Blood Drive in the gym at Good Shepherd Lutheran Church (our partnering church), 327 Woods Mill Rd. Sign-up in the Narthex this Sun, or schedule an appointment online; enter sponsor code: ChurchesUnited. You can also call 1-800-red cross. To save time when you arrive, print a RapidPass online. You must be 17+ years old; bring a photo ID.
Forever Young Calendar
Sun, May 27- Glenn Miller Orchestra at Lindenwood
Tues. June 19 – Pot-Luck Dinner
Tues, July 3 – "Crazy for You" Show at Arrow Rock
Please register at the Forever Young table in Fellowship Hall between services on Sunday or call Dorothy Wilkes 314-952-6316.
Carnegie Hall Preview Concert
Sun., June 3, 7p
Combined choirs join forces to present 'Spirit Suites,' three collections of spirituals arranged by Mark Hayes. This concert will be presented in Carnegie Hall in New York later in the month. Free and open to the public. Invite friends, neighbors, and relatives!
Summer Midweeks Beginning
Weds, June 6-July 25, 7-7:45p, Chapel
Don't miss the chance to worship mid-week in a casual setting. Services feature a staff and a member sharing a faith story. It's great, especially if you'll be away for a weekend.
Women's Retreat: Naming Our Pain
Sat., June 16, 8a-1p, Chapel
The history of women in the church is a painful one. At this retreat, women will gather to worship, share stories, meditate on female-based art, and learn about an old text called the "Malleus Maleficarum." The cost is $20; lunch and snacks included. Led by Pastor Winter Hamilton & Nicki Reinhardt-Swierk. Register
MISSIONS AND SOCIAL JUSTICE
MARKET FOR MISSIONS
Sun, June 3 – Sat, June 9
Volunteers needed!  Good condition donated items are also needed – furniture, clothing, housewares, collectibles, toys, books, home décor, sporting goods, etc. Come shop (cash only) on Fri. from 7a-7p, and Sat. from 7a-noon. It's 25 garage sales in 1! Proceeds benefit missions. Click to volunteer or more info.
Bridge Bread Truck Here
Sat., June 9, 9a-Noon
The Bridge Bread Food Truck will be on our north parking lot selling bakery items during the Market for Missions garage sale. Stop by to support Bridge Bread.
Donate to MO-Hab Riders & Habitat for Humanity
The MO-Hab Riders & Habitat for Humanity ministries are joining to construct a home for a deserving family. Members of MO-Hab will ride their bicycles 250 miles from St. Louis to Pontiac, IL, to raise funds. The riders are asking for contributions to reach the goal of $26,000. Make a difference! Donate by check or online (select Habitat in the drop-down).
Social Principles 2020 Comment Period Open
Comment on the UMC's Social Principles through Aug. 31. These principles are the prayerful effort of the General Conference to speak to the issues in our world from a sound biblical and theological foundation. Go online for more info and to be heard.
Make Epworth Teens Feel Valued
Help implement parties for youth at the Epworth campuses. You must be 21 or older. Carpooling is available from church. Choose a date that works for you: Mon., June 11, 4:30-7p; birthday party at Webster Groves Campus; Thurs., July 12, 5-7p; graduation party at Normandy location; Wed., Sept. 5, 5-7:30p; back to school barbeque at Normandy location. For more info, email Barb Zenser.
GROUPS & CLASSES
One of the best ways to grow your faith and connect with others is to attend a group or class. Here are just a few we offer.
Classes
–Learning With Our Children: Suns, June 3 & 17, July 1 & 22, Aug. 5 & 19, 9:30-10:30a, Rm 219 Register
–The Book Of Ruth: Mons, June 4-18, 8:45-10:00a, Rm 141 Register
–This Is My Body–Embracing The Messiness Of Faith & Motherhood: Mons, June 4-18, 10:15-11:30a, Rm 141 Register
–Drops Like Stars–A Few Thoughts On Creativity And Suffering: Weds, June 6-20, 8:45-10a, Rm 141 Register
— Accidental Saints–Finding God In All The Wrong People: Weds, June 6-20, 10:15-11:30a, Rm 141 Register; Young Adults Class, Thurs, June 7-28, 6-7:30p, The Wolf Café, 15480 Clayton Road, Ballwin Register
–Advocating For A Better Classroom: Thurs, June 7-21, 8:45-10a, Rm 141 Register
Groups
–Tuesday Early Bird Class: Tuesdays, 7:45-8:30a, 6 North Café Register–Friday Parents Group: Fri., May 18, 9:30-11:00a, Rm 223 Register
–New!  Growing In Faith Together (Gift) Group: Wed, May 30-June 27, 6:30-7:30p, Rm 311 (5 sessions) Register
–Adult Singles Bible Study Group–The Call, The Life, And Message Of The Apostle Paul: Suns, 11:00a – Noon, Rm 309 Register
–Exerstart: Every Mon. and Wed., 9-9:45a, Fellowship Hall. Pay online and use course number 4572.
–Total Body Workout: Every Tues. & Thurs., 9-10a, Fellowship Hall. Register
CHILDREN
VBS 2018–Rolling River Rampage
June 24-29
Join us for the ride of a lifetime with God! Kids age 4 by July 31 (and potty-trained) through 5th Grade (Fall 2018) are invited to join us for this year's Rolling River Rampage VBS. Register online through June 3: $25 per child/$50 per family max.
Keep Calm and Raft On as a VBS Volunteer!
Adults: we need Guides for all age groups (day/evening); Daytime Missions Station Leaders; Evening Preschool Director; Science Station Assistants (day/evening); Music Station Assistants. Youth: we need you everywhere–you are role models for those that attend. Volunteer by registering online. Can't join us for VBS? Help behind the scenes with our decorations team, set-up, and take-down. Email Chessey Brenton for more info.
Vacation Bible School Needs Your Gear!
We need to borrow camping tents, Christmas trees (regular or pre-lit), and cloth camping chairs. If you can loan these items to us for a week, email Chessey Brenton, or visit the VBS table in the Narthex on May 6 and 13.
Sunday Help Needed
We need adult volunteers that are Safe Sanctuary trained (we can help with training) to assist at the 9:30a Summer Sunday School, as well as 9:30 and 11:00a PRAYground. If this interests you, email Chessey Brenton.
YOUTH
Youth Group Picnic
The End-of-Year Picnic at Vlasis Park is slated for May 30, 5:30-8:00p at Pavilion 1. All youth are welcome. Dinner provided with fun and games to end the year!
Summer Events: Save the Date!
Times and details coming soon for the following events:
–Senior High at Johnson Shut Ins: June 7 (Rain date June 8)
–Middle School Movie Night: July 8
–Pool Party: August 12
–Fall Kickoff: August 26
Registrations Open
Mission Journeys, Quest Camp, and Spirit Camp registrations are now open. If a scholarship is needed, please email Felicia Barringer.
MORE NEWS
God And Country Scouting Medal Classes
Classes will start, on Sun., June 10 for scouts interested in the God and Church (for Boy and Cadet Girl Scouts, grades 6 to 8), and God and Life (for Boy and Senior Girl Scouts in grades 9 & 12) scouting medals. Sign-ups are by pre-registration only and must be accompanied by a $5 materials fee. Visit manchesterumc.org/scouting-ministry, or call John Klos at 636-227-0075 for more info.
LGBTQ+ Family Support Network
Do you have an LGBTQ+ family member? If so, consider joining us for prayer, education, and sharing. Call in confidence (Barb 314-614-1650, or Dave 314-614-5473) with questions or for meeting location.
Lost Treasures
If you have lost a treasured item (umbrella, clothing, eyeglasses, etc.) in the last year, please come by the office. We have emptied the Lost and Found cabinet and displayed all lost items on tables in the hallway. Items not claimed by Mon., June 4 will be donated to the annual Market for Missions.
Share this: