Lenten Prayer Guide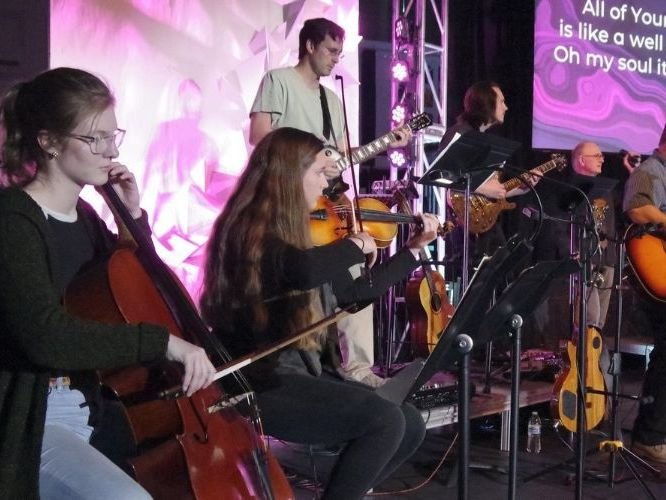 Saturday's Modern Worship concert was a huge success. More scenes are on Facebook. Many thanks to the worship team and volunteers who made this first-time Joy of Music concert possible!

In a sermon a few weeks ago, I gave an outline of a Lenten prayer exercise. Since then, I've received some positive feedback about how helpful that was, as a spiritual discipline. I thought it might be useful if I wrote it out in an email, and you can use it as a reference.

1st—Find a comfortable place free from distractions (this includes your smartphone!). Take a Bible and read over the Sermon on the Mount, Jesus' first sermon (Matthew chapters 5-7). This gets you thinking about values and guidelines that are distinctive to the Christian.

2nd—Set a timer for 5-10 minutes, so you won't have to worry about the time. Then ask: "What roles do I have each day, and how would God want me to carry them out?" For example, you might reflect on your role as a parent, and you feel you need to be more patient in that role.

3rd—After you've done this, then for the remaining time, repeat this simple prayer: LORD, MAKE ME THE PERSON YOU WANT ME TO BE, AND OTHERS NEED ME TO BE. Repeat it slowly, pausing from time to time, and listen. What "nudges" of the Holy Spirit might you hear?

4th—Once the timer goes off, you may choose to end your prayer time with, I LOVE YOU, LORD. YOUR WILL BE DONE! AMEN.

Try praying like this occasionally, listening for the Spirit. You might truly be surprised by the power you receive when you pray that God will shape you into the person God's called you to be. If you have a chance, email me and let me know how it went.

Blessings,

Pastor Greg

* * *

Trivia Night to Support Youth Ministry
Friday, April 5, 7 p.m., Kirkwood Community Center

This is always a FUN event for a WONDERFUL cause! If you haven't registered yet, or need to get more info, click here.

* * *

Sermon for This Sunday (7th)
ANGER: Jesus Refusing His Place in the Social Order
Traditional Services, 8 & 11

We're continuing our theme of looking at anger, both its constructive and destructive uses. This Sunday, we'll look at another way Jesus angered people, and how Jesus reacted to it. The text is Matthew 13:53-58.

Update on Post-General Conference Conversations

Recently the St. Louis Post-Dispatch ran an article updating current conversations within United Methodism in the wake of the General Conference decision. It's very informative, including quotes from Adam Hamilton. If you missed it, you can read it here.
Share this: