Lighting the Way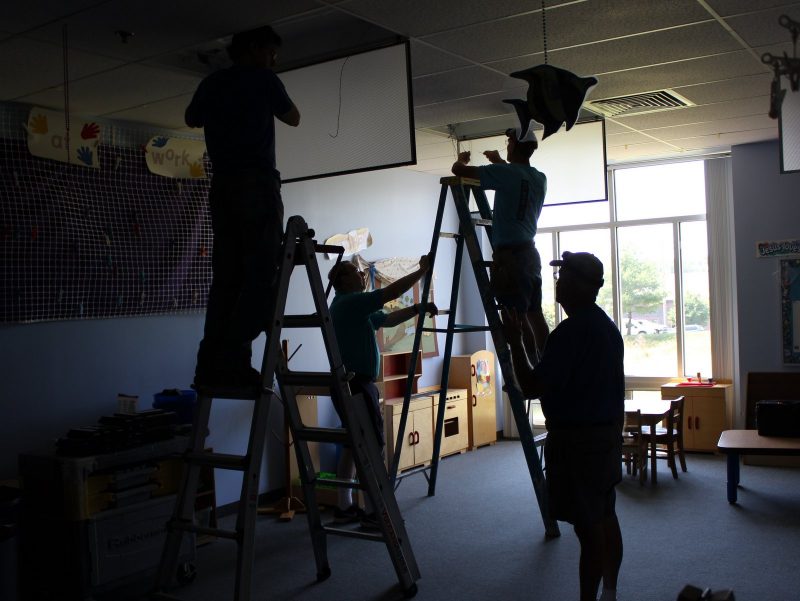 Editor's Note: With Pastor Greg away on renewal leave, we will have guest writers throughout July. Pastor Phil Estes kicks us off.
Jesus said: "You are the light for the whole world. A city built on top of a hill cannot be hidden, and no one lights a lamp and puts it under a clay pot. Instead, it is placed on a lampstand, where it can give light to everyone in the house. Make your light shine, so others will see the good you do and will praise your Father in heaven." Matthew 5: 14-16
In keeping with our calling, the Manchester UMC maintenance team strives to ensure that our lighting is the best it can be. After all, none of us can do the work of Christ in the dark! To that end, Maintenance Supervisor Chris Mann has teamed up with loyal servant leaders to install the latest round of energy efficient LED light fixtures in our preschool, with the youth room to follow later this year. We want to offer special thanks for the work of these faithful friends (and any I may have missed on this list):
Terry Allen
Mike Campbell
Dan Fergus
Dave Givens
Rich Hecht
Brenda Hecht
John Himpel
David Hotle
Del Lane
Suzanne Mertens
Kem Mogannam
Don Parker
Ron Pfeiffer
Bruce Vendt
Roger Wooden
Terry Zenser
Cost Savings
These two lighting projects alone will save over $8,500 per year in electrical utility costs. Best of all, the cost of the fixtures will be paid for by a rebate from Ameren Missouri. In addition, LED lighting has been installed, and paid for in part or in whole, with rebate incentives, in the narthex, sanctuary, chapel, fellowship hall, and the parking lot over the last four years. Since that time, we've seen our electric utility costs drop by $27,000.
This is outstanding financial and energy stewardship, and we pledge to continually strive to make the most of our resources every day. Your financial support of this ministry is helping light the way for Christ, both here and in our community. Thank you for your faithful giving to Manchester UMC!
Blessings,
Rev. Phil Estes
Pastor of Administration and Generosity
PS: Our church has many needs but two of the most critical are the replacement of our heating and air conditioning system, and reducing our mortgage debt. You can give to either fund online. You can also make an ongoing pledge online.
* * *
July 4th Celebration
Wed., 6 p.m., Manchester UMC Parking Lot
Join us on the main parking lot to enjoy a great view of the Manchester fireworks. Concessions open at 6 p.m.; fireworks begin at 9:15 p.m. All proceeds benefit the Bike Rehab Ministry.
***
"If I Were to Preach My Last Sermon…"
Pastor Phil Estes
Sat. & Sun, July 7-8, All Services
In the academic world, it's popular to have a "last lecture" series. You invite a professor to give a lecture as if it were their last one. It's intended to force them to think, and talk about, the one most important thing they've learned.
With Pastor Greg on a renewal leave in July, each of our other pastors will preach this same theme. Each will take a weekend and preach all services. Pastor Phil Estes kick things off this weekend.
If you happen to miss a weekend, be sure to catch the video online.
***
Summer Midweek
Wed., July 11, 7-7:45 p.m., Chapel
Our midweeks feature music, prayer, and scripture. There's no midweek on July 4, but we return on July 11. Sharing their faith with us will be Ben and Laura Hale from the congregation, and Pastor Phil Estes.
Share this: