Meet Our Young Adult Interns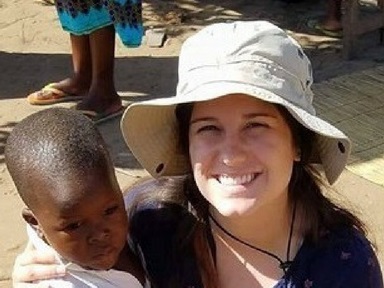 You may be noticing some new faces around here, perhaps assisting in worship or leading programs. We are delighted to have these young adult interns working with us in a variety of ministries. We've been blessed by a grant from the Conference to enable this. Pastor Winter Hamilton is their supervisor, and I've asked her to tell us more in this eblast.
Pastor Greg
* * *
Hey church! Grace and peace be with you today and always. I am really excited to write for part of  Greg's eblast this week, in order to tell you all about our Discipleship Internship Program. This is the third year of this program which identifies young leaders in the United Methodist Church and helps them find the intersection between their passions and their faith, in essence, helping them discern their God-given calling.
Our interns then work in these areas of their calling here at Manchester UMC. They are paid a fair and just wage, by a grant we received from the Missouri Annual Conference office. All of the expenses for this program come from the grant! In addition to the work they do, they are expected to keep up with reading and study, prayer and spiritual practices, and attend necessary meetings.
Get to know our eight interns better by visiting their bios and photos posted online.
Nathan King — Nathan's theological passions are in food justice and spirituality. He is currently the head intern for One For The Crow Plant Space. He is also a talented musician.
Nicki Reinhardt-Swierk — Nicki is passionate about justice oriented ministry and will be working to create young adult opportunities in South City. She will also be teaching justice and education oriented classes here.
Tim Moore — Tim has a love for and talent in jazz music, and has served with our modern worship team for a while now. He is also on the AV/Worship Arts support team.
Kelsey Lester — Kelsey is passionate about mission, empirically global mission, and sits on the Mozambique Initiative Team of the Missouri United Methodist Conference.
Maddie Murphy – Maddie's passions are in parament and vestment creations (that's the cloth hung around the sanctuary and the special clothes that clergy wear). She just graduated from Kansas City Art Institute with a degree in fiber.
Anthony Larson — Anthony is passionate about youth ministry; he will be serving that program here. He is a certified candidate for ordination in the order of deacon in the United Methodist Church.
Danny Jackson – Danny has a passion for worship and praising God. He is currently a student at Webster, choral instruction. He has also served on our Modern Worship Team.
Serena Venezia – Serena has a passion for church history and world religions. She loves young people, so she will be supporting our Youth Ministry Program. She just finished her first year at Truman State.
Making disciples of Jesus Christ for the transformation of the world is what we are all about. Thank you to our new interns for their dedication and trust. Thank you, congregation, for helping create the next generation of leaders for the United Methodist Church.
Blessings,
Pastor Winter
* * *
EXCITING!
New Website Launch Tomorrow (9th)
Be sure to check out our website tomorrow. You'll find a new, inviting format that will enable you to easily find out what's happening, search for something, or find a sermon. PLUS, the full website is mobile friendly—a HUGE benefit whenever you have to check out something when you're away from home.
We are all grateful for the vision and hard work of our Director of Strategic Communications, Phil Wiseman. He's spent countless hours working with a web designer and our internal staff on the web team. Without him and this team, the new site wouldn't have been possible. Thanks, Phil and web team!
* * *
Mother's Day Sermon Special (all services)
"Why Do You Love Me?"
I'm going to dig into one of the most overlooked passages in the Bible. It's been called the "John 3:16 of the Old Testament." It will blow away the misconception that the Old Testament portrait of God is wrathful while the New Testament one is loving. This will be especially relevant as we observe Mother's Day. Looking forward to celebrating this with you Sunday!
Share this: