Mike Clement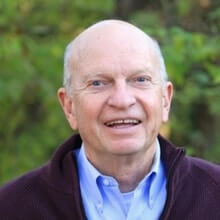 Mike Clement and his wife moved to Manchester in 1976. They started attending Manchester UMC in 1977. Over the passage of time, Mike has seen considerable change and growth at the church, including watching his two children grow up and participate in the many opportunities for youth (choir trips, mission trips, classes, and social events). Now two grandkids attend Manchester UMC.
Over those years of membership, Mike has served in leadership positions that include Chairperson of Church Council, Leadership Resource Team, Vision Council, and the Administrative Board. Mike has made multiple mission trips to sites in Mexico and more recently, was part of an August, 2018 district mission trip to Vieques Island, Puerto Rico.
Currently, Mike serves as a Stephen Minister, making weekly hospital visits. Mike is active in the Welcome Team Ministry, serving at the Welcome Center and greeting. Mike has studied in all the Disciple Bible classes and over the years has repeated them. He also attends the Saturday morning men's Bible Study.
Mike is active in the community, having served as City of Manchester Alderman and now serves as City Mayor. He sits on the city's Planning & Zoning Commission, and was a founding director of Manchester Arts.
Feeling very blessed, Mike and his wife are the grandparents of seven grandchildren.