MO-Hab Riders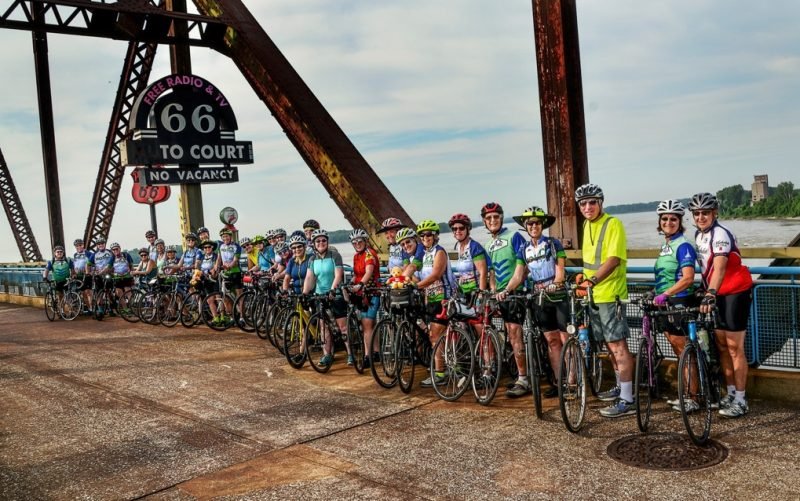 MoHab Bike Ride XXIII – The First Virtual Ride!
The MO-Hab Riders have been bicycling to create awareness and raise fund for Habitat for Humanity, St. Louis since 1998. Each participant in the multi-day fundraising ride is required to raise a minimum of $100 for Habitat for Humanity, St. Louis.
Thanks to the generous financial support and to the hard work of dedicated volunteers, Habitat for Humanity St. Louis recognizes Manchester UMC as a Keystone Community Partner. Over the 23 years of partnership, Manchester UMC has contributed to and worked on many of the 400 Habitat for Humanity homes built in St. Louis City and St. Louis County. These donations of hands, time and finances help deserving home buyers realize their dreams of safe, affordable homes for their families. Click here to learn more about the process for home ownership.
For many years the MO-Hab Riders have completed their fundraising ride across Missouri, mostly on the KATY Trail. Beginning in 2011, the ride has alternated between Missouri's KATY Trail and the Illinois section of Historic Route 66 on the state's published bike route that includes very low traffic rural roads and several paved trails.
Thank you for your support in our first virtual ride.
Despite the limitations of the COVID-19 pandemic, we adapted our structure to include a virtual ride. Habitat for Humanity continues to build homes for deserving families, and we persisted in our mission to build homes. Our ambitious MO-Hab Riders welcomed anyone who interested as we "traveled" from Seattle, to Key West, up to Maine, down through the Heartland, and back again! We accumulated and recorded miles accomplished by bicycling, walking and/or running inside or out, and reached a total of 12,045 in ten weeks. Our progress was shared on the MO-Hab Facebook as well as the ManchesterUMC Facebook page. See where we went: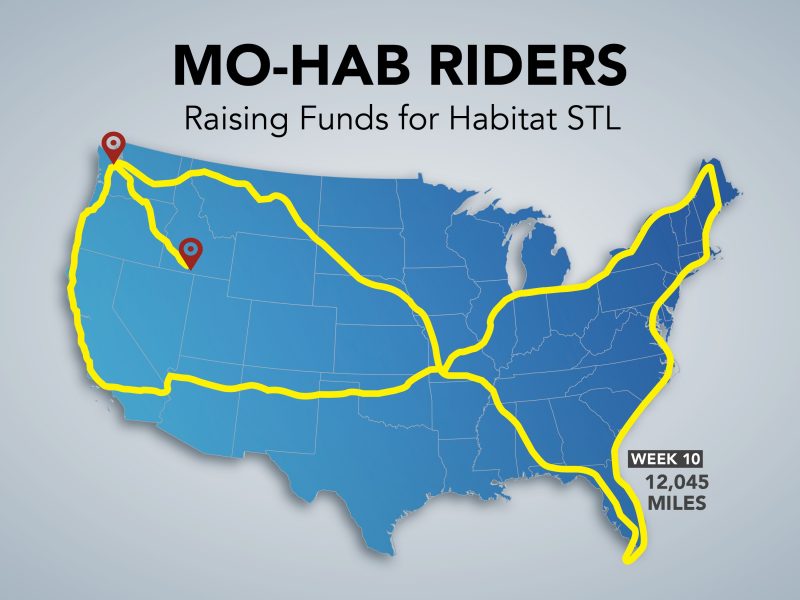 We've raised $23k out of our $25k goal!
Donate here:
Sponsor the MO-Hab ride by making a donation to Manchester's Habitat for Humanity, St. Louis. After clicking the link, select "Habitat for Humanity" from the "Select a Fund" drop-down menu. In the Memo Box, add "MO-Hab Ride" and any rider you would like to sponsor, if applicable.
Stay Connected
Follow our Manchester Mo-Hab Riders Facebook page to see our progress, posts from participants, and stay connected to the virtual ride.
What's Next for the Mo-Hab Riders?
Mark your calendars: MO-Hab Riders will pedal the Katy Trail next year to raise funds for Habitat for Humanity St. Louis — 
June 10-14, 2021.
---
Questions? Contact Mary Corwin.