MO-Hab Riders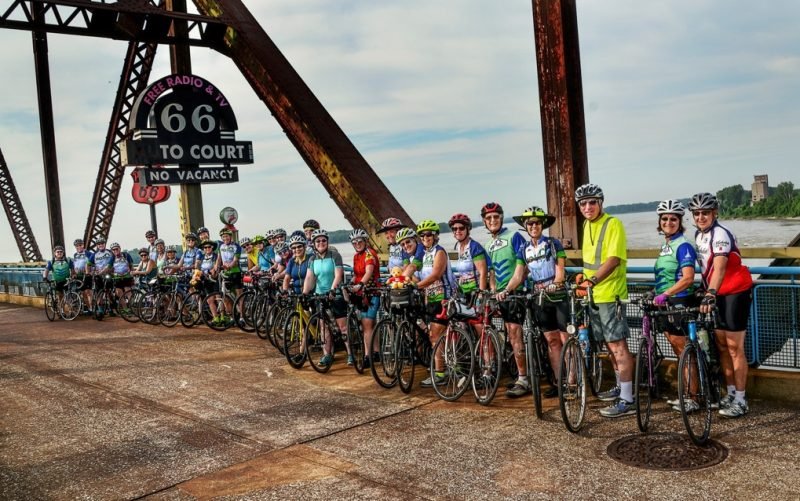 MoHab Bike Ride XXII on Historic Route 66, June 4-9, 2019
The MO-Hab Riders have been bicycling to create awareness and raise fund for Habitat for Humanity, St. Louis since 1998. Each participant in the multi-day fundraising ride is required to raise a minimum of $100 for Habitat for Humanity, St. Louis.
Thanks to the generous financial support and to the hard work of dedicated volunteers, Habitat for Humanity St. Louis recognizes Manchester UMC as a Keystone Community Partner. Over the 22 years of partnership, Manchester UMC has contributed to and worked on many of the 400 Habitat for Humanity homes built in St. Louis City and St. Louis County. These donations of hands, time and finances help deserving home buyers realize their dreams of safe, affordable homes for their families. Click here to learn more about the process for home ownership.
For many years the MO-Hab Riders have completed their fundraising ride across Missouri, mostly on the KATY Trail. Beginning in 2011, the ride has alternated between Missouri's KATY Trail and the Illinois section of Historic Route 66 on the state's published bike route that includes very low traffic rural roads and several paved trails.
The 2019 ride will take place on Route 66, starting in Pontiac and returning to St. Louis with the final leg coming across the historic Chain of Rocks Bridge. Due to transportation and support limitations, the ride will be limited to 40 participants.
Sponsor the MO-Hab ride by making a donation to Manchester's Habitat for Humanity, St. Louis. After clicking the link, select "Habitat for Humanity" from the "Select a Fund" drop-down menu. In the Memo Box, add "MO-Hab Ride" and any rider you would like to sponsor, if applicable.
2019 Ride Information
• Mid March – 2019 Training Ride Schedule is below in the Quick Links for download.
• March 31, 2019. Registration forms and fee due; Registration packet available below in the Quick Links for download. Email Mary Corwin with questions.
• April 22, 2019 at 7 pm – Rider Meeting. Room 141. Hotels payment will be due.
• June 4, 2019 – Meet at MUMC, 8 am. Load bikes and luggage. Travel to Pontiac.
• June 5 – 9, 2019 – MO-Hab Ride XXII – Pontiac, IL to St. Louis, MO
Quick Links
Manchester UMC Consent & Liability Release
Questions? Contact 2019 Ride Leader, Alison Gaffney.

Share this: