MO-Hab Riders
Mo-Hab Riders 22nd Ride in 2019!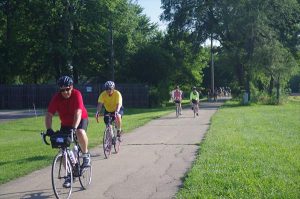 The MO-Hab Riders have been bicycling to create awareness and raise funds for Habitat for Humanity since 1998. Each participant in the multi-day fundraising ride is required to raise a minimum of $100 for Habitat for Humanity. Every year, the congregation of Manchester UMC and other supporters have been very generous. As a result, the church has met or exceeded its financial goals for Habitat for the last 21 years, helping to build 27 homes.
For many years, the group has completed their fundraising ride across Missouri, mostly on the KATY Trail. However, the 2018 Ride began close to the Mississippi River and took participants across the Chain of Rocks Bridge, followed Historic Route 66 to the north, and finished in Pontiac, Illinois. This ride is on lightly-traveled, very low traffic rural roads, and several paved trails.
Save the Date:
February 10th, 2019 at 7pm- Informational Meeting for the 2019 Ride. Location will be posted on the church calendar.
    Mid-March – Training rides begin. Our Training Schedule will be available soon.
June 4-9, 2019 – The 22nd MO-Hab Ride
If you are just starting to bicycle, bicycling again, an experienced rider looking for a group to ride with, looking for a way to "give back", and/or are interested in a multi-day ride, we cannot WAIT to meet you!! Please join us on ANY of our training rides and consider training and signing up for the "Big Ride" this summer.
Quick Links
Sponsor the MO-Hab ride by making a donation to Manchester's Habitat for Humanity (in the "Select a fund" box, select "Habitat for Humanity;" then write "Mo-Hab Ride 2018" in the memo line).
2019 RIDE INFORMATION
Stay tuned for more information about the 2019 Ride.
REGISTRATION
Stay tuned for registration materials.
CONTACT US
Do you need more information? Email the 2018 ride leader, Alison Gaffney.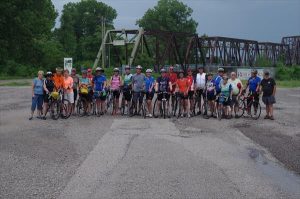 The MO-Hab Riders and staff after crossing the historic Chain of Rocks Bridge in 2015.
Share this: