Our Manchester UMC Identity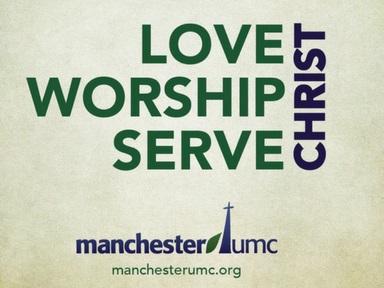 If someone asked you, what's special about your church, how would you answer? I'm guessing answers would vary. Responses could include worship, music, children/family emphasis, mission opportunities, fellowship groups…you get the idea!
While we may have differing views on what makes Manchester UMC special, there is one thing that unites us. That is our identity as a unique faith community.
Here is our official vision of who we are:
We are called to be an inclusive community of people who love Christ deeply, worship Christ passionately, and serve Christ boldly.
What a powerful statement!
For one thing, it tells everybody that we believe in being inclusive. We've fleshed this out in our welcome statement, which says that this is a judgment-free zone where all may seek an authentic, life-changing relationship with Jesus.
A second part of the statement that stands out is the centrality of Christ. We're here only because of Jesus and only for Jesus. We may have differing views about priorities, but the number one priority is making sure our ministries and fellowship honor and serve him.
Finally, the statement outlines our three central tasks: grow closer to Christ, express that closeness in worship, and witness for Christ beyond these walls.
I'm concluding my "Faith And Atheism" sermon series this Sunday, and I'll be talking about the church. I invite you to review our identity statement along with some other affirmations. By remembering who we are, we are better able to grow into the people God wants us to be.
See you Sunday,
Pastor Greg
* * *
Manchester UMC's 2018-2021 Priorities
Because we're an inclusive community of believers who LOVE Christ deeply, WORSHIP Christ passionately, and SERVE Christ boldly, we have established priorities for the next four years that will focus our vision and resources.
These were approved by our Leadership Board and presented to our ministry leaders in February. I've listed them below in summary fashion, and you can get more details online.
Shape our worship experiences to reach a broad demographic.
Provide needed resources and assistance to residents in our local communities
Grow the number of people connecting in Christian community and living more missionally
Grow the number of middle and senior high students actively engaged at Manchester UMC.
Grow the number of people age 25 to 35 having a first-time experience with Manchester UMC.
Strengthen and grow the financial resources of Manchester UMC.
* * *
Youth Room Remodel — Trivia Night This Friday (27th)
Kirkwood Community Center, 7 p.m.
This is always a lot of fun and fellowship, and it's all for a good cause—our YOUTH ROOM REMODEL. See you there!
* * *
Prescription Drug Takeback This Coming Sunday (29th)
As a follow-up to our successful Prescription to Addiction presentation earlier this year, Manchester UMC has partnered with the Manchester Police Department to participate in collecting unneeded and expired prescription drugs on Sun., Apr. 29 from 8:30-11 a.m. Between worship services, you can drop off your prescription drugs on the west entrance of the building by the parked Manchester police car. Thank you in advance for helping to reduce the potential abuse of prescription drugs in our community.
Share this: