Phase 3 Safety Protocols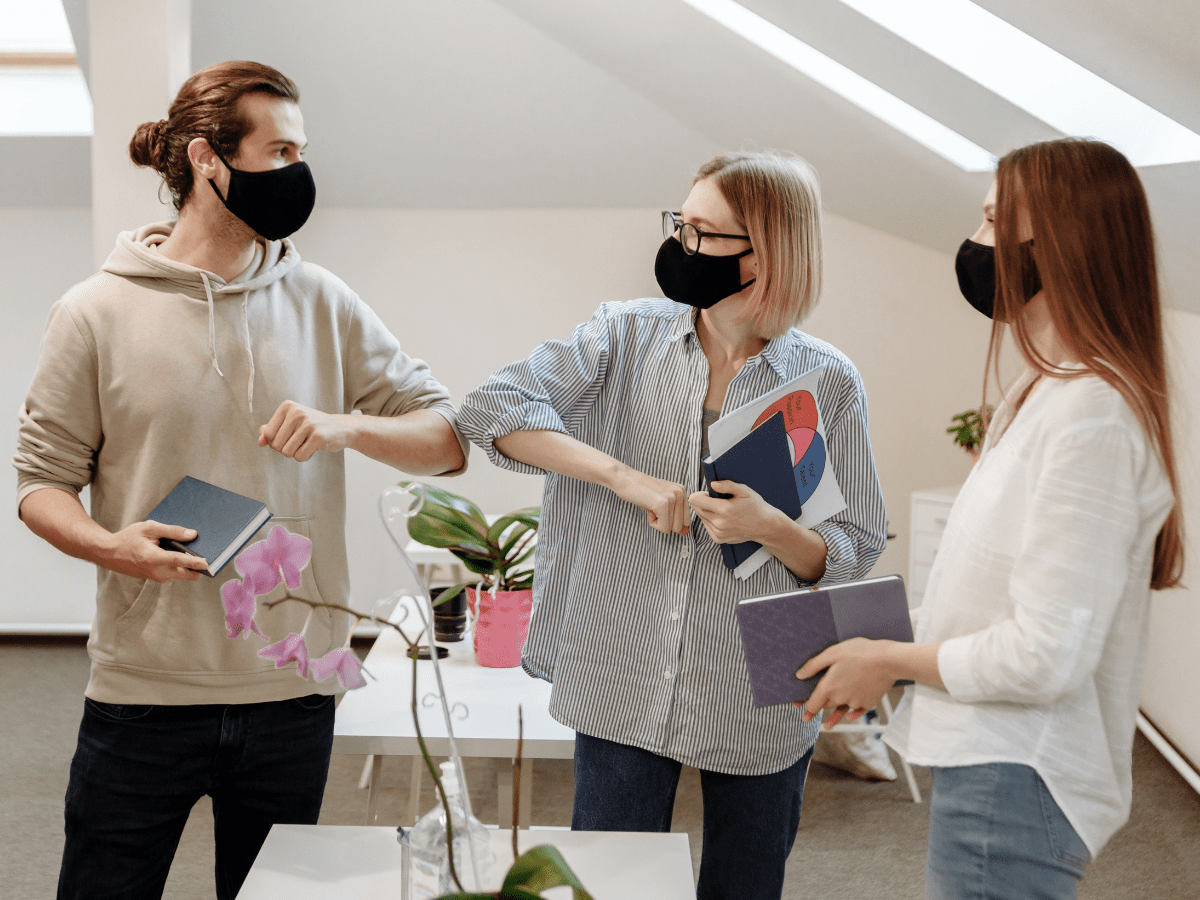 Ministry Groups & Classes
Updated July 28, 2021
Since April 18, 2021, ministry groups and classes are able to meet in church facilities and are subject to the following restrictions and protocols. There will be no pressure applied to ministry groups and classes, but the option is available. They will be asked to consider those who are not yet comfortable meeting in person for blended remote and in-person sessions.
Beginning Monday, July 26, 2021

In light of St. Louis County's latest mask mandate, our protocols here at church will be changing:

Masks will be required in all worship services, funerals, and weddings, for all people age five and older. Masks must be worn upon entry to the building and left on the entire time once inside. This requirement includes all worship leaders, unless they are speaking or singing. Furthermore, masks are strongly encouraged for people ages 2-4.
Outside of worship, masks are required for all persons age five and older in the "public spaces" of the building. This includes the fellowship hall, sanctuary, all hallways, stairwells, lobbies, multi-person restrooms, etc. Masks are strongly encouraged for people ages 2-4
Masks are optional in "private spaces", i.e., offices and meeting rooms, or the building, if all who are present are fully vaccinated. Those who wish to keep their masks on for any reason should feel free to do so. Safe physical distancing is strongly encouraged, as well as thorough hand washing before and after meeting with another person.
Infants and toddlers are not required to wear a mask.
Masks are required at all times and in all spaces for those five and older who are not fully vaccinated, unless they are completely alone in a private space with the door closed.
Masks are available on site for those who do not have them.
There are also signs posted to explain physical distancing and masking requirements.
Persons who are consuming food or drink do not need to wear a mask.
General Plans

1. Ministry groups and classes may gather inside the church building (with a reservation) during the following time periods:
a. Between 9 a.m. Mondays and Noon Thursdays
b. Between 8 a.m. and 3 p.m. on Saturdays
c. Between 1 p.m. and 4 p.m. on Sundays
*Times are limited for cost savings, cleaning, traffic flow (avoiding worship times), health & safety.

2. Ministry groups and classes may request a reservation by visiting the bottom of this page and filling out a space request form.
a. Administrative staff will assign a meeting room, provide the requestor with details and instructions.
b. Ministry groups and classes will not be able to request specific rooms due to health & safety protocols.
c. Leaders and participants will be expected to register for ministry groups and classes. Leaders must take attendance of those who actually attended.

3. Hybrid Gatherings: The equipment for a ZOOM capable room has been purchased and is available upon request via the Space Request Form. Leaders must be trained on the technology before their class can begin meeting. There is limited availability to this equipment.

4. Gatherings on the church parking lot must be scheduled through Sherri Estes.
What will I see when I arrive?

5. Ministry group and class leaders are responsible for all room setups and breakdowns, and are encouraged to ask for help from participants.

6. Group members must use the entry/exit assigned to them. A door entry FOB will be provided to leaders for after business hours gatherings.

7. Participants will be expected to self-screen before entering a church building or participating in church-sponsored events where others are present. This is an act of love we do out of care and concern for each other.

Self-Screening Questions

a.) Have you been diagnosed with COVID-19 within the last 10 days, OR, experienced any COVID-19 symptoms within the last 10 days?

b.) Have you been exposed to COVID-19 within the last 10 days?

If your answer is "Yes" to either of the above questions, please do NOT enter church buildings or participate in church-sponsored events, UNLESS:

a.) You have been lab diagnosed with COVID-19 within the past 90-days and have been symptom free for the past 10 days; or

b.) It has been 14 days since you received your second dose of a 2 dose series or 14 days following receipt of a single dose vaccine, AND, you received the last dose of the vaccine within the last 3 months, AND, you have been symptom free for the past 10 days.

8. Everyone must wear a mask (covering both mouth and nose) while entering, exiting, or moving around the building. Those who are fully vaccinated may remove their masks while in their assigned meeting rooms.

9. Everyone must wash hands upon entry.
a. Everyone must use the restroom assigned to their group.
b. Follow the restroom disinfection/cleaning processes as posted.

10. Everyone must go directly to their assigned rooms after entering the building and must exit the building from that room immediately following the gathering. There is no wandering or walking around the facility.
What will the experience be like?

11. Those who are unvaccinated must practice physical distancing (6ft between households) while in the building (rooms or otherwise). Individuals may use and are encouraged to use non-physical contact greetings (i.e., say "hello", wave, give an "air" five, give a nod, make a peace sign, etc.).

12. No food or drink are allowed in rooms.

13. Handouts are to be placed on chairs/tables before the meeting by leaders so that distancing may be maintained.

14. Pens and paper should not be shared by group members to prevent spreading of germs.
a. Items that can be used (like dry erase markers and pens) will be in a container and must be cleaned at the end of each session. Leaders are responsible for this cleaning.

15. Items like coffee pots, books, etc., will either be removed or taped off and are not to be touched by participants.

16. Currently no childcare will be provided.

17. Ministry group and classes leaders must also follow room cleaning and safety protocols including:
a. Cleaning/disinfecting all tables and chairs before they are put away.
b. Cleaning/disinfecting all other high touch surfaces including, but not limited to, table tops, chair arms, seat edges, chair back, door and cabinet handles, pens, dry erase board erasers, etc.
c. If no custodial staff are in the building, leaders will be required to turn off lights and take out trash.
Miscellaneous

18. Attendance and data gathering will remain online communications only. (Most leaders email Tiffany attendance directly, as we do not want surface contact with attendance folders.)

19. A checklist, including all of the above requirements and protocols, will be filled out, signed, and dated by the leader ensuring that all safety measures and precautions were met.

20. The continuation of a sermon series based Sermon Reflection Study will continue to be offered most of the time until we return to Phase 4.

21. The Adult Faith Formation offerings catalog will remain online, as it has been for the entire Pandemic Plan. If we feel there is a need for hardcopy printing, we will address that need as it arises. We plan on keeping the online catalog for the foreseeable future.

To learn more information about the Phase 3 protocols for specific ministries, please click on these links below:

Youth Ministry's Phase 3 Protocols for Summer Opportunities
Click the button below to complete the Space Request form.
---
View information about: