PRAYground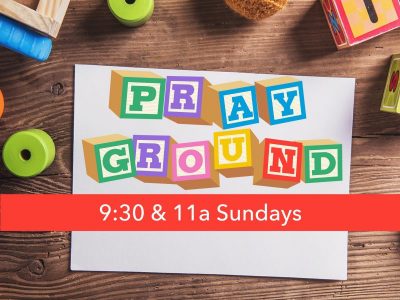 What is PRAYground?
PRAYground is designed to allow children to participate in quiet play while still listening to the message during the sermon. It is available at both our 9:30 and 11 a.m. services.
This PRAYground space is in the front of the sanctuary with activities geared towards 3 years old through 2nd grade. However, friends 3 years old through 5th grade are welcome to participate. Children will be near the front of the worship space so they can see and hear everything that is going on. Regularly scheduled 9:30 a.m. Sunday school is available as well.
Why PRAYground?
Our goal is to create an environment where families are encouraged to worship together, children are welcome in worship, and all members' faiths are fueled at their individual levels. This also allows families to learn liturgical flow and teach proper worship behavior.
How does PRAYground work?
All children are asked to participate in worship with their parents from the beginning of the service until the sermon (our current children's worship packets are available to students at all services). Then, children will be invited to the PRAYground area before the sermon begins. There will be many different quiet activities for the students to complete. After the sermon has ended, children will be dismissed back to their parents, so they can finish worship together as a family.
PRAYground is a learning process for everyone, our children may make noise, but as Jesus said, "Let the little children come to me, and do not hinder them, for the kingdom of heaven belongs to such as these." (Matthew 19:13-14). It is through the process of teaching them what worship looks like that they understand how to be active participants in the worship service.
When is PRAYground available?
During the 9:30 and 11:00 worship services. Regularly scheduled 9:30 Sunday school will continue; we want to make sure we are meeting all of our worshiper's needs.
Do I join my child during the sermon?
Nope! We will have two Safe Gatherings trained adults with your children during the entire sermon. They will be in charge of making sure everyone is actively engaged while still respecting the worship space.