Welcome Back!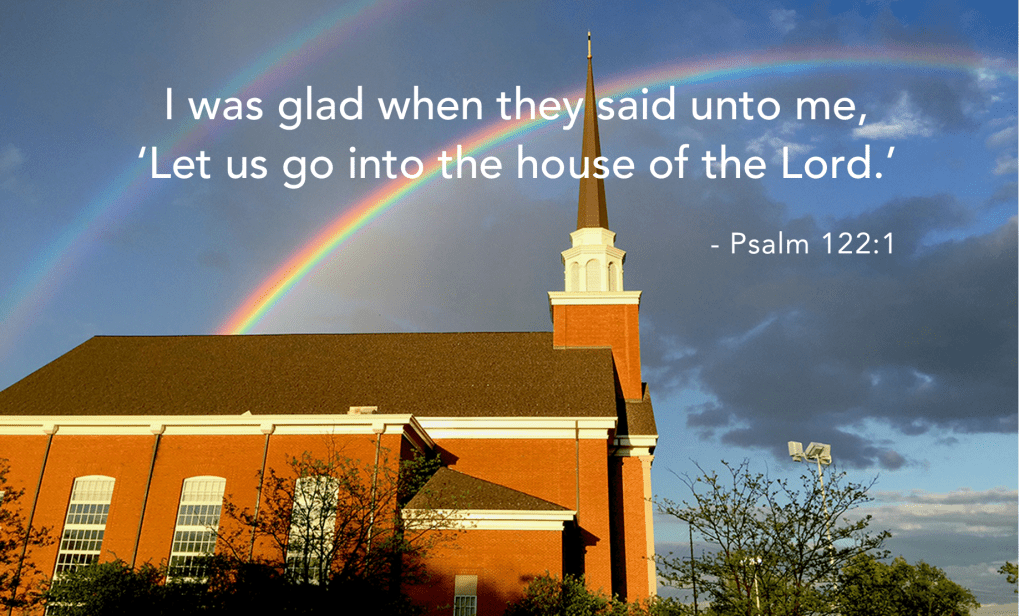 In-Person Worship Returns
New Worship Times: 9 & 11A
What To Expect:
Entering and Exiting the Building

Everyone should self-screen before entering the church building. This is an act of love we do out of care and concern for each other.
Self-Screening Questions:
1) Have you been diagnosed with COVID-19 within the last 10 days OR experienced any symptoms within the last 10 days?
2) Have you been exposed to COVID-19 within the last 10 days?
If your answer is "Yes" to either of the above questions, please do NOT enter the church building, UNLESS:
1) You have been lab diagnosed with COVID-19 within the past 90-days and have been symptom free for the past 10 days; or
2) It has been 14 days since you received your second dose of a 2 dose series or 14 days following receipt of a single dose vaccine, AND, you received the last dose of the vaccine within the last 3 months, AND, you have been symptom free for the past 10 days.
All worshipers must enter and exit through the West Entrance (main lobby).
Members of the Welcome Team will open doors for people as they arrive and as they exit.
No hand shaking or hugs please.
Please keep any coats or umbrellas with you. We will not use coat racks to avoid congregating.
There will be no Welcome Center or Information Center in the lobby.
The only areas of the building open will be the Lobby, Sanctuary, Fellowship Hall, and the restrooms nearest those areas.
At the end of each service, ushers will dismiss worshipers row-by-row, starting in the back of the room.
To encourage safe physical distancing, worshipers are asked to exit the building and greet friends and loved ones outside under the portico or in the parking lot.
Pastors will be present in the parking lot to wave and greet people as they go.
Masks & Physical Distancing

Mask wearing is OPTIONAL for those who are FULLY vaccinated and for children 11 years and younger when entering or exiting the building and while in worship.
Masks must be WORN for those who are not FULLY vaccinated while in the building.
Infants and toddlers are not required to wear a mask.
Those who wish to continue wearing a mask and are comfortable doing so, should feel free to remove their mask once they are seated or standing at their seat in the Sanctuary. *This is only if they are FULLY vaccinated.
Masks will be available on site for those who do not have them.
There will also be signs posted to explain physical distancing and masking requirements.
Everyone must maintain 6-feet of physical distance between those who are not in their household or Covid circle.
Worship

Worship Schedule

In-person worship services are offered Sundays at 9a (Modern) & 11a (Traditional).
It's important to note that the 9:30a Modern service is MOVING to 9a.
There will be no 8a Sunday worship service in Phase 3.
The Saturday 4p (Traditional/Casual) service from the Chapel will continue to be online only.
All worship services will continue to stream live on Facebook and the church website.
Sunday morning services will be about 45-50 minutes to facilitate entrance, exit, and cleaning.

Worship Seating

Particular Sanctuary pews will be roped off to prevent people from sitting closer than six feet.
Worshipers will be able to seat themselves in any of the open pews.
Worshipers may sit on the Sanctuary main level. If that space is filled to capacity limits, the wings of the Balcony and Fellowship Hall will be used as overflow. If seated in Fellowship Hall, worshipers will be able to watch the service on screens.
Only the wing sections of the Balcony will be used for overflow for the health and safety of the AV team.

Worship Materials

There will be no materials in the pew racks and no handouts of any kind.
Ushers will ask households if someone has a smart device to complete the Connect Card for their group. If no one does, the usher will provide them a paper Connect Card and pen/pencil as they are seated.
Households who complete a paper Connect Card should leave it on their pew seat when they leave. Ushers will collect them after each service.
Worshipers are free to bring their own Bibles or hymnals from home.

Worship Music & Singing

Modern worship will have a band with one or more vocalists.
Traditional worship will use the organ, cantor, solos, and small vocal ensembles.
Worshipers may sing with or without masks on, if they feel comfortable to do so.
Song and hymn lyrics will appear on the screens in the Sanctuary and on the screens in Fellowship Hall.
There will be no choirs or large ensembles in Phase 3.

Holy Communion

Holy Communion will be served on the first Sunday of the month, utilizing individually wrapped communion elements.
Communion elements will be available for pick-up in the lobby before worship as people enter the building.

Offering

Offering baskets will be placed at the Sanctuary doors. Worshipers are encouraged to continue giving online.
Sunday Nursery, Children, Youth and Families

There will be no nursery, kids Sunday School, or "PRAYground" during worship.
Parents/guardians are encouraged to bring activities from home.
V.I.P. bags for ages 2 yrs. to 5th grade will be available to help children with worship. These bags will go home with families (not returned).
The Infant Soothing Room and the Fireside Room (designated for those with special needs) are each available for a single household. Those using either room should use sanitizer provided to clean after use.
Infants and toddlers are not required to wear a mask.
There will be no youth section in the balcony during Phase 3.
Sunday Groups & Classes

There will be no classes or groups meeting in the building on Sunday mornings during Phase 3.
Other Information

Restrooms should be used by only one person (or household) at a time. This includes multi-stall restrooms.
The elevator will not be used.
The rooms where people gather will be cleaned before, after, and in between services.
There will be no coffee or donuts in Phase 3.
The only areas of the building open on Sunday mornings will be the Lobby, Sanctuary, Fellowship Hall, and the restrooms nearest those areas.
No need to let us know you will be attending worship! We look forward to seeing you!
---
Ministry Groups & Classes
At this time, ministry groups and classes are able to meet in church facilities and are subject to certain restrictions and safety protocols. Learn more.