Let's Rollout the Fun!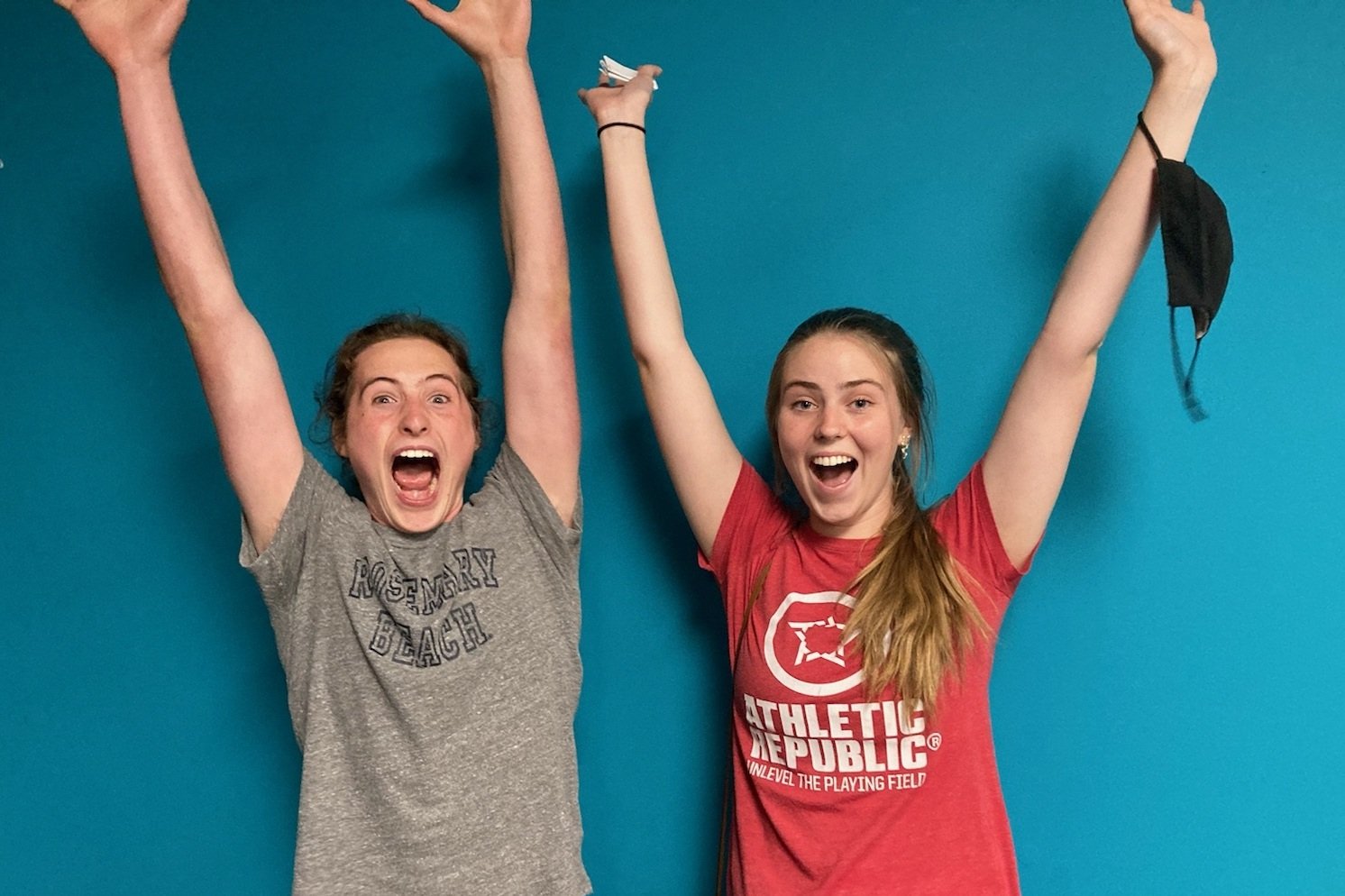 The 2021-2022 Manchester Youth program is new and improved, with the goal of creating programs that both youth and adults find engaging, meaningful, and conducive to busy schedules. The Youth program updates were created by the Youth WIN team with the intent to increase the numbers of active participants so they directly reflect the size of Manchester UMC's worshiping congregation. After consulting research, other youth pastors, and hearing from youth and adults in Manchester UMC, the WIN Team implemented the program outlined below.
To better understand the research, rationale, and benefits behind each program component, click here.
After reading about the new program, please complete one form below for each youth and adult in your family unit. The results will play a vital role in helping us implement these changes for Fall 2021. Thank you!
Please click here to read the updated COVID protocol for Fall 2021.
Sunday Mornings

All youth are encouraged to attend church on Sunday mornings each week. We offer multiple ways to plug in so youth can be engaged, connected, and growing in faith.

Worship

Youth are welcome in Modern Worship and/or Traditional Worship.

Youth Worship Packets are available at both services. Packets will include materials to help youth better understand the service components, the sermon, stay focused, and stay engaged. The kits also include a family discussion guide that parents can use to continue the conversation at home.
Youth may sit with their families OR may choose to sit in the Youth Section at Modern Worship.

Sunday Squad

Sunday Squad is a casual and fun hour during the 9am or 11am worship just for youth in our brand-new Youth Center. Youth play games, eat snacks, and experience a brief lesson that mirrors the worship lesson and theme that day. Participants will take home a family discussion guide that parents can use to continue the conversation at home.

Fellowship Hour

Youth and families are encouraged to come at 10am to Fellowship Hall for yummy refreshments and fellowship with friends. There will be a special spot just for youth to hang out if they desire.

Parent Groups

We will have programming just for parents based on interest. If you would be interested in a parent group that meets on Sunday morning, let us know in the form below.
Wednesday Evening Ministries

We offer a variety of opportunities for youth on Wednesdays. These opportunities correspond with other programming for children and adults.

Cantate Youth Choir

Youth of all ages and singing abilities are welcome to join our choir directed by Kurtis Henrich and accompanied by John Cargile.

Dinner

Youth and parents are welcome to eat dinner from 4:45-6:15pm in Fellowship Hall together with the rest of the church.

Middle School Meet Up

This program is from 6:15-7:30pm and focuses on silly/active games and is perfect for the middle schooler who struggles to sit still for a long period of time or just enjoys activity. The lessons are tailored specifically to middle school issues.

High School Small Group

This small group will meet from 6:15-7:30pm and be one of the weekly small groups offered.

Parent Options

Parents are welcome to attend one of the many adult faith formation offerings from 6:30-7:30. If you are interested in a group specific to parents of youth, please indicate that on our survey below.
Weekly Small Groups

Small groups are an opportunity for youth to deepen their faith and deepen their relationships with others. Small groups are divided by middle school and high school and they focus on caring for each other while learning faith essentials through the Manchester Youth 3 Year Curriculum. Groups will decide together their meeting day, time, and location. Beth will create the groups based on interest from the survey below AND per request from pre-established groups.
Special Events

Youth

All youth will meet occasionally for special events. These events include, but are not limited to, the middle and high school retreats, the middle and high school lock-ins, Night at the Bistro, the Christmas party, etc. The event schedule for the year can be found on the youth Google calendar.

Parents

We will have programming based on parent interest. If you are interested in joining a fellowship event just for parents that occasionally coincides with youth special events, please let us know in the form below.
Leadership Teams

Leadership teams are for youth who are actively involved in church and want to help make the program better. Options include Hospitality, Event Planning, Marketing, and Youth Advisory Council (YAC). Teams meet on Tuesday evenings and the schedule for the year is on the youth Google calendar.
Youth Band Jam Sessions

Youth who are interested in leading worship with a band are invited to join a monthly jam session. These will be led by Kiersten Rose, Director of Modern Worship Arts. The days and times will be determined based on interested expressed in the survey below. Once youth are ready, they will be invited to occasionally lead on Sunday mornings for Modern Worship.
LGBTQ+ Group

Youth who identify as LGBTQ+ are invited to join a group led by two Christian adults also identifying as LGBTQ+. This group will provide an affirming and loving space for youth while helping them understand what it means to be queer and Christian. They will determine as a group when, where, and how often they meet. If you are interested in joining, please indicate on the survey below.
Let us know what you would like to do
By developing a program that better connects the Youth to the larger church, more opportunities to serve are created and the chance to move on into other ministries beyond the Youth program are created.
We are encouraging all youth, their parents/guardians, and any interested adults who enjoy working with youth to complete a form below to help with further developing the Youth programs.
Youth Survey

Let us know the programs and times are you interested (and available!) to participate in youth group!

Please complete one form per youth:
Parent Survey

Let us know the programs and times you are interested (and available) to participate in parent groups!

Please complete one form per parent:
Volunteer Survey

Our Manchester Youth program wouldn't happen without volunteers! Here is more information on the volunteer opportunities available:

Sunday Squad Leader


Time commitment: Once every few weeks, Sundays from 8:50-10:00 or 10:50-12:00
Sunday Squad leaders are present in the Youth Center starting at 8:50 am or 10:50 am. This is an opportunity to get to know the youth better on Sunday mornings and help new youth feel comfortable in our space.

Youth Worship Kit Distribution


Time commitment: Once a month, Sundays from 8:45-9:00 or 10:45-11:00
Volunteers will be staged in the Lobby, greet youth and families, and hand out Youth Worship Kits to anyone who desires one.

Middle School Meet-Up Leader


Time commitment: Every Wednesday from 6:05-7:30 pm, September-April with December off
Middle School Meet-Up Leaders play active and silly games with youth and help lead brief discussions around faith-based topics relevant to middle schoolers.

Small Group Leader


Time commitment: Once a week for 2 hours. Day, time, and location is specific to your group.
Small Group Leaders lead a weekly small group for either a middle school or high school aged group. You and your co-leader are responsible for developing meaningful relationships with the members of your group and helping youth grow deeper in their relationship with God and each other.

Substitute


Time commitment: Varies on your availability and the needs of leaders
Substitutes sit in with a group when their normal leader is absent. Your co-leader will lead the activities and discussion.

Special Event Chaperone


Time commitment: Varies based on events
The Manchester UMC Youth have several special events throughout the year. Adults will be responsible for supervising, maintaining safety, and assisting the Youth Director as needed.

Confirmation Leader


Time commitment: September – May: 8 regular meetings and four special events
Confirmation Leaders help guide the 7th and 8th graders enrolled in Confirmation develop a better understanding of what it means to be a Christian and member of Manchester UMC.

Note: Anyone who works with youth must complete the Safe Gatherings (formerly known as Safe Sanctuary) program.
If you have any questions, please email Beth Boemler, Youth Director.
---
Learn more about our Youth program:
Youth Summer Opportunities
Questions? Email the Director of Youth Ministry, Beth Boemler