Seasonal Missions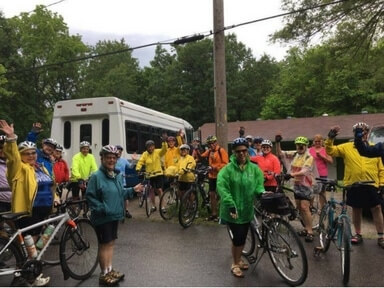 Manchester UMC is a church that strives to follow our scriptural calling to serve God by serving our neighbor. Putting our faith into action is a core value that we seek to live out by helping those who are vulnerable and struggling among us. This happens through a variety of missional programs and activities that we plan ourselves and/or partner with others in order to make a positive impact in our community.
Regardless of your age, ability, or experience, we host several seasonal opportunities for you to put faith and love into action by becoming the hands and feet of Jesus Christ in our communities, nation, and world.
If you're looking for a short-term opportunity to serve others, explore the seasonal missional opportunities that occur onsite and beyond our walls a couple times a year:
Once a month, our Young Adult Ministry leads the congregation in gardening at One For The Crow Plant Space, a garden in South St. Louis City located on the corner of Pennsylvania & Winnebago. The garden provides weekly fresh produce for the emergency food pantry at Kingdom House and is sold on the second and fourth Sundays at MUMC, profiting this mission. Please email Rev. Winter Hamilton for more information. These events are multigenerational, however, you must be 18 years of age or older. Off-site.
The Market for Missions is an annual garage sale to benefit MUMC's missions programs. This year, shopping will take place on June 8 and 9. Register here to volunteer for set up, sales, and clean up. If you would like more information, please contact Lana Spillane or Carole Howard. On-site. All Ages. 
The MO-Hab Riders have been bicycling to create awareness and raise funds for Habitat for Humanity since 1998. Each participant in the multi-day fundraising ride is required to raise a minimum of $100 for Habitat for Humanity. The congregation of Manchester UMC and other supporters have been exceedingly generous, helping to build 27 homes over the past 20 years. Training rides begin in mid-March- download our training schedule. The 21st Annual Mo-Hab Ride is scheduled for June 2-6, 2018. Whether you are new to bicycling, have years of experience, or want to support us financially, we have a place for you- please contact 2018 Ride Leader Allison Gaffney. Off-site.
The mission of Sneakers with Soul is to ensure that one day no child will go back to school without a new pair of shoes. We ask that you give generously to support the children and youth that are the recipients of the new sneakers. Please drop off your donations of new sneakers/athletic shoes or volunteer to assist with our distribution event at Peabody Elementary School. Stay tuned for 2018 dates. Email us with questions. On-site. All Ages.
We are the nation's largest Fair Trade Market with over 3,000 sq. ft. of unique holiday gifts, international crafts, and exquisite foods from around the world. By choosing Fair Trade products, you get great value and ensure equitable wages and treatment for farmers, artisans and their communities. In 2018 we will celebrate the 16th year of Manchester UMC's Fair Trade Market. Our dates for 2018 are November 17-18 and 23-25, from 9:00am to 3:00pm daily. Over 300 volunteers are needed to assist with inventory, set-up, and to assist during the Market in a variety of capacities. We will post a link in Fall 2018 to make volunteer sign-up quick and easy. Email us with questions. On-site. All Ages.
Christmas Opportunities (December)
Every Christmas season, MUMC participates in alternative gift giving- "Gifts in White"- to benefit our nonprofit ministry partners. The first weekend of December, members and friends at all services are invited to bring new gifts wrapped in plain white paper to benefit those in need. Mark your gifts: E=Epworth; K=Kingdom House; BH=Bridge Bread/HomeFirst. Financial contributions accepted online, or write 'Gifts in White' in the memo line of your check. Contact Laurie Hopkins with questions. On-site. All Ages.
Ready to Get Started? 
If you're ready to learn more or participate in a missional opportunity, please reach out to the program leader or email our Director of Missions, Autumn Dennis, and we'll help you get connected right away!
If you're a Missions Ministry Leader, please fill out the Missions Event/Activity Recap form after your event to help us record the impact of our ministries.
Share this: