Welcome, wanted, safe, and secure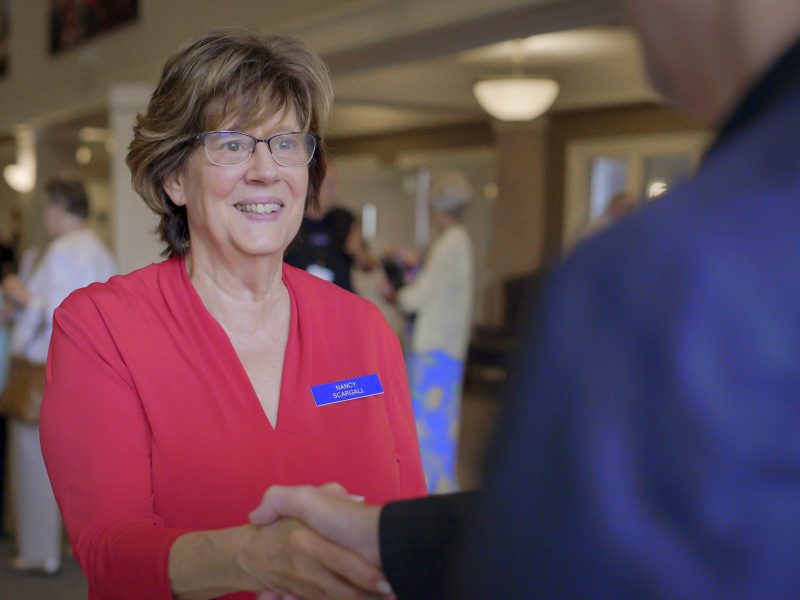 While Rev. Andy Bryan is on vacation, the pastor's note was written by Rev. Stephanie Lendt.
Prior to COVID19, Manchester UMC's Welcome Team
(folks in the red shirts 😊) were well-trained, and knew what to do in their roles.
For years we have scheduled a half-day training a few weeks prior to Christmas Eve and, then again, a few weeks prior to Easter.
 
With the understanding that all new and existing Welcome Team volunteers would receive the most up-to-date information they needed, in order to, not only be as welcoming as possible, but to also engage in essential, life-saving, safety training as well!
 
Friendly, kind, engaging ushers and greeters make an enormous difference in the overall worship experience, for many folks. A warm handshake, genuine eye-contact, along with a bright and sincere, "Welcome! Wonderful to see you!" is a gracious launch into a time of wonderful worship.
 
What you may not realize is that our ushers and greeters, our Welcome Team folks,  are also trained to go beyond hospitality, to essential safety-training when necessary.
 
Welcome team members are trained for:
1. Fire and earthquake evacuation to the outdoors, and
2. Tornado evacuation to tornado-safe rooms in the lower level, and
3. Basic training in use of the Defibrillator in case of a serious cardiac event.
 
Anyone interested in becoming an usher or greeter is required to attend training. And, existing Welcome Team folks are expected to attend the training as a refresher. And they do, because they understand the importance of it all.
 
Due to COVID19, our last BIG Training took place just prior to Christmas 2019!
 
We had a BIG training scheduled for the second weekend of March 2020. Everything was set and ready to go. Due to COVID19, that training was abruptly cancelled the night before it was set to happen. That was the weekend that Worship services went online exclusively.
 
WELL…We're Back!!!
 
MARK YOUR CALENDARS NOW!!!
This upcoming Welcome Team Training is something you do not want to miss.
Saturday, November 13, 2021    8am-noon
 
PLEASE ATTEND, whether you are an existing member of the Welcome Team, or you're ready to become an essential part of weekend worship. From one weekend a month, to four weekends a month… you choose how often to serve.
 
What a great time to come aboard as a Welcome Team usher or greeter. In addition, we encourage staff members to attend at least one training a year. We all benefit from the information.
-Rev. Stephanie Lendt