Sherry Boland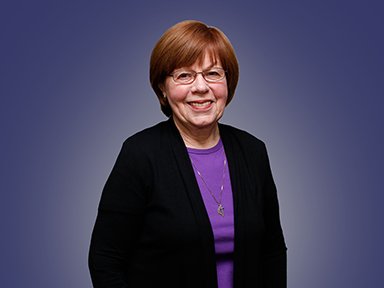 Handbell Program Director
A native of Dayton, Ohio, I began ringing handbells in 1974 at my home church.  As a 20 year Air Force wife, I have had the opportunity to travel and live in 12 states and Great Britain.
In 1979 I began directing children's and high school choral and handbell choirs in Oklahoma, with continued directing in Georgia, New York and at First United Methodist in Fort Worth, Texas.  Moving to St. Louis and MUMC in 1984, I founded the Vesper Bell Choir in 1985 and became a member of the church.  In 1987, I joined the staff as the part-time Handbell Program Director, teaching children, high schoolers, 2 adult choirs and 2 ensembles. I currently direct 1 beginning ensemble and 2 mixed youth and adult choirs.  Our choirs ring praise monthly in service September through May and spread the Joy of Music.
I have directed MUMC ringing choirs in local and national events with performances at the St. Louis  MUNY Opera, Pops at Queeny Park, American Guild of English Handbell Ringers' (AGEHR) St. Louis National Directors' Seminar at the Old Cathedral, Susan Slaughter's Holiday Brass Concert at Cathedral Basilica, and Richard Hayman's Christmas Pops at Powell Hall.
Active in AGEHR, now known as Handbell Musicians of America (HMA), I have served Area 8 as Missouri State Treasurer, State Chair and currently serve as the St. Louis Local Liaison.  I am a co-founder and board member of Handbell Association of Greater St. Louis and teach, organize, and direct at the organization's planned events.  Favorite activities have been ringing for 18 years with 100 + ringers in  Bay View, Michigan's Summer Arts Program, Week of Handbells, and with 200 Area 5 ringers at the Grand Hotel on Mackinac Island.
A business graduate of the University of Cincinnati, I attended Western Oklahoma State University majoring in music with additional music education credits from Wright State University.
A son and daughter and their families live in Dallas, Texas and a son and his family live in St. Charles.    My 2 favorite step-daughters live in the West County area.   I married Bill Boland in 1990.  Bill is a retired architect and the Chapel Music Coordinator. Together we enjoy our 7 grandchildren and being on the staff at MUMC.
COME JOIN IN THE RING!!
Share this: