Sneakers with Soul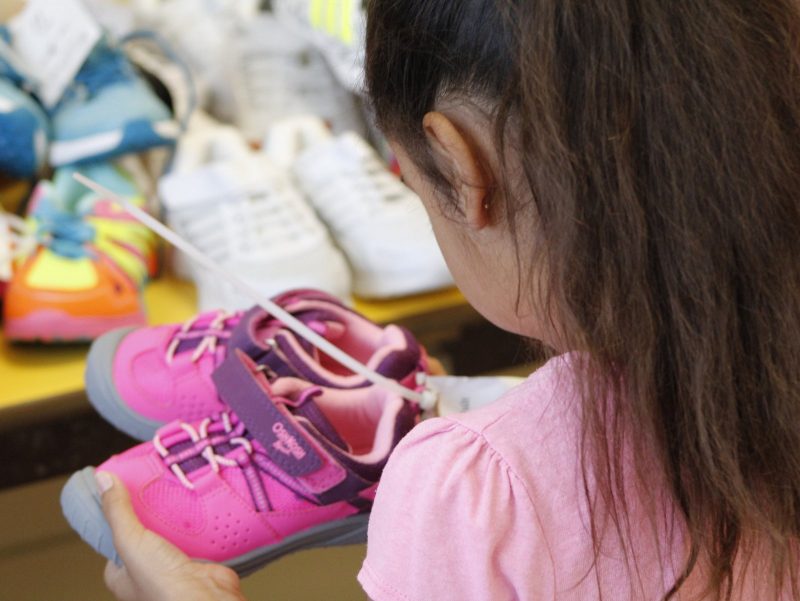 Sneakers with Soul is a 501(c)(3) nonprofit organization with a singular purpose of sourcing and distributing new sneakers for kids in need. Originally an organic missions ministry of Manchester UMC that blossomed into an established nonprofit, Sneakers with Soul works with local social service agencies along with donor organizations and individuals to match donors with children, youth, and families that are the recipients of the donated new sneakers. Parents and guardians of the children/youth that are the recipients of the new sneakers pay nothing for the service.
Since its founding in 2010, Sneakers with Soul has sourced and distributed over 16,000 pairs of new sneakers/athletic shoes to kids in need. In 2019, we collected 856 shoes and raised over $10,000! 2020 marks the 11th year of Manchester UMC and Sneakers with Soul partnering to support the children and families of LifeWise STL.
Ministry Adaptations for COVID-19
Sneakers with Soul® is partnering with LifeWise STL (formerly Kingdom House) to launch its 2020 donation drive beginning Sunday, July 5 and continuing through August 16th. The traditional Back-to-School event will be replaced with backpack and sneaker distribution pick-up. Current plans call for sneakers to be distributed to the clients of LifeWise STL and their agency partner Guardian Angel Settlement beginning the week of August 24th. Due to the COVID-19 pandemic, Manchester UMC members and visitors are encouraged to prioritize online donations, with details below. We have also extended our annual drive to six weeks, beginning Sunday, July 6, 2020 and ending Sunday, August 16th, 2020.
As we adapt to doing ministry in a pandemic, we have expanded our opportunities for online giving. We are utilizing an online form where you can donate securely through completing this form. Using this online method helps us keep track easily of the sizes and genders of shoes that we need to purchase. Donating through this form also helps the donation go directly to the organization, rather than passing through the church.
Donate Shoes
We accept donations of brand new, unworn, clean athletic shoes. Sizes can vary from kindergarten thru 12th grade, with a special need for women sizes from 6 to 9.5 and for men's sizes 7 to 10.5.
Due to the COVID-19 pandemic, we have limited our availability to accept physical shoes to the following days and times in our West parking lot along Creve Coeur Avenue. These times will have staffed volunteers who are also happy to take donations of cash or credit card via a card reader. Please drop off your physical shoes during these days and times:
Friday, August 7th – 4:00 – 6:00 pm
Saturday, August 8th – 10:00 am – 1:00 pm
Friday, August 14th- 4:00 – 6:00 pm CANCELLED
Saturday, August 15th – 10:00 am – 1:00 pm CANCELLED
Please do not drop off shoes at the church during other times as it becomes difficult to get the shoes to their intended location; thank you for your flexibility and understanding.
Donate Your Time
Because of the limitations on social distancing and limiting the size of gatherings, this year's Back to School event will be different. The event will take place at LifeWiseStl's location at 1321 S. 11th Street, St. Louis 63104 with LifeWiseStl clients picking up pre-assembled backpacks with school supplies and their sneakers on Saturday, 8/15. (The event will not be taking place at Peabody Elementary this year.)
On Friday, 8/14, volunteers will be assembling backpacks, school supplies and sneakers for each of the participating children/youth. Clients will be picking up their child's backpacks at scheduled times throughout the day on Saturday, 8/15. On Saturday, 8/15, volunteers will be needed to help in the distribution of backpacks and sneakers to the families that will be coming to LifeWiseStl according to their assigned time.
This is the 10th year running that Sneakers with Soul® has partnered with LifeWiseStl (formerly Kingdom House), and although things will be a bit different, due to the safety precautions that are in place with COVID-19, we are not deterred in supporting the at-risk families and children that we are serving.