Rev. Stephanie Lendt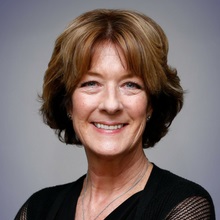 Associate Pastor, Hospitality & Congregational Care
I was appointed to the pastoral staff at Manchester UMC July 2008. Prior to my appointment I was a member of MUMC since 1996. It's wonderful serving my home church.
I am an Ordained Elder in the United Methodist Church and a 2009 graduate of Eden Theological Seminary with a Master of Divinity degree. I have a passion for preaching and leading our Saturday 3:45 and 5:00 p.m. Worship Services in the chapel. In addition, I am responsible for congregational care: caring for those in need and equipping members to care for one another. And, I oversee our extraordinary Welcome Team, aka The Red Shirts (you can't miss them on a Sunday morning).
I grew up in Ames, Iowa and am a graduate of Iowa State University…Go Cyclones! For 20 years I worked as graphic designer and art director. Having lived in the St. Louis area since 1984, this is definitely home to my kids and I, Valerie and Aaron.