Stephen Ministry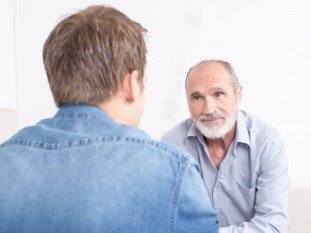 Sometimes difficult life situations that come our way such as loss of a job, a serious illness, divorce, loss of a loved one, and more. When they do, the care of a trained Stephen Minister may be just the emotional and spiritual support you need.
To learn more about the Stephen Ministry or to request a Stephen Minister, please see below:
What does a Stephen Minister do?

A Stephen Minister provides one-to-one, lay (non-pastoral) Christian care.

One-to-One


A Stephen Minister of the same gender will meet with you privately.


Lay


Stephen Ministers are not pastors, professional counselors, therapists, or physicians. They are not authorized to give legal, medical, financial, or any advice other than Bible-based encouragement. But, Stephen Ministers are trained and supervised lay volunteers who care.


Christian


Stephen Ministers are Christians who care in the name of Christ. They are willing to talk about spiritual issues but won't force them.


Care


Stephen Ministers care by listening, supporting, encouraging, praying, being dependable and trustworthy, and maintaining confidentiality.
When is a Stephen Minister needed?

Stephen Ministers can help in five general types of care giving situations:

Crisis Care


When people who have just experienced a death in the family, an emergency, the arrest of a loved one, or some other extraordinary event.


Follow-up Care


When the crisis is over and everyone else has gone home, Stephen Ministers keep showing up. This often is the most difficult time of adjustment for an individual and the time when having someone compassionate to talk to can make a tremendous difference in moving on with life.


Chronic Care


Stephen Ministers are effective at listening to individuals with health conditions that are never likely to improve or that are only likely to deteriorate. Often times these people are slowly forgotten by friends and family and need supplemental care.


Preventive Care


Before things become so bad that a crisis develops, Stephen Ministers may be able to help. By serving as a good listener and allowing someone to let off steam, they can help prevent a real explosion at a later time.


Supportive Care


Stephen Ministers can support family or loved ones of those who are going through a crisis. Supportive care often greatly facilitates improvement in the person experiencing the crisis.
How does Stephen Ministry work?

Typically, Stephen Ministers meet with individuals for an hour once a week. The relationship lasts for as long as necessary. The decision about how long is made jointly.

If you are interested in talking with a Stephen Minister, or if you believe a Stephen Minister might be able to help a family member or loved one, please fill in the form below or email Carolyn Langston or call the church office at 636.200.4706.
Are Stephen Ministers available during COVID-19?

Yes, Stephen Ministers are available to our congregation and to the community by phone at this time.

If you or a loved one needs this service, email Carolyn Langston.
Confidentiality

Stephen Ministers keep personal information confidential. You can feel free to share with your Stephen Minister without worry. However, there are rare occasions such as suicide, homicide, or abuse when a Stephen Minister must share confidential information in order to save a life.
How do I request a Stephen Minister?

Please complete the form below. Someone from the Stephen Ministry will be in contact with you.
Want to become a Stephen Minister?

Stephen Ministers receive over 50 hours of formal training to provide one-to-one care to people experiencing a difficult time. These Christian laypeople come from all walks of life, but what to they have in common? They share in a passion for bringing Christ's love and care to people during a time of need.

Since 1975, over 600,000 people from more than 13,000 congregations from around the world have been trained as Stephen Ministers. If you're interested in applying to become a Stephen Minister, email Carolyn Langston.
---
Check out these related websites: