Young Adult Events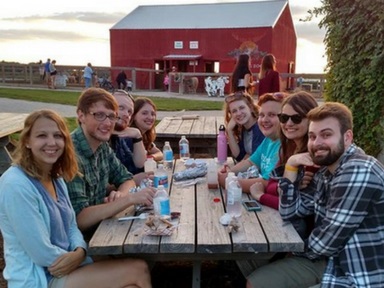 We understand that life can be hectic and busy. That's why we offer one-time events where you can connect with other young adults without any kind of long-term commitment. Whether it's going to the movies, trivia nights, concerts, zoo, or just playing board games, we have lots of fun.  In addition, you are welcome to bring a friend…or two!
As always, everyone is welcome!
Shakespeare in the Park
Date:  Wednesday,  June 12: 6:00 p.m.
Location:   Forest Park, Shakespeare Glen
Description:  Love theatre? We're going to Shakespeare in the Park to see Love's Labor Lost. This play includes political and romantic intrigue with a healthy dose of comedy. Bring a picnic dinner. Green show starts at 6:30 p.m.
Intergenerational Get Together
Date:  Saturday,  June 15: 11 a.m. to 1 p.m.
Location:   Schlafly Bottleworks (Maplewood)
Description: Folks under 35 aren't the only radical Christians. Join us for this special event with SHARED STREETS STL supporters of all ages! Come show off what we do and learn from some really amazing people!
Drag Show – Get Fed
Date:  Friday,  July 19:  6 p.m.
Location:   TBA
Description: What feeds our bodies? What feeds our souls? Join us for dinner and a conversation about feeding ourselves and loving our bodies before attending a local Drag Show. This is a wonderful opportunity to celebrate all bodies and show some love to ourselves!
Jungle Boogie with Miss Jubilee
Date:  Friday,  Aug. 23:   5:30 to 8 p.m.
Location:   St. Louis Zoo – South Entrance
Description:  Come enjoy free music at the Zoo! We'll bop along with Miss Jubilee and the Humdingers (jazz, swing and rock 1920's-1950's). Of course, we'll also get to visit the animals!
For more information or if you'd like to plan a young adult event, please contact Pastor Winter Hamilton.
---
See Also:
Share this: