Youth Center To Get New Look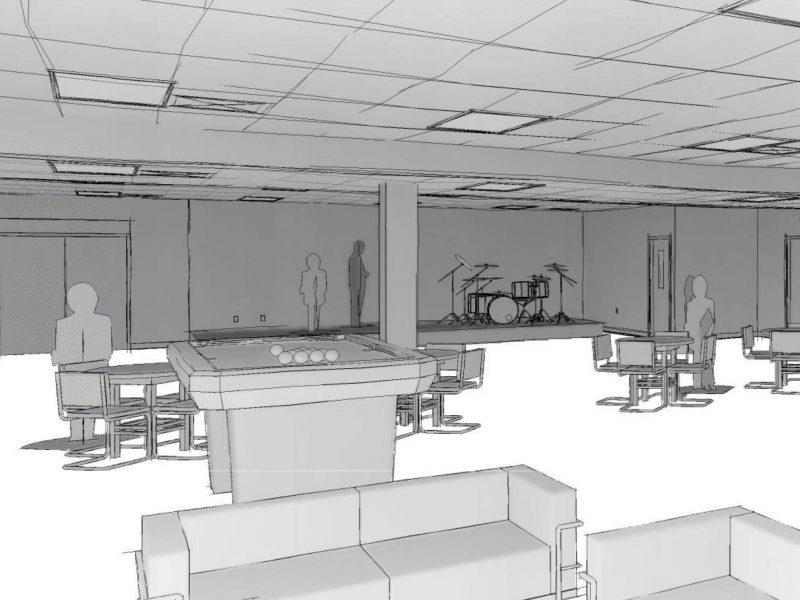 One of the priorities funded by our 'Unfinished' stewardship initiative was the renovation of the youth ministry area. I've asked Phil Estes, Pastor of Administration, to give us the latest.
–Pastor Greg
Grace and Peace Friends!
The excitement and anticipation of a newly renovated Youth Center is growing and fueled by a church that loves its youth! I'm blessed to share the news that special gifts have been pledged totaling approximately $70,000! We exceeded our goal and all funds will be used for Phase 1 of the project. Many thanks to all who contributed!
This new space, designed especially for our youth, will allow for a range of group activities in one location. In the future, we're planning Phase 2 that will add new furniture, multi-media upgrades, and classroom improvements. Watch for more information in 2019.
The conceptual drawing above will give you an idea of what's planned for this space. Bids are still coming in, but once all are received, we'll communicate the final project total. Special thanks to our friends at CORE10 Architecture for guiding the design and bidding process.
As you know, we have a very robust youth program. Under the inspired leadership of Youth Director Beth Boemler, it includes approximately 75 student leaders of the church, ranging in age from 11 to 18. Once completed, the new Youth Center will serve as a hub for fun, fellowship, and faith formation. There, friendships will be made and growing Christian hearts will explore the inspiring path of a life in Christ.
Thank you for your faithful support of this dynamic ministry. You are making a difference for Christ's work through Manchester UMC.
Blessings,
–Pastor Phil
For I know the plans I have for you, declares the Lord, plans to prosper you and not to harm you, plans to give you hope and a future. Jeremiah 29:11 NIV
* * *
Sermon Series on the Bible Concludes Sunday
THE BIBLE: An Open Book, Not a Closed Book
I hope this series has been thought-provoking and helpful as you continue your study in God's inspired book for us. If you've missed any of the previous 4 sermons, you can watch them online. Also, remember that our Faith Formation ministry has info on a good study Bible you can purchase, as well as many small group Bible studies you can participate in, both short-term and ongoing. Stop by the Information Center on Sundays for help.
* * *
Fall Midweeks Start This Wednesday (12th)!
6-6:25 p.m., Chapel
Coinciding with our Wednesday dinners, we'll enjoy a devotional time featuring music, community prayer, Scripture, and a reflective story from a Manchester UMC member or staff. For this Wednesday, our guest storyteller is Dick Vreeland. If you have a story to share, please let me know! Just email me.
* * *
Facebook Live – Have You Signed Up???
I've mentioned in prior eblasts that we're going to live stream our worship services starting September 23. Since we'll be using Facebook Live, it's important that you have an account in order to view services. You must "Like" and/or "Follow" Manchester UMC on Facebook. (When on our page, click the "Like" or "Follow" button(s) underneath our cover photo). You'll automatically receive notices through Facebook when the service is about to start.
Share this: