Sunday Night Youth Gathering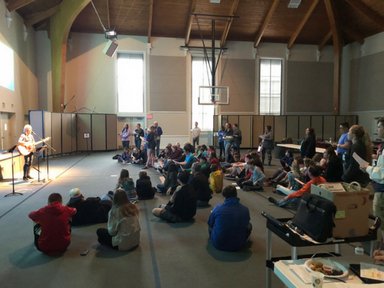 Students in grades 6 through 12 are invited to come and hang out at Manchester UMC on Sunday nights (during the school year) for a really fun evening of food, worship, games and small-group discussions. Youth from a wide-range of middle and high schools come on Sunday nights and the adult volunteers are pretty "dope" from what we hear. Come check it out for yourself and you'll find that church can be a really cool place to start your week!
Schedule
6:00-6:30: Dinner in Fellowship Hall ($4 per person)
6:35-7:00: Worship
7:00-8:00: Grade-based discussion groups
Sunday night Youth Gathering is a time for youth to relax, reset and grow with their peers and adult volunteers. Youth begin the night with dinner followed by a worship service led by our Youth Director and Worship Leader. After playing some fun games and talking about future events and activities, the rest of the evening is spent  in small groups with their school-aged peers.
We get that it's hard to be the new person. That's why we have youth who would love to introduce you to others, sit with you during worship and games and also go with you to small group discussion time, if you want.
During small-group discussions, youth are guided by supportive adults who volunteer their Sunday nights to assist youth on their faith journey. Discussions topics vary and often time reflect the issues and topics youth choose to discuss.
Adult Volunteers
If you're an adult who would like to help with Manchester Youth, we'd love to talk with you. Volunteers are needed to help prepare a "snack supper" from 4:30 to 6:30 p.m. Other volunteer roles include check-in coordinator, large group setup helper, games helper, small group leader, small group substitute and clean-up helper. If you're ready to get started, the first step is to become Safe Sanctuary Certified at Manchester UMC. This is a process that all volunteers go through before they serve with minors or vulnerable adults. If you're already Safe Sanctuary Certified at Manchester UMC, please contact Beth Boemler for more information.
Share this: