Bridge Bread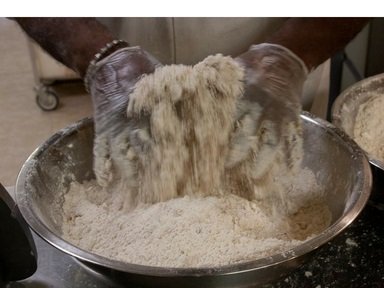 Bridge Bread is a social entrepreneurship initiative designed to provide job opportunities for homeless/formerly homeless individuals. The goal is to help disadvantaged and marginalized people engage in a financially rewarding effort that enhances self-worth, promotes dignity, and enables the guests to help themselves.
Manchester UMC sells Bridge Bread after worship services most weekends, with all proceeds returning to the bakers to help provide them a safe place to live and a bus pass each month.
Support Bridge Bread
Due to COVID, we are unable to sell bread at Manchester UMC. We encourage you to support Bridge Bread by ordering directly from them. Below is an easy link:
Volunteer
Due to COVID, we are unable to sell Bridge Bread at Manchester UMC. When we are able to do this again in the future, please consider volunteering by:
Picking up fresh-baked bread from the bakery on Saturday afternoons and deliver it to Manchester UMC (Approx. 2:30-3:30 pm).
Selling bread during weekend worship services at Manchester UMC (between 8 am-12 pm on Sundays, and between 3:30 pm-5:30 pm on Saturdays).
Information about Bridge Bread
---
For more information about Bridge Bread, contact Tiffany Conway.
---
Check out these websites: