Confirmation Program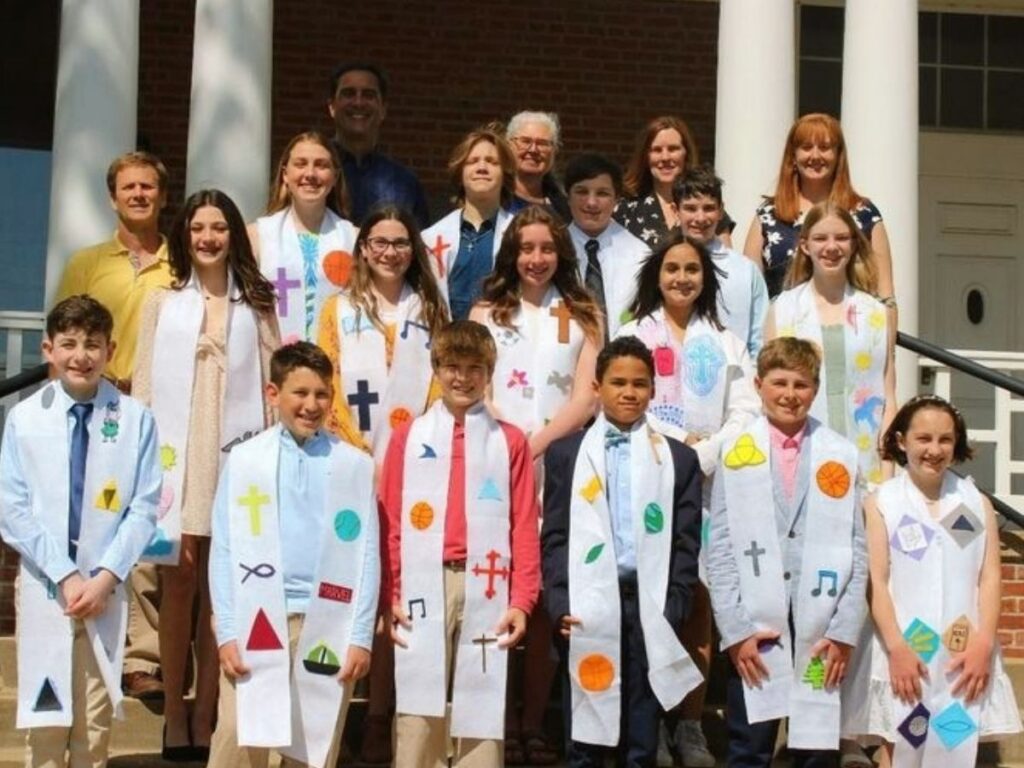 Confirmation
At Manchester UMC, our Confirmation program provides an opportunity for young people to explore the Christian faith alongside other youth in a fun, relevant and engaging way. Our focus is on helping each young person learn about God's unconditional love and amazing grace through experience and conversation.
At the end of this journey, youth will have an opportunity to profess their own faith in Jesus Christ and be confirmed as new members of Manchester UMC. We believe Confirmation is not a destination, but more like a way station where youth have an opportunity to take personal ownership of the faith journey they have been traveling since their baptism. While we hope every youth will make the decision to profess their faith and be confirmed, there is no pressure or requirement to do so.
Who Should Participate?

Confirmation is open to youth in 7th and 8th grades who are interested in exploring the Christian faith in a fun and experiential way.
Confirmation Schedule

Rather than just talking at youth, our Confirmation Program strives to engage young people and their families in a variety of experiences that provide opportunities for learning, reflection and conversation.

Confirmation experiences include:

Activity parks and other fun adventures
Learning and talking about the Christian faith
Going on an offsite weekend retreat
Service projects and touring St. Louis agencies
Observing other faith traditions
A pool party and baptisms (if not already baptized)

Confirmation Benefits and Outcomes

It is our goal that after being confirmed at Manchester UMC, your youth will have:

A stronger connection to other Christian youth
An expanded world view plus compassion for others
A better understanding of their own values and beliefs
A faith deeply rooted in the love and grace of Jesus Christ
A desire to become an informed church member

Program Expectations and Attendance

Confirmands are expected to attend every meeting for Confirmation and below is the complete schedule. If they miss a meeting, make-up work is required. Confirmands can miss up to five meetings, and the longer sessions (full day or multi-day) count as two absences. Because this a very experiential program, any youth who misses 6 or more sessions (regardless of reason) will need to postpone their Confirmation and enroll in the next program year.

Session Attendance

Session dates are provided below so that families can make the necessary calendar arrangements now. If a youth misses a session, they will be expected to make up that session before they can be Confirmed. NOTE: Because this a very experiential program, any youth who misses 6 or more sessions (regardless of reason) will need to postpone their Confirmation and enroll in the next program year.
Acolyte Information

Youth are expected to serve as an Acolyte (assistant) during Sunday worship between September of 2022 and April 2023 before they can be Confirmed. This will likely equate to 5 times. Once the Acolyte schedule is set, youth and parents are responsible for finding a replacement Acolyte if they are unable to serve during their scheduled worship service and must notify the Acolyte Coordinator of any changes at least 48 hours in advance.
Program Fee

The program fee for this year's Confirmation program is $150 per person due at registration. The program fee covers materials, supplies, t-shirt, Bible, retreat, travel expenses and more.

This program is also supported financially by Manchester UMC. Scholarships are available and may be selected on the payment page at registration.
Confirmation Registration and Important Forms

Please complete the following steps.

Complete the 2022-2023 Youth Consent Form (green button).
Complete the 2022-2023 Youth Registration Form (red button).
Pay $150 Program Fee by August 10, 2022.

If you have any questions, please contact the Director of Youth Ministry, Beth Boemler at 636.200.4735.
Get Connected. Stay Connected.
---
Learn more about our Youth program: