Youth Events, Trips and Activities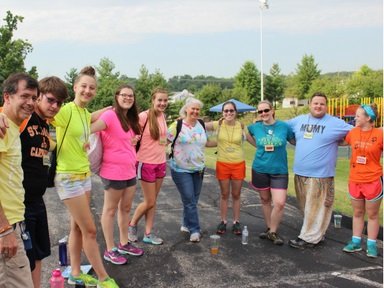 All youth deserve the experience of a mission journey or camp. We believe financial worry should not impede that opportunity and we offer scholarship to any youth who needs it. Please contact Beth for more information.
---
Hinton, NC for Senior High Students
When: Saturday, July 7 – Saturday, July 14
Who: Senior High (Youth who have completed 9th – 12th grades.)
Where: Hinton Rural Life Center in Hinton, North Carolina
Price: $300.00
What it is: The Senior High Mission Journey is an opportunity for our older youth to roll up their sleeves and put their faith into action. They will work hard, but they will also play hard, experience another culture within our country, and grow in their relationship with God and each other. We recognize that being in mission is a lifetime commitment and we hope these trips are the beginning of a lifelong journey for our youth.
What we do: Hinton RLC has been a staple in their community since 1957 helping families with home rehabilitation and other needs. We will work in conjunction with several other youth groups but will all be together at the end of the day.
Fun Events: We will be doing an alpine coaster and white water rafting. If these fun events do not interest you, we strongly encourage you to still go on the trip. We can make accommodations as needed and there will be plenty of fun and cultural activities throughout the week that appeal to a wide variety of interests.
Adult Need: We will need at minimum two men and two women as chaperones.
---
Spirit Camp at Camp MoVal
When: Saturday, July 21 – Thursday, July 26
Who: Youth who have completed *5th, 6th, 7th, and 8th Grades *This is a change from previous years!
Where: Camp MoVal in Union, MO (45 min drive from church)
Price: $250.00/Camper and $125.00/Counselors and CIT
What it is: Spirit Camp is a unique experience that many report is the highlight of their MUMY experience. Mid High students spend the week together in the midst of God's creation playing, learning, and growing in discipleship. Senior High students serve as counselors and plan and execute the majority of the activities. Adults serve as mentors and chaperones, and of course have lots of fun.
What we do: We will do a little bit of everything, including (but not limited to) crafts, sports, drama, dance, Bible study, etc. The highlight of the week for many is the float trip. Kids will also experience impactful worship, hear the testimonies of our counselors, participate in the "Olympics," and send off our graduating campers and seniors with an Affirmation Walk. All participants are part of a family group, a supportive and inclusive group, which helps youth feel like they have a home away from home.
Theme: Unity – How do we actively work for unity in Christ in such a divided world?
NEW THIS YEAR: 9th Graders are invited to sign up as Counselors in Training. No application process. They will be in family groups, have some leadership opportunities, and will spend some time in training as their own group. They will have the full Spirit Camp experience.
Adult Need: Adult Chaperones – Most of your duties are the safety and wellness of the kids and counselors, since the counselors plan and lead most of the activities. You are also responsible for leading the family group discussions. Counselors will not be expected to do that this year. If you are new, we will pair you with a veteran.
Transportation: Parents will be expected to drop off and pick up their camper. You are welcome to carpool.
---
Summer Events
Middle School Movie Night
July 8th
7:00-9:30 pm at MUMC
Join us for a fun movie night! Snacks will be provided and we are accepting free-will donations.
Wear your pajamas and bring blankets and pillow. We will provide mats to lay on and we will play a few rounds of Romans and Christians!
---
MUMY Pool Party
August 12th
7:45-9:45pm at Manchester Aquatics Center located within Paul A Schroeder Park at 359 Old Meramec Station Road.
Parents will need to drop off and pick up youth at the park. We need lots of adult volunteers so please register below!
Swimsuit Policy: Girls must wear one piece swimsuits or a dark t-shirt and boys must wear trunks securely fastened at the waist. Remember to bring a towel and change of clothes.
New this year! We will have an Olympics Competition!
Cost is $10.00 per youth.
---
Fall Kickoff
August 26th
Share this: