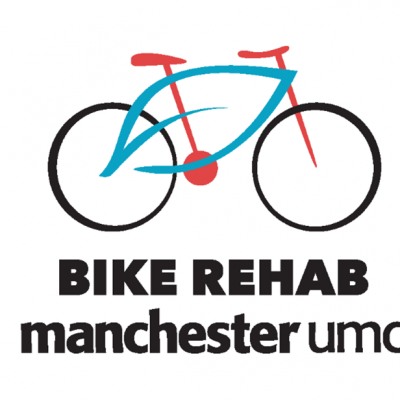 The Bike Rehab ministry is a volunteer group whose mission is to collect, refurbish and distribute safe, used bicycles through charity and non-profit partners, to children and adults in need of transportation and/or recreation. Among the participants, working and serving together fosters a sense of fellowship and community.
You never know how a ministry will be born. This ministry was not envisioned and developed by a group of bike riders and enthusiasts, but by a group who prepared breakfast each month for individuals joining our church.  It started with "Let's put our small change in a coffee can each month and at the end of the year buy a bike for charity".  Two months later it was "Do you suppose we could collect some used bikes, fix them up, and give them to LifeWise STL" – (a partner organization in St. Louis inner city).  Within three months, 60 bikes had been donated to the agency. Since our start in the year 2000, over 10,000 bikes have been given to children and adults who are served through our partner charity agencies.
Donated bikes are evaluated to determine if the bike can be rehabbed to an excellent condition within reasonable limits of financial investment and volunteer time involvement.  Bikes that do not qualify to be rehabbed are used for parts, bike art or recycled.
Each usable bike is tagged with an itemized check list to identify the make, model, type, tire size, and any parts of the bike that may need to be repaired or adjusted. The bike is cleaned and placed in the finished bike inventory ready for distribution to our partner charity agencies.
All of the Bike Rehab workers are volunteers who enjoy bringing miles of smiles to people in need through bikes.
Bike Rehab ministry is self-funded allowing the ministry to purchase helmets, bike parts and cleaning supplies.
Bike Rehab ministry serves the following agencies:
LifeWise StL
Circle of Concern
Bread Shed
Little Patriots Embraced
Veterans Homeless Outreach
OASIS International Ministries
Presbyterian Children's Home & Family Services
St. Patrick's Center
The Bike House is located at 201 Creve Coeur Ave., Manchester, MO, and open for volunteers:
Mondays  & Tuesdays 8 a.m. to Noon
Thursdays 8 a.m. to 2 p.m.
Saturdays Noon to 3 p.m.
2nd Saturday of the month 8 a.m. to Noon.
Some of the rehabbing tasks include: replacing tires, tubes, grips, brake pads, cables, cable housing, reflectors, seats, pedals, and kick stands.  Each bike is cleaned and polished to enhance its appearance and prepare it for extended service to a joyful recipient. No experience needed! Tools and supplies are provided!
The Bike House is closed for the following holidays: weeks of Christmas and New Years, Dr. Martin Luther King, Jr, Day, President's Day, Good Friday, Day after Easter, Memorial Day, Fourth of July, Labor Day, and Thanksgiving.
The Work Weekends occur on the 2nd Saturday of each month from 8a to Noon.
Ways to Volunteer at Work Weekends
Cleaner – Helps clean the bikes (4 volunteers)
Mechanic – Helps repair the bike(s) (8 volunteers)
Leader – Helps open & close the Bike House and provides training
Volunteers must: 
be at least 18 years old.
sign in on the provided clipboard upon entering the Bike Rehab building.
DONATION & FINANCIAL SUPPORT
To donate bikes, drop them off at the Bike House, 201 Creve Coeur Ave., Manchester, MO, outside the building. If you are unable to drop off your bikes, please email Dean Wilson.
The Bike Rehab ministry offers bikes in "like new" condition for a suggested donation to help fund the expenses of this ministry. The listing of these bikes are on the Bike Rehab ministry's Facebook page.
The average cost to rehab a bike is $26.00, which includes a $12.00 helmet. Other expenses include tools, bike stands, replacement parts, and cleaning supplies.
Beginning in July 2017, some creative volunteers began to use parts from retired bicycles to make lamps, bicycle hangers, bike racks, and colorful yard sculptures.  Anyone can take a piece of this fun art home for a suggested donation to Bike Rehab.
There is always room for more creativity, so join us to create bike art by emailing Kellie Duenke.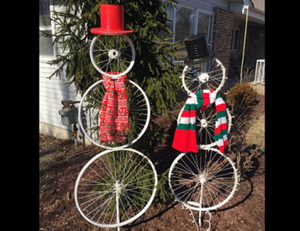 historical bike rehab news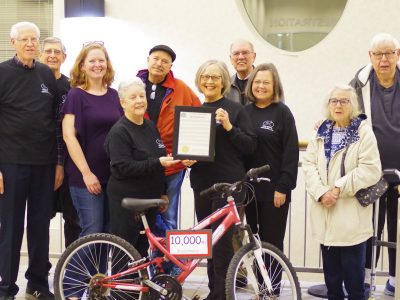 Bike Rehab Honored
On Feb. 21, the Bike Rehab ministry was honored at the City of Manchester board meeting and received a Mayoral Proclamation for the work done by dedicated volunteers for the last 23 years, resulting in the donation of the 10,000th bike.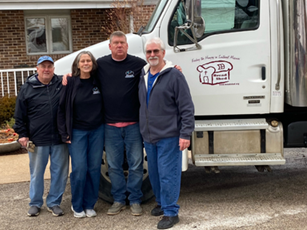 Over 35 Bikes Donated
Bike Rehab donated over 35 bikes to Bread Shed, a charity that serves clients located in Popular Bluffs, MO.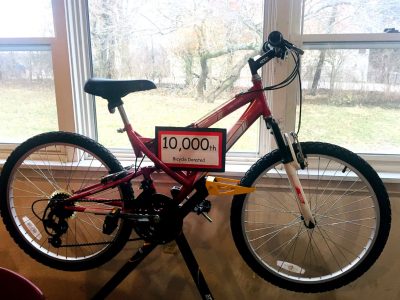 Bike Rehab Celebrates the Donation of It's 10,000th Bike
Bike Rehab celebrates giving away 10,000 bikes over its 23 year history. The bike representing 10,000 was displayed at the Ministry Kiosk in the Manchester UMC Lobby on Sunday, Jan. 29.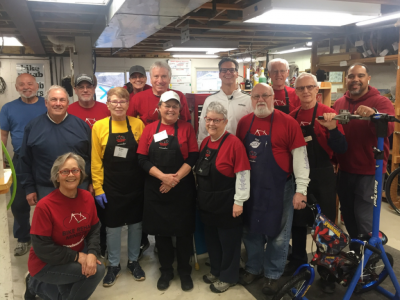 On March 7, 2022, the Manchester UMC Bike Rehab ministry was featured on Fox 2 with Tim Ezell. This is a group that receives bikes as donations, then cleans and repairs them. This ministry works with a number of local nonprofit organizations who receive our bikes and distribute them to those in need. Children and youth can experience the joy of riding, while adults have the option of using the bikes as transportation to and from their jobs.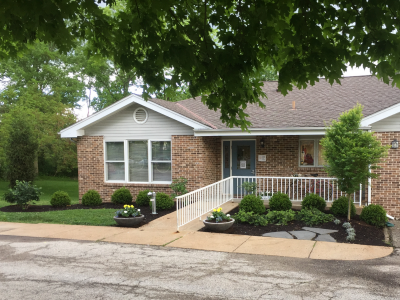 Landscaping to Bike House made possible by Bike Rehab's volunteer, Tina Donahue
A garden in memory of Tina Donahue was recently planted at the Bike House. In 2017, Tina moved to St. Louis and immediately embraced the mission of Bike Rehab and the Bike Rehab's members lovingly embraced Tina. The Bike House Garden was donated by Mary Corwin in memory of her sister, Christina (Tina) Donahue. We feel honored to have had Tina as part of the Bike Rehab team.