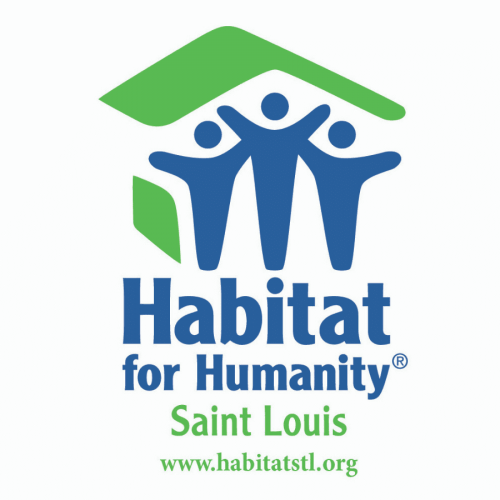 habitat for humanity st. louis
Building Homes, Building Hope, Building St. Louis
Habitat for Humanity St Louis (HFHSTL) is a non-profit organization dedicated to eliminating poverty housing in St. Louis city and county.  Selected homebuyers invest their time (350 sweat equity hours) into building and purchasing their own home (30-year mortgage). To learn more about home ownership, click here.
Manchester UMC has been building homes with Habitat for Humanity St Louis since 1997 and is recognized as a Keystone Community Partner.  Manchester UMC volunteers have worked alongside families on many of the 430+ Habitat for Humanity homes built in the city and county. 
There is an ongoing "Wednesday" crew that works most Wednesdays.  If interested in participating, please email the Zensers for more details.
Up to 10 volunteers are needed for each of the following dates:
Saturday, Sept. 9
Saturday, Oct. 14
Saturday, Nov. 4
All volunteers MUST register by 5:00 p.m. four days before EACH build day.  Volunteers MUST be over 16 year of age, no exception. 
Youth Volunteers: While registering online, 16 & 17 year olds will be directed to print a waiver, have it signed by a parents and/or legal guardian, and must bring it to the build location on the day you are volunteering.  Not all build day activities are appropriate for youth, so please email Ella for this information. 
Building projects Updates
2023 is slated to be a very busy year for Habitat for Humanity Saint Louis. Ten new builds are underway with an additional 18 new and rehabbed homes as part of a special partnership. The ten new homes will be built in three neighborhoods: Lookaway Summitt (7 homes), Gate District (2 homes) and University City (One home). All of these neighborhoods have existing Habitat homes in place and cannot wait to host new Habitat homebuyers! 
Habitat will serve as general contractor on 18 new and rehabbed homes with three north city non-profits: Dream Builders 4 Equity, Art Place Initiative, and Old North Restoration group. There will be opportunities for Habitat volunteers and Habitat homebuyers to work on these projects and call new neighborhoods home! 
Thank you to those who supported MO-Hab Ministry!
Manchester UMC and other supporters of MO-Hab recently donated $48,825.48 to Habitat for Humanity St. Louis.  The generosity of many will enable a working family to become homeowners.
The new homeowners put in 350 hours of sweat equity along with Habitat volunteers to build their home.  They are also required to attend classes on budgeting for their monthly mortgage payment, taxes, insurance and home maintenance.
MO-Hab participants pedal bikes, walk & run to raise funds for Habitat for Humanity St. Louis.  An annual gift of $25,000 is made in the spring from donations collected the previous year.  2021 was a phenomenal year as $35,000 was raised for Habitat.  Accumulated donations of $13,825 from 2015-2020 was added to this year's gift.  
It is exciting that MUMC and MO-Hab supporters are able to help in such a big way this year, exactly when Habitat for Humanity St. Louis has a greater need.
Habitat for Humanity St. Louis is extremely grateful for the generous check of $48,825.48.  MO-Hab is extremely grateful for everyone's support of their fund-raising efforts. Learn more about MO-Hab.
Building homes since 1997