Friday, June 2 & Saturday, June 3, 2023
Market for Missions will have bargains galore as individuals shop over 9,000 sq. ft. of merchandise! There are not only great deals, but it's a good feeling knowing that all purchases will make a difference in someone's life. In addition, all proceeds benefit missions.
The Market for Missions will have new and used items in the following areas:
Antiques, Collectibles & Jewelry
Baby Wear & Equipment
Books, Puzzles & Media
Children's Wear
Furniture & Home Décor
Crafts & Holiday Decorations
Housewares, Linens & Tableware
Men's & Women's Clothing & Accessories
Sporting Goods
Tools
Toys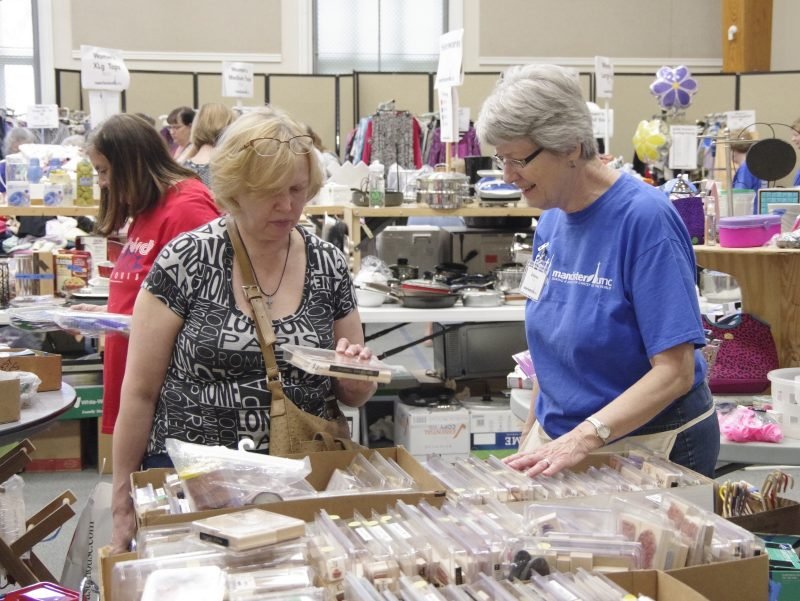 Many volunteers for set up and sale days are essential. Sign up for one or more of these flexible shifts! 
Donation Hours: Donations will only be accepted at the North entrance at Manchester UMC.
Sunday, May 28: Noon – 3 p.m.
Tuesday, May 30: 8:00 a.m. to 6:00 p.m.
Wednesday, May 31: 8:00 a.m. to 6:00 p.m.
Due to the Memorial Day holiday on Monday, May 29, no donations will be accepted or dropped off.
7:00 to 8:00 a.m. Early Bird Entry with $5 per person fee
8:00 a.m. to 3:00 p.m.
The Market for Missions will not accept:
Large electronics *
Hardwired lighting fixtures
Large sporting good items/exercise equipment
Drapery rods/mini blinds
Christmas trees
Mattresses/pillows
Entertainment centers
Metal desks
Large kitchen appliances
Outdated baby equipment
Clothing that is torn or stained
Damaged or dirty items.
* Large electronics includes, but is not limited to, televisions, computer components, stereo components, and speakers.
Market for Missions benefits Manchester UMC Mission Ministries. 
For more information, please email the Market for Missions ministry leaders, Genny Schumacher or Darla Smith