Market for Missions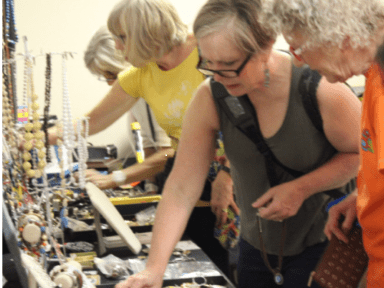 June 7-8, 2019
Find bargains galore as you shop over 9,000 sq. ft. of merchandise! You not only get great deals, but you get the good feeling knowing that all your purchases will make a difference in someone's life. All proceeds benefit missions.
The Market for Missions garage sale has new and used items in the following departments: Antiques & Collectibles, Baby Equipment, Books & Media, Children's Clothing, Crafts, Electronics, Furniture, Holiday Decorations, Housewares, Jewelry, Linens, Men's Clothing, Pictures and Wall Décor, Sporting Goods, Tableware, Tools, Toys, Women's Clothing & Accessories
VOLUNTEER
We need volunteers of all ages, abilities and schedules to make this sale a success for the community and for the missions that will benefit. We are asking our volunteers to be Safe Sanctuary Certified and it is a very easy online process! You can begin your process by clicking on this blue button below.
Shifts are filling quickly! We have a variety of shifts to choose from that fit your schedule. Sign up by clicking on the red button below.
Sunday June 2, 12pm – 3pm – set-up begins, receiving and sorting of donations begins
Monday June 3 – Wednesday June 5, 8 am – 6 pm – receive, sort, price
Thursday June 6, 8 am–4 pm – sort, price, final preparations
Friday June 7, 7 am – 3 pm – first sale day, assist shoppers
Saturday June 8, 7am – 12 pm- second sale day, assist shoppers
Saturday June 8, 12 pm – finish – pack up remaining items for charity pick-up, break-down and put away, reset rooms
DONATE

Anyone can donate new and like new items for the sale! Donations will be accepted at the North Entrance of the church only on these dates/times:
Sunday, June 2: Noon to 3 p.m.
Monday, June 3: 8 a.m. to 6 p.m.
Tuesday, June 4: 8 a.m. to 6 p.m.
Wednesday, June 5: 8 a.m. to 6 p.m.
You will receive a donation receipt when you drop off your items during the above times. Please do not leave donations before or after these above hours when no one is available to accept items. No donations will be accepted after Wed, June 5 at 6 p.m.
We cannot accept: computer components (other than working laptops), stereo components (including speakers), TV's, large sporting good items or exercise equipment, drapery rods, Christmas trees, mattresses, entertainment centers, metal desks, metal file cabinets, large kitchen appliances, outdated baby equipment, clothing that is torn or stained, damaged or dirty items.
There will be no home pick-ups and no early donations. Questions about your item, please email the Market for Missions ministry leader, Genny Schumacher.
SHOP
Friday, June 7: 7 a.m. to 8 a.m.: $5 Early Bird Shopping entry fee
Friday, June 7: 8 a.m. to 3 p.m. (no fee)
Saturday, June 8: 7 a.m. to Noon: All items are half price, except collectibles and boutique. Plastic grocery bags can be filled with soft goods from linens, men's, women's and children's clothing for $5/bag.
MORE INFO
Market for Missions benefits Manchester UMC Mission Ministries. For more information, email the Market for Missions ministry leader, Genny Schumacher.
Share this: