Market for Missions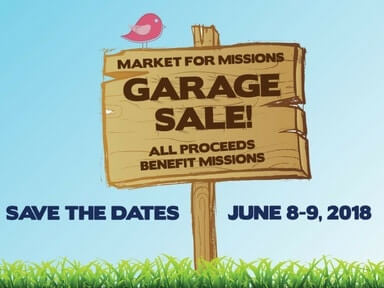 June 7-8, 2019
Find bargains galore at a sale so large you can fit 25 garages! You not only get great merchandise at a great price, you get the good feeling knowing that all your purchases will make a difference in someone's life. All proceeds benefit missions.
The Market for Missions garage sale has new and used items in the following departments: Antiques & Collectibles, Baby Equipment, Books & Media, Children's Clothing, Crafts, Electronics, Fabric, Furniture, Holiday Decorations, Housewares, Jewelry, Linens, Men's Clothing, Pictures and Wall Décor, Sporting Goods, Tableware, Tools, Toys, Women's Clothing & Accessories
VOLUNTEERS NEEDED
We need your help to make this sale a success for the community and for the missions that will benefit.
VOLUNTEER:   Stay tuned for the link to register.
Set up:         Sunday June 2- Thursday June 6
Sales:          Friday- June 7- Saturday June 8
Clean up:     Saturday, June 8
DONATE

Anyone can donate new and like new items for the sale!  Donations will be accepted at the North Entrance of the church. Stay tuned for dates.
We cannot accept: mattresses, bed pillows, computers, TVs, non-working items, entertainment centers, large desks, large exercise equipment, Christmas trees, drapery rods, damaged or dirty items. If they don't sell, then it is difficult to dispose of them.  Questions about your item, please email Genny Schumacher.
SHOP
June 7-8, 2019
MORE INFO
Market for Missions benefits Manchester UMC Mission Ministries. For more information, email Genny Schumacher.
Share this: