Discover Your Spiritual Gifts!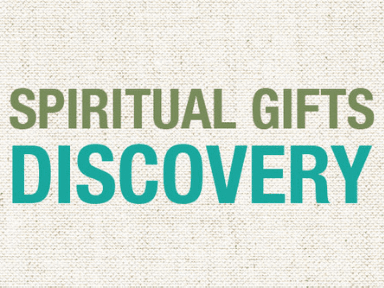 Together, we're able to make a transforming difference in families, neighborhoods, communities and the world. Whatever your age, interests, abilities or experiences, join us on this important journey!
STEP 1: COMPLETE the Spiritual Gifts Discovery Assessment
We believe that God has given you specific spiritual gifts and abilities to help people in our church, communities and world. Many people find it helpful to use a spiritual gifts discovery tool to affirm how God has gifted and shaped them to help others. With this in mind, we encourage you to take advantage of our new online Spiritual Gifts Discovery Assessment for valuable insights about your God-given talents.
This online tool takes about 10 minutes to complete. Once submitted, a copy of your results will be emailed to you and confidentially to Pastor Jim Peich (and the New Member Coaching Team if you are becoming a new member). If you do not have access to a computer or tablet, please contact Tiffany Conway for assistance.
Note: Answer each question to the best of your ability with the assurance that there is no right or wrong answer. A few of the assessment questions may include verbiage that is different than you typically experience at Manchester UMC.
STEP 2: REVIEW Your Results
As you review your results, remember that they are designed to help you explore how God has shaped you to help others. They offer guidance and are not meant to be absolute. We encourage you to PRINT YOUR RESULTS to prompt prayer, reflection and conversation as you consider how you can best fulfill God's plans and purposes for your life using the spiritual gifts you have received.
STEP 3: PLUG INTO a Ministry Team
Choose one of the below steps to get started…
Help Others
Join us as we assist individuals and families locally, regionally and across the globe, by offering food, personal hygiene items, clothes, toys, shelter, repairs, training, clean-up and more. Learn more.
Care for Others
Caring for those who are hurting and healing is at the heart of our faith. Help us come alongside others during tender life moments to listen, encourage and be a loving presence. Learn more.
Join a Group
We believe life is better in community with others. Whether you're interested in learning more about faith, improving your health, enjoying fellowship with others or participating in sports and recreation, we have a group for you! Learn more.
Take a Class
We offer classes on timely and relevant topics such as parenting, opioid addiction, race relations, personal finance, grief, leadership, faith and more. Help yourself by attending a class or be a resource by teaching others. Learn more.
LET US HELP YOU
If you'd like to have a conversation about your spiritual gifts and abilities and where you might use them to help others, one of our pastors would be delighted to meet and talk with you. Please contact Tiffany Conway at to schedule a time to meet with a pastor.
For more information or assistance with the Spiritual Gifts Discovery Assessment, please contact Pastor Jim Peich.