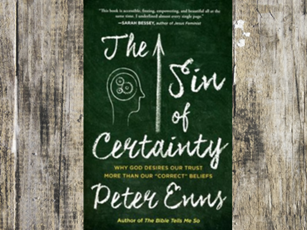 The Sin of Certainty – Sept. 13 – Oct. 4, 2023
Date: Wednesdays, Sept. 13 – Oct. 4
Time: 4:45-5:45 p.m.
Location:  Fireside Room | Manchester UMC
Leader:  Linda Horodenski
Book Description:  This class will discuss the book, The Sin of Certainty: Why God Desires Our Trust More Than Our Correct Beliefs by Peter Enns.
"Enns asserts that Christians can focus so much on the angst of uncertainty that they place God inside a stifling mental box. A fine work for believers of all stripes,"—Library Journal.
Calls the bluff of all who think they have mastered the mind of God, since it's incumbent upon each generation to reformulate and act out its own faith.
Book:  $13
Starting Aug. 1, available on Sunday mornings at the Information Center or by emailing Tiffany Conway.