If you have decided to make Manchester UMC your church home, we celebrate that decision and invite you to join thousands of others in becoming a member of the church.
We believe it's important and helpful for new members to have a common understanding of our beliefs, history, culture, practices and expectations.  For this reason, we have indentified a path to membership to help your journey.
Rebecca continues to educate herself about John Wesley and what makes one a "Methodist".
Scott is looking forward to getting more involved in activities at Manchester UMC.
After feeling not accepted of what had become her "unorthodox" beliefs from these experiences, Mary stopped believing.  Then one day with a little sarcasm, Mary Googled "church that accepts doubters", and guess what?!  Manchester UMC popped up!  Mary was too curious and had to check it out.  Mary stated "I'm glad I did!" 
Diane is looking forward to becoming a member of a very welcoming and joyful congregation at Manchester UMC.
When Paula was looking for a new church home, she wanted to be a part of a more loving and accepting church.
Meet the newest members of Manchester UMC
Complete online New Member Registration Form below.
Complete an optional Spiritual Gifts Tool.
Attend New Member Class and meet with a Faith Coach.
Be baptized and make a profession of faith (if you have not already done this at some point in your lifetime).
Take the vows of membership during a weekend worship service.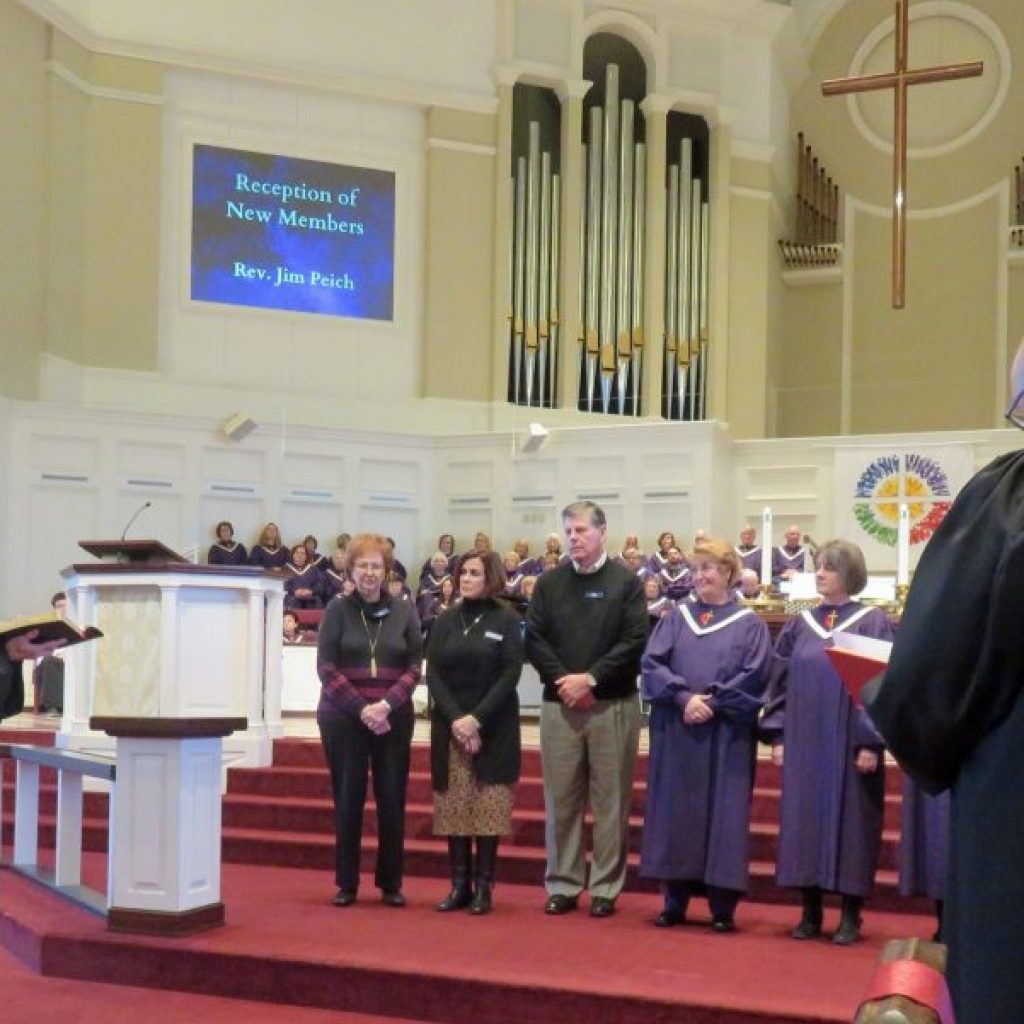 Membership vows are important because they give us an outline for our common work of Christian discipleship. Within The United Methodist Church, members make a covenant (promise) to do the following:
To renounce the spiritual forces of wickedness, reject the evil powers of the world, and repent of your sin;
To accept the freedom and power God gives you to resist evil, injustice, and oppression;
To confess Jesus Christ as Savior, put your whole trust in his grace, and promise to serve him as your Lord;
To remain faithful members of Christ's holy church and serve as Christ's representatives in the world;
To be loyal to Christ through The United Methodist Church and do all in your power to strengthen its ministries;
To faithfully participate in its ministries by your prayers, your presence, your gifts, your service, and your witness;
To receive and profess the Christian faith as contained in the Scriptures of the Old and New Testaments.
Once you've completed our New Member Class, you'll be invited to take the vows of membership during a weekend worship service. Learn more about the membership vows of The United Methodist Church.
What is a new member class?
We offer New Member Classes throughout the year. Facilitated by our pastors, you'll find this experience to be relaxed, welcoming and rewarding as you learn more about our history, values and beliefs, as well as opportunities to grow, serve and connect. You'll also have an opportunity to ask any questions you might have.
A light lunch is provided for the Sunday classes and dessert will be provided for the Wednesday classes. Complimentary childcare is provided with advance reservation.
Location: Room 311| Manchester United Methodist Church
Leader: Rev. Andy Bryan and Rev. Andy Blacksher
| | | |
| --- | --- | --- |
| New Member Class | Registration Due Date | Take Vows |
| Sun., Feb. 4, 2024, 12:30-2:30p | Sun, Jan. 28, 2024 | Feb. 24 or 25, 2024 |
| Wed., May 8, 2024, 7 -9p | Sun, April 28, 2024 | May 18 or 19, 2024 |
New member Registration Form
The New Member Registration Form helps us to learn more about you and your faith journey and also registers you for an upcoming New Member Class.
IMPORTANT:  Please complete one online form per attendee.