Disciple Bible Study Classes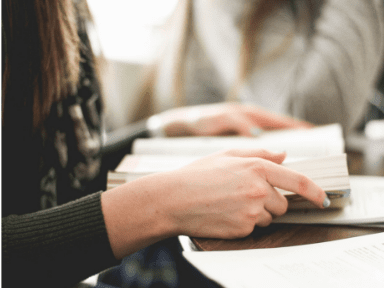 DISCIPLE is a program of Bible study aimed at developing strong Christian leaders. The study examines the Old and New Testaments, emphasizing the wholeness of the Bible as a revelation of God. DISCIPLE draws upon the work of scholars, the personal Bible reading and study of the participant, and dynamic group discussion to aid understanding of the Bible.
Participants complete a minimum of 32 weeks of in-depth Bible study. The DISCIPLE 1 class participants will read more than 70% of the Bible and our other DBS classes will dig in at an even deeper level to these stories of faith.
The writings in the Bible are one of the prime ways that we learn about God and what it means to follow Jesus. The Bible is filled with stories of great faith, betrayal, hope, despair, and God's steadfast love. Through these courses, you are invited into a journey of discovery that will impact your life in remarkable ways.
2020-2021 Disciple Bible Study Class Offerings
We are very excited to announce our 2020-2021 Disciple Bible Study program and we will offer the following classes:
For registration or more information, please email Tiffany Conway.
Save the Date — Tues, June 29, 2021 at 7 p.m.
Disciple Graduation
To recognize all of the Disciple class participants and leaders, we honor them with a special Disciple Graduation service. We are being positively optimistic by delaying this celebration until late June in an attempt to be in person at Manchester UMC. However, if things do not progress with COVID, then this graduation service will be virtual on Facebook. Additional information will be provided as we get closer to this date.
---
Check out these websites: