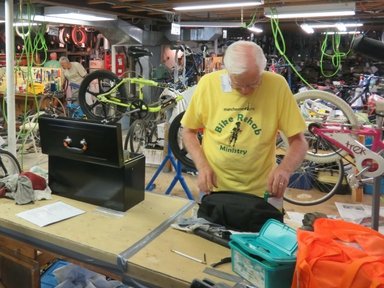 Bike Rehab Work Weekends
Date:  2nd Saturdays of each month
Time:  8:00 a.m. to Noon
Location:  Bike House | 201 Creve Coeur Ave., Manchester, MO (directly across main parking lot at Manchester UMC)
The Bike House is open to volunteers.  Some of the rehabbing tasks include: replacing tires, tubes, grips, brake pads, cables, cable housing, reflectors, seats, pedals, and kick stands.  Each bike is cleaned and polished to enhance its appearance and prepare it for extended service to a joyful recipient. No experience needed! Tools and supplies are provided!
Ways to Volunteer at Work Weekends
Cleaner – Helps clean the bikes (4 volunteers)
Mechanic – Helps repair the bike(s) (8 volunteers)
Leader – Helps open & close the Bike House and provides training
Volunteers must: 
be at least 18 years old.
sign in on the provided clipboard upon entering the Bike Rehab building.