Habitat for Humanity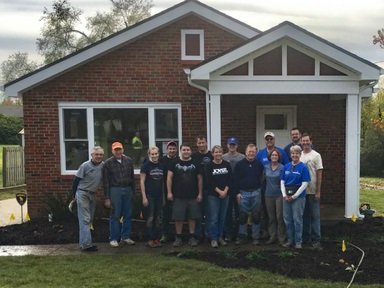 Habitat for Humanity St Louis (HFHSTL) is an ecumenical, non-profit organization. Its goal is to eliminate poverty housing in St. Louis city and county by using volunteers to build affordable homes for deserving families. Potential homebuyers must be employed and pass a rigorous screening process. Then, they pay a "down payment" of 350 sweat equity hours building their home and will make mortgage payments on a 30-year NO INTEREST loan. Manchester UMC has been partnering with HFHSTL since 1997, helping to build 25 houses.
Volunteer
This year Manchester UMC will be partnering with Salem in Ladue United Methodist, Good Shepherd Lutheran, St. Timothy's Episcopal Church, and the homebuyers ("The Methodist-Lutheran-Episcopal Partnership") to construct houses for Habitat for Humanity STL. Construction begins this spring in the Look Away Subdivision overlooking the river in the Riverview School District.  Eventually, 21 Habitat for Humanity homes will be built in this area so an entire neighborhood will be positively impacted.
Don't miss this opportunity to work with deserving homebuyers and to build a community. MUMC's SATURDAY work dates are:  September 10, and September 17.
CLICK HERE to sign up!
Registering and logging in takes only a few minutes and will get you on the OFFICIAL list with waiver, directions, confirmations, and contact info. Once you have registered, you will only need to log in for other dates. There are a limited number of volunteer slots so please sign up early!
Workers are needed for the Wednesday crew too (every Wednesday). If you enjoy physical work and are 16 years or older, you qualify! Meet at church and carpool to the build site. Tools provided. To find out more, contact the Zensers at zenser@sbcglobal.net.
Donate
Sponsoring organizations provide the seed money for the construction to help defray costs, and also provide the majority of the labor. At Manchester UMC, we are blessed by the members and friends who bike across the state of Missouri to help raise this money for our participation with Habitat – The MO-Hab Riders.
Share this: