No Hate Yard Signs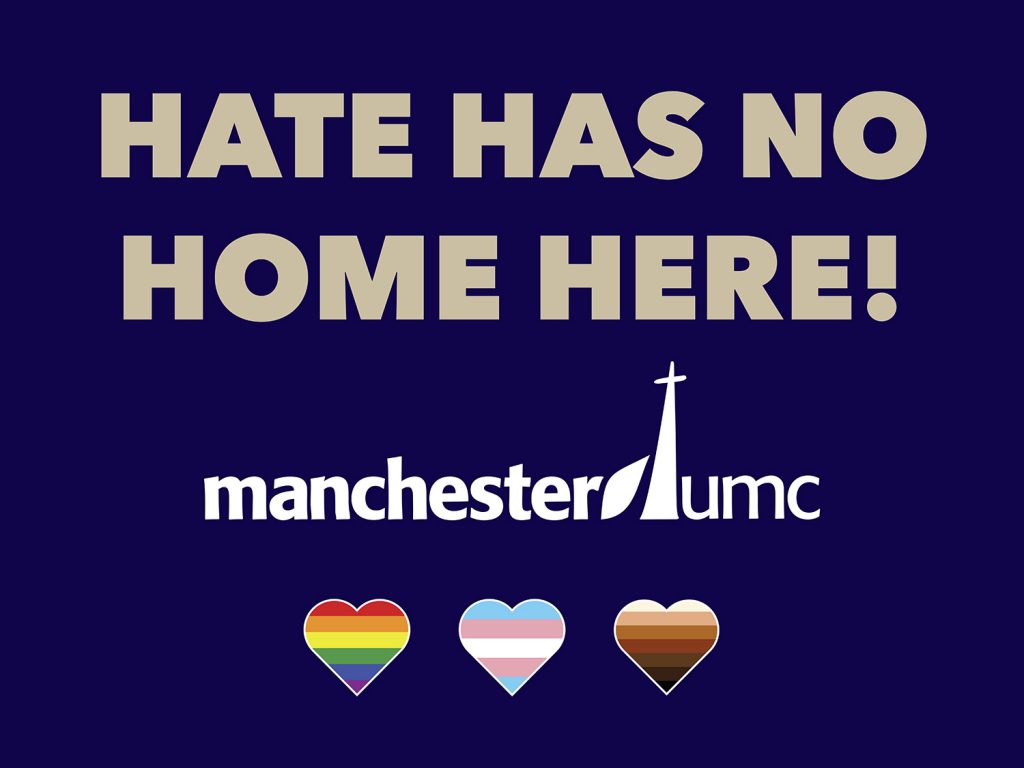 "We love because God first loved us. Those who say, "I love God," and hate their brothers or sisters, are liars; for those who do not love a brother or sister whom they have seen, cannot love God whom they have not seen." – 1 John 4:19-20
Let's Take a Stand Against Hate
There is so much hate in our world today. As Christians, we are called by God to love others. We are also called to take a stand against hate and the harm it causes so many people in our communities. We do this by educating ourselves, by amplifying the voices of those who have been harmed by hate, and by using our own voices to speak out against hate.
At Manchester UMC, we extend God's love and grace to ALL people (see our Welcome Statement). In that spirit, Manchester UMC is offering yard signs featuring the above image for display at the homes of those who wish to take a stand against hate in our communities. These vibrant signs are one-sided and made with corrugated plastic to withstand wind and rain and come with a metal sign holder for placing in your yard.
The three hearts on the sign represent three groups of God's children who have been recipients of significant hate and harm and to whom we extend God's love and grace: LGBTQ+ individuals, transgender individuals and persons of color.
The cost of these yard signs is $5 each.
Our "Hate Has No Home Here" signs are going fast! While we hand delivered the first round of orders, we can't keep up with the demand! We've created a COVID-safe pick-up procedure.
Sign Pick Up Procedure
Order your sign by clicking the link below
Select your pick-up window*
During you pick up window, ring the bell outside the church office. Let us know you are here for your sign.
Your sign will be brought out to you. PLEASE DO NOT ENTER THE BUILDING.
*Pick up times are Tuesday 11:00-1:00 and Thursday 2:00-4:00
**If you are not available during our pick-up window, indicate a convenient pick-up date and time during church office hours.
If you have any questions, please contact Nick Reinhardt-Swierk.