Social Justice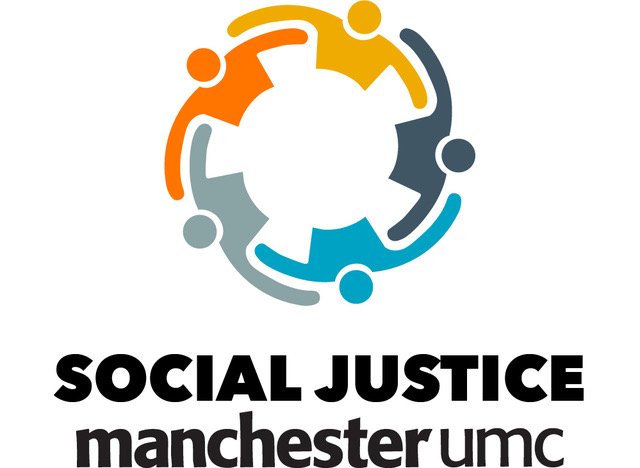 Speak up for those who cannot speak for themselves;
ensure justice for those being crushed.
Yes, speak up for the poor and helpless,
and see that they get justice.

Proverbs 31:8-9 (NLT)
United Methodists have a rich history and concern for social justice. Inspired by Jesus' ministry to the poor and marginalized, we continue the work of John Wesley, our founder, who advocated for issues such as prison reform, human rights, the end of slavery, labor justice and the humane treatment of animals.
The Social Justice Ministry of Manchester UMC works to create awareness and action that addresses the root causes of injustice in our community and beyond and then uses our influence and voices to change systems for the better.
Our faith calls each one of us into action. Click the links below to find out how to get involved!
Mutual Aid and Solidarity Circles
Do you have enough toilet paper to share? Do you need help getting groceries? Are you feeling really alone? Solidarity is vital in times of social uncertainty. It is our responsibility to care for and support one another during times of crisis and uncertainty. We have three ways to get involved:
Material Needs: Let us know what kind of support you can offer and what kind of support you need!
Solidarity Circle: Get matched with 3-5 folks in a solidarity circle. Solidarity circles connect frequently to offer community, conversation, and prayer. Conversation guide will be provided. Circles will be facilitated by volunteer leaders.
Social Justice Leadership: There are more opportunities to respond to our community than any of us are able to track alone. Join a task-force of justice-minded individuals to compile, brainstorm, and home-based social justice opportunities for our congregation.
Fill out the form to get started today!
https://airtable.com/shrzb3WZy5wJcncLc
______________________________________________________________________
Classes
Bible and Sexuality for Straight People
Monday, April 20, 6:30-8:30pm OR Monday, April 27, 6:30-8:30 pm
ZOOM Required Password: 458629
ZOOM Meeting ID: 655-239-753
What does the Bible REALLY say about sexuality? This class will look at scripture, history, and religious tradition about human sexuality. This is a great introduction to the issues for those who might be feeling torn in this time of denominational transition.
Kingdom Dreams, Violent Realities
Mondays, May 4-18, 6:30-7:30 pm
Required Password: 043496
Meeting ID: 750-776-813
This course from the Global Board of Church and Society is a Bible Study on gun violence prevention. Based on Micah 4:1-4, this class will address gun violence as a spiritual and moral issue
______________________________________________________________________
LGBTQIA+ Resource
FAQ
Why are people at MUMC wearing rainbows?
We wear rainbows to call attention to our welcoming stance and to show solidarity with the LGBTQIA+ community. This Pride symbol is a visual sign of a commitment to justice in the areas of gender and sexuality.
If someone isn't wearing a rainbow, are they homophobic?
Not participating in the rainbow stole project is simply a decision not to participate in a specific action-much like choosing not to wear green on St. Patrick's Day. Change comes from all directions, and not everyone is comfortable participating in this initiative. If you are not yet ready to wear a rainbow to church, we invite you to prayerfully consider how you can lift up and support LGBTQIA+ people in your community.
Aren't we already welcoming?
We are a welcoming congregation, but this is also a scary moment for our LGBTQIA+ siblings. Damaging experience in past churches, public discourse on identity, and the Methodist Connections failure to include LGBTQIA+ persons make attending worship a daunting prospect for some. We need to be over the top welcoming in order to share the Gospel of love!
Why are we still talking about this?
The church has been talking about sexuality for a long time. The topic can get tiring and some may claim that adding gender and orientation to our welcome statement is enough. However, LGBQTIA+ individuals continue to fight to protect their lives, families, and livelihoods. Our denomination has recently supported more exclusionary language regarding human sexuality. This is the moment to increase our efforts for inclusion and continue on our path towards justice!
For more information about the social justice work that occurs at the Missouri Conference Level, click here.
Missouri Conference Social Justice News
At the national and worldwide connectional level, Manchester UMC utilizes resources from the United Methodist Women, https://www.unitedmethodistwomen.org/about and the United Methodist General Board of Church and Society that is dedicated to the work of living faith, seeking justice, and pursuing peace. The Church's specific positions on more than 30 social justice issues can be found online and include the categories of Civil and Human Rights, Economic Justice, Environmental Justice, Health and Wholeness, Peace with Justice and Women and Children https://www.umcjustice.org/.
If your passion for doing God's work extends to building relationships, being a change-maker and advocating for others, join the Social Justice Ministry Team. Our work starts here, but extends beyond our walls to make our world a better place.
To get involved, please contact Social Justice Coordinator, Nicki Reinhardt-Swierk